An epic expedition to Antarctica this fall follows in the path of Sir Ernest Shackleton
Sailing along the glorious coast of South Georgia and slipping into Cumberland Bay, you will find the haunting ruins of Grytviken, a reminder of an industry that brought men untold fortunes and many species of whales to the brink of extinction. In the early 1900s Grytviken was not only a scene of whaling carnage, but it played an important role in polar exploration by providing a welcome stopover for Antarctic explorers, such as the famous Sir Ernest Shackleton.
A hundred years ago, Shackleton had hopes of traversing Antarctica, a dream that sank along with his ship, the Endurance, after it was crushed in an icy grip, leaving 28 men facing a hellish battle to survive on both sea and ice.
Their salvation hinged on Shackleton setting off in a lifeboat on a perilous 800-mile sea journey to South Georgia to seek help. Landing some two weeks later on the "wrong" side of the island, hungry, frozen and their clothes threadbare, he and two of comrades were forced to traverse an alpine range before descending 36 hours later into Stromness whaling station. The expedition remains as one of the greatest accounts of survival in the annals of Polar history, and it is these stories that draw us today to South Georgia and beyond it, Antarctica.
In 1921 Shackleton with his trusty comrades set off on a final expedition to Antarctica on the Quest. They called into port at Grytviken to be met by a warm welcome from the whalers. That night, after a jolly evening, Shackleton died in his cabin of a heart attack at only 47 years old. He and his lifelong best friend and right-hand man, Frank Wild, rest in the cemetery there, together in death as in life, but this was not always the case, as after Shackleton's death, Frank Wild seemed to disappear from the history books, with his final resting place unknown.
While researching for my biography on Frank Wild, an extraordinary event led to me discovering his remains in a vault in Braamfontein cemetery in Johannesburg, South Africa, where he had spent the last 16 years of his life.
As his biographer, I knew that he wanted his final resting place to be beside his beloved "Boss," whom he had accompanied on three expeditions to Antarctica and, with the blessings of his family, I was able to fulfill his wishes. By doing so, several more pages were added to Edwardian polar history.
And this is where you come in.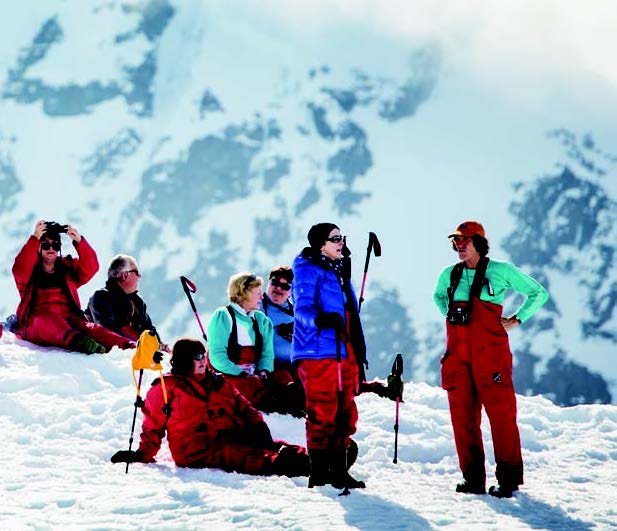 You have the opportunity to follow in the footsteps of polar heroes like Shackleton, albeit lightly. There seems to be a need within us to venture to the "ends of the world," to have a better understanding of the isolation, the cold and the unworldly beauty. It is easy to be dazzled by this unforgiving island, South Georgia, and the continent of Antarctica that lies beyond it.
From October 30 to November 20, 2016 you have the chance to accompany other adventurous explorers on Ice Tracks Expeditions' 22-day expedition cruise that will recreate and honor Shackleton's heroic expedition. Sailing from the magical city of Buenos Aires, our first stop will be the Falkland Islands before sailing onward to South Georgia.
Once we arrive, there will be a rare opportunity for the very fittest of us (a maximum of 12) to embark on a four-day trekking and camping expedition to traverse the ice fields of South Georgia.
For those not taking part in the crossing, there will still be some spectacular hikes, including meeting up the traverse party in Fortuna Bay and walking with them the final miles to Stromness whaling station. We will then slowly make our way to the most pristine continent on earth…Antarctica.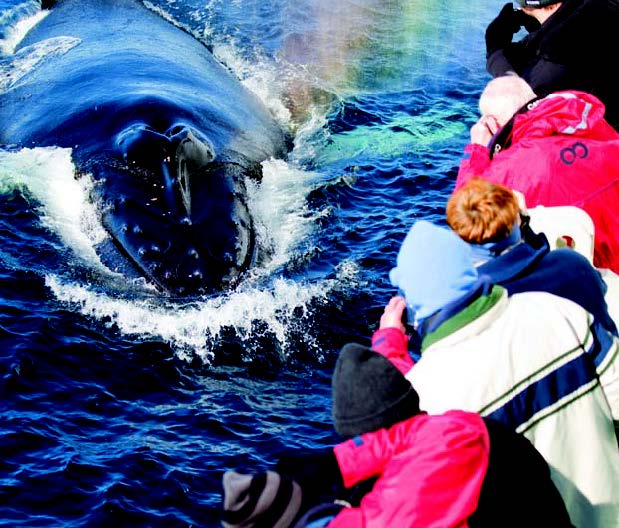 It is not only the history that is so awe-inspiring about South Georgia—the wildlife simply takes your breath away. Your first encounter of the ear-splitting cacophony of the King penguin colonies, stretching miles into the distance, will remain with you forever. It is a melee of preening, squabbling and screeching. A feather-strewn mass of hatching, feeding and molting birds all at various stages of life. You'll marvel at the ocean dotted with ghostly, floating tabular icebergs, soaring snow-covered mountains corrugated with glaciers that sweep down onto pebbled beaches littered where belligerent, heel-snapping Fur seals and belching Elephant seals keep a wary eye out for a rapacious predator, the Orca, otherwise known as the Killer whale.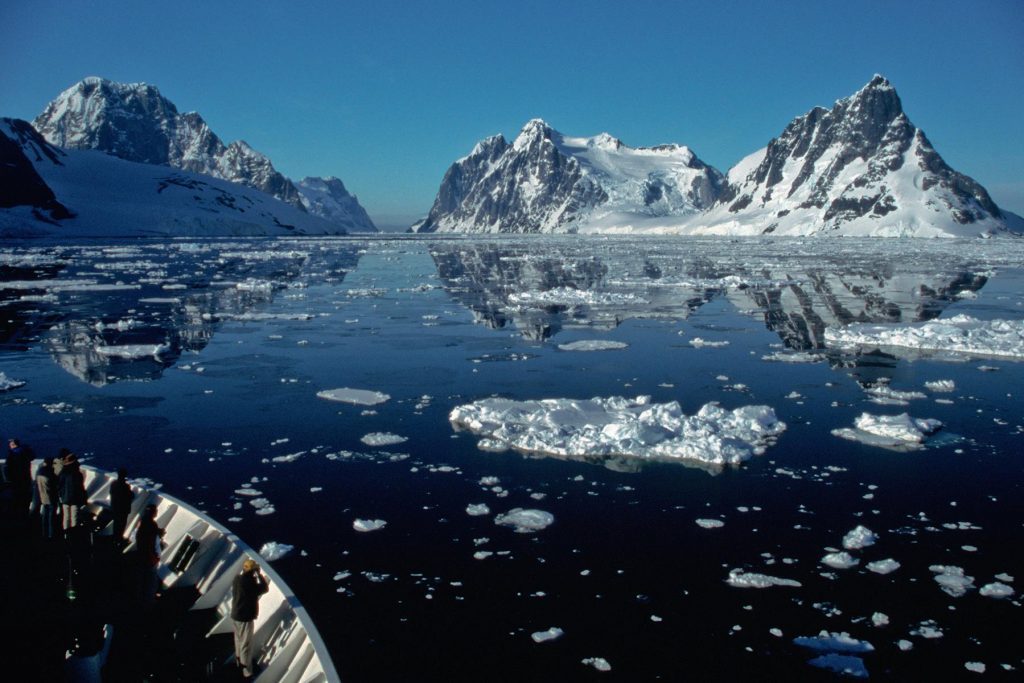 Farther south, you may see Chinstrap, Adelie and Gentoo penguins corral stones into nests as the albatross continually soar above our ship as if to safeguard its passage.
The whales are coming back as well, although stocks have some way to go before reaching the numbers of prewhaling days. It is a woeful thought that living today, there are Fin, Bow Head, Blue and other whales that bear the physical and mental scars of being hunted some 50 years ago. Present law dictates that these gargantuan creatures are awarded sanctuary in the Southern Ocean and as numbers increase many species can once again be seen today.
However, in describing the majestic beauty of Grytviken and South Georgia that you'll experience on our voyage, no one describes it better than Frank Wild himself, writing about Shackleton's final resting place: "Grytviken is a romantic spot. All around are big mountains, bold in outline and snow-covered. Below lies one of the most perfect little harbours in the world, at times disturbed by the fierce winds from the hills and lashed by the gusty squalls to a mass of flying spume and spindrift. Often it lies calm and peaceful, bathed in glorious sunshine and reflecting in its deeps the high peaks around, whilst the sea birds, "souls of old mariners," circle in sweeping flights above its surface and fill the air with the melancholy of their cries. An ideal resting place for the great explorer who felt, more than most men, the glamour of such surroundings."
Expedition Information
Join Angie Butler on the 22-day Shackleton Centenary 2016 voyage from October 30 to November 20. The expedition to the Falklands, South Georgia and Antarctica on the Hebridean Sky offers opportunities for kayaking, hiking, photography and simply time to contemplate. Prices from $13,995.
The voyage's Shackleton Crossing option will allow a group of up to 12 adventurers (supported by three professional mountain leaders) to follow the pioneering route taken by Sir Ernest Shackleton, Frank Worsley and Tom Crean during their epic crossing of South Georgia from King Haakon Bay to Stromness whaling station. Today with its quaint wooden church, museum, post office and handful of summer residents, the old whaling station offers the same welcome. The rusting machinery and blubber ovens lie dormant, yet still succeed in firing up the imagination.
Angie Butler is a polar historian and coowner of Ice Tracks Expeditions, a specialized expedition voyaging company taking people to the Arctic and Antarctica.