Switzerland train routes sport new equipment and amenities showcasing scenic splendor
Getting around Switzerland is a breeze for groups using the Swiss Travel System, one of the densest and most efficient transportation networks in the world. As most travel pros know, the country's trains, buses and boats run like clockwork. Offering comfortable rides through fairy-tale scenery, they make moving from place to place a highlight of the Swiss experience.
Going by public transportation, moreover, lets visitors see Switzerland through the eyes of its people and gives some insight into the culture of this highly advanced European nation. With the all-inclusive Swiss Travel Pass, your group can discover virtually all of Switzerland by train, bus or boat with just a single ticket. The easy-to-use pass provides 3, 4, 8 or 15 consecutive days of unlimited travel and many other advantages as well. The Swiss Travel Pass, for example, is good for local transport in more than 90 Swiss cities.
In addition, it grants free admission to more than 500 museums around the country. The bargain also includes free or discounted rides on aerial cableways serving mountains like the Schilthorn, Mt. Rigi and Mt. Titlis. The Swiss Travel Pass Flex, another option, lets you choose your days of travel (3, 4, 8 or 15) within a month and offers the same bonuses. The Swiss Travel System's door-to-door luggage service takes the hassle out of luggage handling. When groups send their luggage ahead, the bags will be waiting at the hotel or any other Swiss address by 6 p.m. that evening. A similar plan is available for groups arriving at Zurich Airport.
Here are three Switzerland train routes that will lend a special touch to any tour itinerary:
GLACIER EXPRESS
"Impressive scenery…quiet ride… excellent on-board service…delicious meals… clean windows."
These are some of the superlatives that happy passengers typically use to describe the Glacier Express, a cross-Switzerland luxury train in a class of its own. Called the "window to the Alps," it carries 250,000 passengers annually on an eight-hour dream journey between the resort towns of Zermatt and St. Moritz.
The Glacier Express has been operating since 1930 and, with completion of the Furka base tunnel in 1982, began service year-round. It was tagged long ago by a television station as "the slowest express train in the world," a phrase that has stuck and is used today to encourage passengers to sit back, relax and enjoy the magnificent views of the Swiss Alps. Year after year the train is recognized as one of the most popular scenic trains in the world. Lucky are those who travel in the train's new Excellence Class cars, which feature plush seats (all with window views), decor in a Swiss Alpine motif, an on-board concierge, a bar, welcome aperitif and a freshly prepared five-course meal, plus other perks.
As the Glacier Express makes its way across Switzerland, it travels over 291 bridges and through 91 tunnels—once a day in each direction. Thanks to the large panoramic windows, a clear view of numerous summits, deep gorges and two UNESCO World Heritage sites—the Swiss Alps Jungfrau-Aletsch region and Rhaetian Railway in the Albula/Bernina Landscapes—is guaranteed. The Jungfrau-Aletsch region is one of the most outstanding high-mountain landscapes with imposing mountain chains, rustic valleys and the Alps' most extensive glaciated area. At the center is the stunning Jungfraujoch (a mountain pass 11,370 feet above sea level) and 14-mile-long Aletsch Glacier (not visible from the train).
The rail line across Albula is an extraordinary triumph of structural engineering and route planning. Tight turns, sophisticated lineside structures and amazing tunnels across this UNESCO World Heritage section seamlessly blend into the spectacular scenery. The most famous structure on the Albula portion is the 213-foot-high, 446-foot-long Landwasser Viaduct, a single-track, six-arch limestone railway span built in 1901-1902. Its southeastern abutment connects directly to the Landwasser Tunnel. The tunnel's entrance is positioned on a vertical rock wall, having been purposefully aligned with the viaduct. It was considered to be a challenging architectural feat of its era, and its construction employed numerous innovative techniques. Have your camera ready as you approach this site.
To add even more comfort and convenience to the trip, the Glacier Express panoramic cars are undergoing an exciting new makeover and refitting as part of the train's 90th anniversary jubilee in 2020.
The $20 million revamping includes more modern interiors with a "sense of Swissness and Alpine chic" throughout. Light oak is being used in second-class passenger cars, dark walnut in first-class. The seats are newly upholstered with the same fabrics as those used in Excellence Class, featuring black leather elements in second class, brown leather in first-class.
In addition, the cars are now equipped with a high-tech infotainment system that allows passengers video or audio information about the route on their tablets or smartphones; passengers may also use this system to offer feedback to help improve service. Helpful information is available on two large overhead screens at each end of the car.
Other upgrades include electrical sockets, cup indents and bottle holders at every table; new, larger luggage racks; and solid stone washbasins in the lavatories. Also, sun protection film on the car's skylights has been added to minimize heat radiation. The train's kitchens and appliances are being completely upgraded to enhance this popular service.
Two complete sets of the new and improved Glacier Express have entered service, and improvements to the entire fleet are projected to be completed by 2021.
VORALPEN-EXPRESS
The Voralpen-Express is the most appealing way to travel between eastern and central Switzerland. Starting from eastern Switzerland's urban center of St. Gallen, whose Abbey district is a UNESCO World Heritage Site, the train traverses the 325-foot-high Sitter Viaduct and the rolling landscape of Toggenburg. Passing by Rapperswil and the impressive upland moor near Rothenthurm, the journey ends after a little over two hours in historic Lucerne on the shores of Lake Lucerne.
The sleek new copper-colored Traverso trains, introduced in mid-2019, run hourly on the route, offering passengers a comfortable ride at an operating speed of 100 miles per hour.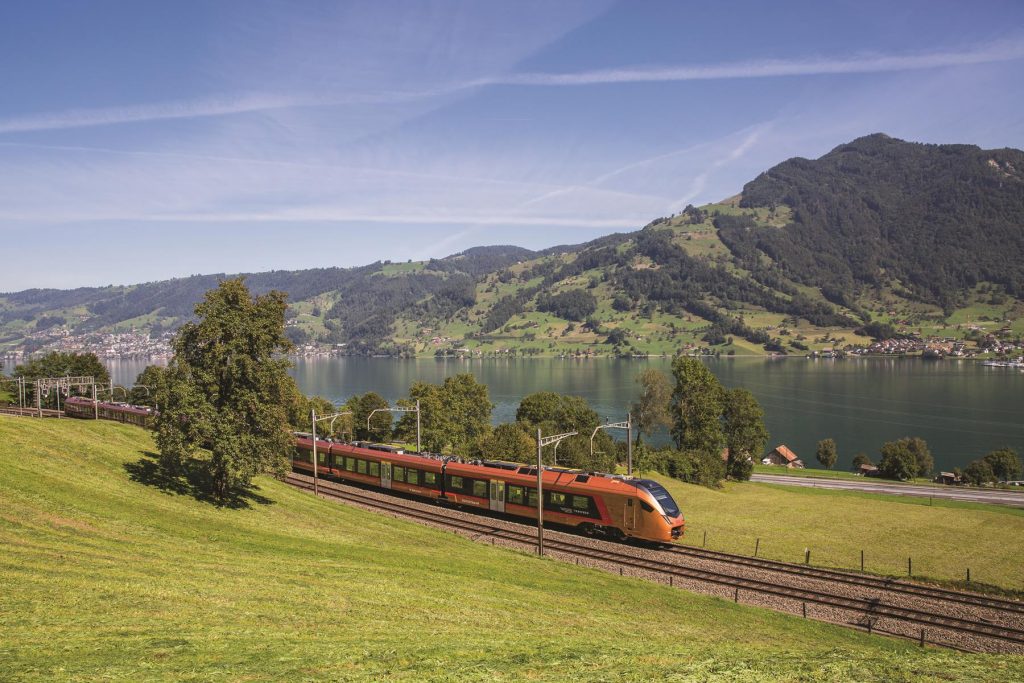 The eight-car trains feature 359 seats, 68 of which are located in the first-class section; all seats are equipped with power sockets. High-quality interior fittings are designed to meet the needs of various user groups, including commuters who require space where they can work in quiet surroundings. Tourists and leisure travelers can enjoy fantastic views from the large panoramic windows, and there is space for storing skis and bicycles. The train has two bistro zones with coffee machines offering a range of hot and cold drinks and snacks.
The family/kids compartment was designed by illustrator Konrad Beck with great attention to detail. Hidden-object pictures are themed around the four seasons. From December 2020, the Traverso will operate as Treno Gottardo on the classic north-south route from Basel or Zurich via the Gotthard mountain route to Locarno. Attractive leisure activities can be booked through Schweizerische Südostbahn AG. For more information and to make bookings, visit www.voralpen-express.ch.
LUZERN-INTERLAKEN EXPRESS
A train journey that is its own reward: that's how many travelers describe the remarkable Luzern-Interlaken Express. Operating between Lucerne and Interlaken, the nearly two-hour run affords passengers some of the most scenic views in all of Switzerland. Part of a network operated by the Zentralbahn company, the route covers the eastern section of the GoldenPass Line and belongs to the Grand Train Tour of Switzerland.
Large viewing windows allowing passengers to enjoy the splendor of the passing landscapes are key to this special train that connects two of the most popular Swiss destinations. Passengers are quietly whisked alongside mountain scenery, turquoise lakes and thundering waterfalls. In fact, the train passes five crystal-clear mountain lakes—Lake Lucerne, Alpnachersee, Sarnersee, Lungerersee and Brienzersee.
A LiveGuide app for passengers offers trip information and highlights of the region, and indicates the train's position en route. Passengers can order drinks and snacks from their seat with the BistroOrder app. The train leaves Lucerne every day of the year, with departures hourly from 6 a.m. to 9 p.m. From Interlaken, trains depart for Lucerne hourly from 7 a.m. to 8 p.m.
Soon after reaching Giswil, the Interlaken-bound train converts to cog technology because of the percentage of grade as it winds its way to 3,300-foot-high Brunig Pass, which connects the Bernese Oberland and central Switzerland. After the descent from the pass, the train arrives at Brienz, a popular starting point for boat cruises on beautiful Lake Brienz. Also worth a visit in this area is the fascinating open-air museum at Ballenberg, which began in 1978 with 16 characteristic Swiss buildings.
Other points along the route include the Glasi Hergiswil glass factory; Sarnen, where the William Tell legend was born; Lake Lungerersee, a fisherman's paradise; fascinating Aare Gorge at Meiringen; the woodcarving school in Brienz; and the exciting steam cog railway up the Brienz Rothorn.
Interestingly, more than 130 years ago the first trains of the Jura-Bern-Lucerne Railway operated between Alpnachstad and Brienz. In order to get from Lucerne to Interlaken, travelers had to make the first and last parts of their journey by steamboat. Today's express train trip through this scenic land offers a first-class adventure not soon forgotten.
For more information, visit MySwitzerland.com/STS.
---
By Don Heimburger