Nashville's Country Music Hall of Fame is a must for all music lovers, and these group tours are sure to have everyone singing a happy song.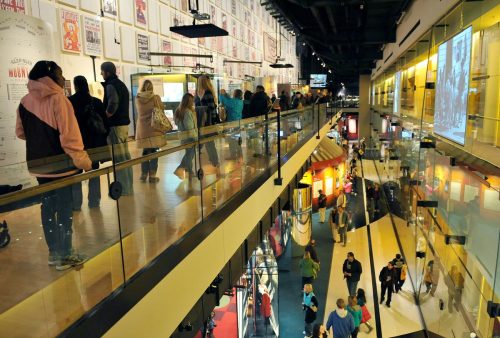 You don't have to love country music to visit the Country Music Hall of Fame and Museum in Nashville.  But if you have a group that's interested in any of the following things, you should definitely add this destination to your travel itinerary:
Singing
Dancing
Songwriting
Storytelling
Poster Art
History of American Music
History in General
Food
Southern Culture
Johnny Cash, still the epitome of troubled talent
Being with people who love any of the above
Of course, you're welcome to tour the museum under your own steam, but this 350,000-square-foot domain of galleries, exhibition spaces, archives, classrooms, performance areas, shops and restaurants can be a bit daunting.  So we're going to cover some tour ideas that offer a truly memorable, one-of-a-kind experience in a relatively short time.
Seven Group Tour Ideas for the Country Music Hall of Fame
All groups of 15 or more that visit the Country Music Hall of Fame and Museum are eligible for special group rates. These are good for the self-guided tour or the audio tour; special rates for tour-operated groups are also available.  All of the group experiences listed below include access to the museum.
1. STAR FOR A DAY: RCA STUDIO B GROUP ITINERARY
Fantasize about auditioning on The Voice? Then you'll want to check this out. The experience starts with the famous RCA Studio B, Nashville's oldest surviving music recording studio.  After you tour the premises, your group will get their own shot at the microphone with a professional sound engineer riding shotgun.  Finish the tour off at Wildhorse Saloon, where you can line dance to your song and other country hits.
2. HISTORIC RCA STUDIO B TOUR
On the other hand, if your group would rather learn about music than make their own, the Studio B Tour is their ticket.  The birthplace of over 35,000 recordings, this studio saw the likes of luminaries like Elvis Presley, Roy Orbison, Dolly Parton, Martina McBride and Carrie Underwood.  During this private hour-long tour, groups can hear some of the stories behind the music and view original instruments used in the sessions.
3. LEGENDS, LUNCH, AND LYRICS
What more could any group ask for: live music, Southern-style storytelling and a down-home "Meat and Three Sides" meal?  During this experience, groups will be able to listen to a bona fide country songwriter share their insights into country music, as well as their favorite tales of Nashville life.
4. CASH ON CASH
Johnny Cash passed away in 2003, but his legend lives vibrantly on.  Fans of the Man in Black will want to see this unique program, which gives groups the chance to hear a private musical performance by John Carter Cash.  During this hour-long event, John Cash talks about his father's career and his own experiences growing up as part of musical royalty.  It concludes with a meet-and-greet and autograph signing.  Note:  Definitely call ahead for this one, as it's based on availability.
5. STORIES BEHIND THE SONGS
What a lot of people — even music aficionados — don't realize is that songs have a history of their own.  The versions we hear are rarely how the song was originally crafted.  This event is excellent for serious students of music, as it gives them the chance to learn how a song is created, from the concept stage to the finished product.
6. SHARING THE ART OF SONGWRITING
What if your group wants to do more than just learn how hits are made? What if they want to have a go at writing their own?  Then this hour-long program is right up their alley. It gives groups the chance to work closely with a Nashville songwriter, composing their own lyrics and putting their own stamp on a song.  It ends with a group recording and the opportunity to buy a keepsake CD.
7. GET INKY: HATCH SHOW PRINT GROUP ITINERARY
This is for the artists in your group.  Music and movie posters are an art category of their own, and during this tour groups will be able to get an up-close view of how the magic actually happens.  First, they'll discover the 135 years of history behind the Hatch Show Print shop, followed by a viewing of some of the shop's iconic works.  The experience finishes up in the Space for Design, where groups can print their own memento.
Most of these tours take at most a couple of hours, but you're by no means done with your experience if you don't want to be.  At the very least, music lovers of all denominations will want to see the museum's core exhibition, Sing Me Back Home: A Journey Through Country Music.  This interactive exhibit tells the story behind the emergence and widespread adoption of country music.  Other exhibits are regularly hosted; check the website (CountryMusicHallOfFame.org) to see what's in town.  Additionally, groups can check out the shops and the various eateries, including 2|22, which specializes in updated farm-to-table twists on Southern classics; Bajo Sexto, a Mexican-inspired taqueria; and the Red Onion, which serves ready-to-go American fare.
The Country Music Hall of Fame and Museum is one of Nashville's top group tour attractions, and for good reason.  Whether your group has an hour to spare or an entire day to fill, you'll be able to do it here.