Seabourn Cruise Line will unveil its latest ship in December.
Well known as a leader in ultra-luxury cruising, Seabourn's newest ship, the Seabourn Encore, debuts Dec. 4, 2016 on a sailing from Piraeus (Athens), Greece. On Jan. 7, 2017, the inaugural ceremony takes place in Singapore. Expanding on Seabourn's Odyssey-class ships introduced between 2009 and 2011, the Seabourn Encore will feature one additional deck, along with new expanded public areas and the new signature restaurant, The Grill by Thomas Keller.
A 40,350-gross-register-ton ship accommodating just 600 guests based on double occupancy, the Seabourn Encore features areas offered on the other ships – the Grand Salon, Observation Bar, Club and Colonnade. And every suite has a private balcony. Brand new on the Encore are two Grand Wintergarden Suites, each with nearly 1,550 square feet of outdoor and indoor space.
The Observation Bar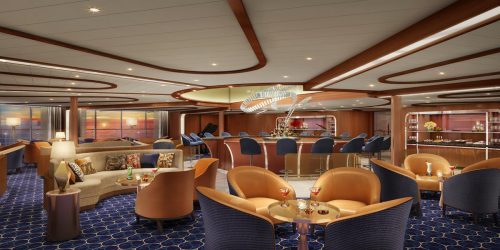 The Observation Bar on deck 11 will be the highest indoor viewing point onboard. Surrounded by floor-to-ceiling glass walls, it offers 270-degree, forward-facing views for guests to enjoy. Comfortable leather lounge chairs and high-backed barstools surround the square bar. The room's centerpiece is a dramatic semi-circular skylight that casts moonlight and sunlight over the bar area.
The Observation Bar features an Early Morning Riser continental breakfast and white-glove tea service in the afternoon. In the evenings the lounge transforms into a place for guests to enjoy canapes and cocktails along with piano entertainment, before and after dinner.
The Colonnade, Grand Salon and the Club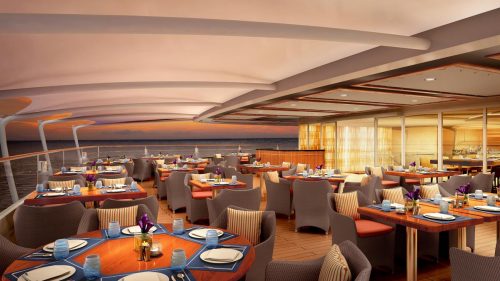 The Grand Salon is the main showroom on the Seabourn Encore. During the day, cooking demonstrations, lectures, movies and other gatherings take place there. Live music for dancing starts in the evening before dinner; later, the Grand Salon has cabaret performances, comedy and other shows.
The Colonnade provides a casual dining alternative with sumptuous buffets and daily specials for lunch and breakfast, along with indoor and outdoor seating. During the evenings, bistro-style dinners with table service are available.
The Club is best described as "the liveliest lounge on board." It's great spot to enjoy pre-dinner drinks along with live music and dancing, and there is a daily afternoon tea service. After dinner guests can enjoy dance music. Just aft of The Club are a plunge pool and two whirlpool spas.
The Grill by Thomas Keller – a New Chapter for Seabourn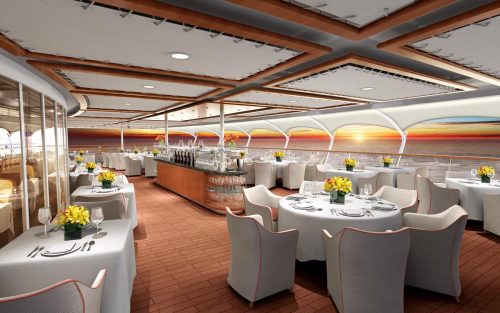 Building on a new era of culinary excellence, Seabourn first began a partnership in 2015 with Thomas Keller, a three-star Michelin chef renowned for his culinary achievements. Focusing on unique, unparalleled dining experiences, the American chef and his veteran staff worked with Seabourn's executive culinary team on menu development and training. Chef Keller's recipes are featured in an array of dishes, from first and main courses to desserts, in multiple venues on the Seabourn Odyssey, Seabourn Quest and Seabourn Sojourn. Seabourn's next ships, Seabourn Encore and Seabourn Ovation, will also feature these special recipes.
The Grill by Thomas Keller officially opened on the Seabourn Quest on May 21 this year, the result of collaboration between designer Adam D. Tihany and Chef Thomas Geller exclusively for Seabourn. The Grill by Thomas Keller will also be onboard the Seabourn Encore. Guests can enjoy American chop house classics along with a range of other steak house favorites. A wine list personally curated by Chef Keller complements each dish. Guests will be able to make reservations in advance of their cruise. And with Seabourn being all-inclusive, there are no additional charges for dining at this specialty restaurant. The Grill by Thomas Keller will be added to other ships in the Seabourn fleet and will be on the Seabourn Ovation, which debuts in 2018.
The Retreat Makes its Debut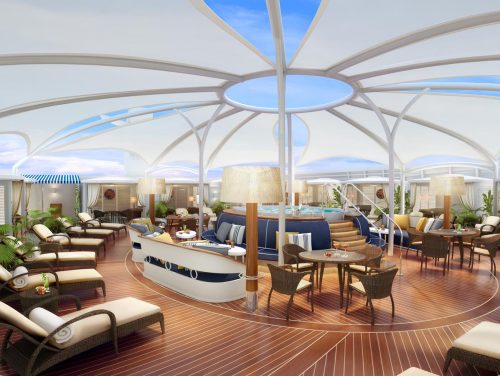 The Retreat is the perfect sanctuary for guests to experience rejuvenation and relaxation. A flower-shaped canopy shields guests from the wind and sun, and the central whirlpool has step-up access. Fifteen private cabanas, designed as individual luxury living rooms, complete with a refrigerator stocked with personal beverages and a large HD flat-screen television, are also part of The Retreat.  Cabanas can be reserved for a full day. Cost begins at $350 per day per couple.
Up to 28 guests can enjoy this area, stretching out on comfortable sun loungers and enjoying champagne or cocktails created by Seabourn mixologists, along with items from the healthy spa menu. A dedicated Retreat Concierge is available for guests' requests, as well as a special selection of amenities. Guests who want to enjoy personalized services can use the Spa Treatment Cabana.
 More about Seabourn
Seabourn Cruise Line continues to provide ultra-luxury experiences for its guests as well as exceptional value. The Seabourn Ovation, a sister ship to the Seabourn Encore, joins the fleet in 2018.  Seabourn's ships sail around the globe to lesser-known ports as well as better known ones. For groups that might want to enjoy a relaxed, social atmosphere along with personalized services, Seabourn could be a terrific option.