Westfield San Francisco Centre, just two blocks from famed Union Square on Market Street, is a group attraction in itself. The iconic destination is located on the site of the historic former Emporium Department Store, a structure built in 1896 and once hailed as the "Grandest Mercantile Building in the World" with its grand Beaux-Arts façade and elegant glass dome.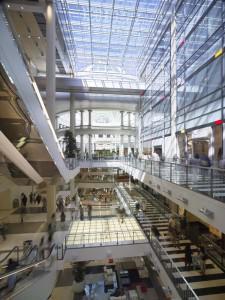 Westfield San Francisco Centre boasts the West Coast flagship of Bloomingdale's and the second-largest Nordstrom in the United States. The more than 200 boutiques include the designer brands Herve Leger by Max Azria, BOSS Hugo Boss, Tous, San Francisco's first Michael Kors and the only Edition by Banana Republic.
Westfield San Francisco Centre's VIP Passport program entitles group travelers to hundreds of dollars in savings in special offers and services provided by dozens of participating shops and restaurants.
Dining options at San Francisco Centre's Restaurant Collection under the Dome offer groups the opportunity to select from a variety of international cuisines, from American to Pan-Asian to Vietnamese; there are pre-fixed menus and private dining rooms available and customized to group size.
The Nordstrom Cafe and Bloomingdale's private Mission View Room is a favorite part of customized fashion shows, men and women's wardrobe planning seminars, fashion and beauty makeovers, and home and seasonal decorating presentations.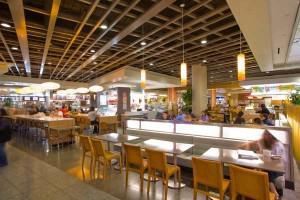 The Food Emporium on the concourse level, which houses a Bristol Farms gourmet market and 15 gourmet eateries, has a cafe-style atmosphere with silverware, real china and table bussing service.
Culinary programs for groups, including chef demonstrations, cooking classes, wine tastings and chocolate tastings can be arranged in advance at several of the restaurants and food purveyors.
The Beaux-Arts façade, designed by architect Albert Pissis, was the only part of the building to survive the 1906 earthquake and was viewed by San Franciscans as a symbol of "courage and vigor" during the city's rebuilding. After the quake the building was reconstructed in 1908 behind the still-standing façade, but as a "much more modern and grander version of its former self." The façade is built mostly of Colusa sandstone with a brick backing. The cast-iron window system, sandstone walls, columns, historic wood windows and glazing were all restored. The street level features extensive display windows, bronze doors and copper piping, all features from its 1908 appearance.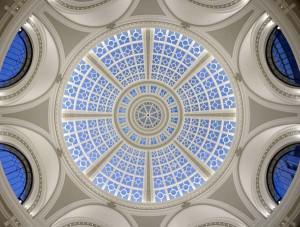 The dome at Westfield San Francisco Centre has remained a focal point of activity for more than 100 years. Also designed by architect Albert Pissis, the original dome was considered a signature feature of the building when it opened in 1896. In its early years, beneath the dome was a two-tiered bandstand and cafe where concerts were held every Saturday night. It too was destroyed in the earthquake and subsequent fires, then rebuilt by 1908. The restored dome is the centerpiece of a 200-foot-long, 65- foot-wide atrium and colonnade. It measures 102 feet wide, three stories high and weighs 500,000 pounds. There are over 800 glass panels in the dome and more than 900 lights encased in its ribs.
Westfield San Francisco Centre, across from the Powell Street cable car turnaround, is located within walking distance of the Moscone Convention Center and cultural attractions in the adjacent Yerba Buena district including the San Francisco Museum of Modern Art, Zeum Children's Museum, Contemporary Jewish Museum and the Civic Center, home to the San Francisco Opera and Symphony.
(www.westfield.com/sanfrancisco)