Being in the groups business is a constantly changing thing, as personnel, organizations and trends come and go. Every now and then, though, it's a real shot in the arm to see someone for the first time in many a year.
In early March I attended the monthly meeting for the Adventures in Northeast Ohio regional tourism promotion group at the Music Box Supper Club on the west bank of the Cuyahoga River in Cleveland, commonly referred to as the Flats.
Not only did I meet our host Mike Miller, VP of Sales for the supper club, for the first time but as I sat down, I was introduced, by Diane Rock of Northern Ohio Tourism, to her guest.
"Hi," he said. "I'm Johnny Green." "We've met," I replied. "Johnny Green and the Greenmen played a ballroom at the Days Hotel in North Randall (Cleveland's east side) 25 years ago."
I was with Concord Hotels at the time (1990) and we were pulling out the stops to drive group business into some seriously empty hotel rooms and ballroom space. Two of my group sales colleagues were Sue Ellen Wilson (now retired) and Jeffrey T. Hathy, a realtor in Florida. The company hired the band, we took our dinner show product to market and gave it our best shot! Of such are great memories created, but I didn't see Johnny again until last week.
Johnny remembered the gigs and pretty quickly the episodes, the names and the laughs all poured forth, the kind of experience that reminds you of the personal worth of a long career in a crazy industry.
Green has had a dynamic, varied career in in show business, with his band playing in 27 episodes of the Batman TV show in the sixties, among many other activities. (Check out Johnny and his group at www.johnnygreenandthegreenmen.8m.com.)
Eventually, Johnny and I had to quit talking but only because the meeting was over and we had to leave. It was a real treat.
As I left, it struck me that if I were still in the hotel business, I'd be heavily involved promoting the Music Box Supper Club given the variety of entertainment possible, much of which would appeal to groups interested in entertainment.
The Music Box Supper Club has three venues:
The supper club, on the first floor of the facility, with a capacity to 250 people. Last Saturday night's live show featured Hillbilly Idol.( At the same time, Jimmy Webb, who wrote "Galveston, "Wichita Lineman" and "McArthur Park," among others was appearing in the concert hall.) Groups have a choice to enjoy the music of legendary performers on soundtrack, while dining. Many groups will upgrade to hear their favorite music performed by live cover bands. Soundtrack and Live Tribute Options include Paul Simon, The Beatles, The Rolling Stones, Elvis Presley, Dave Matthews Band, Elton John, Frank Sinatra , U2 and Bruce Springsteen. All packages require a minimum of 30 guests.
A Concert Hall, capacity 350, on the second floor of the building, currently with a concert schedule into July
A private dining room, capacity to 50, for meetings , rehearsal dinners and civic events.
In good weather, windows facing the Cuyahoga River will open to provide seating and great scenery on the river's edge. allowing a 150 capacity space. The facility is located in the same building as Shooters and the Improv Comedy club.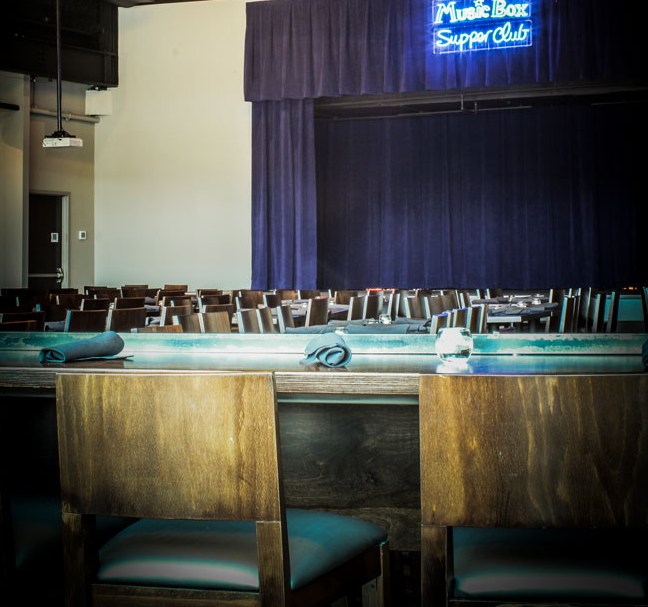 You can reach Mike Miller and Group Sales Director Stephanie Wilson at 216-242-1254. Website is www.MusicBoxCLE.com Be sure to see the concerts schedule.
For more information on Adventures in Northeast Ohio visit www.adventuresinnortheastohio.com.
by Harry Peck.