Just in time for opening day, Baseball! The Exhibition will begin April 4 and continue through Sept. 4, 2014 at the Ronald Reagan Presidential Library & Museum in Simi Valley, Calif. Baseball and U.S. presidents just seem to go together.
On baseball's opening day in 1910, our 27th president, William Howard Taft, threw out the first pitch from the stands at Washington, D.C.'s Griffith Stadium to open the Senators season. A tradition was born. Every president since Taft, with the exception of Jimmy Carter, has thrown a ceremonial first pitch to open the season.
President Franklin Delano Roosevelt's eight opening day pitches were the most by any chief executive. President Ronald Reagan opened the 1984 and 1986 seasons for the Baltimore Orioles and the 1988 season for the Chicago Cubs.
Expressing his passion for the game, Reagan on May 11, 1983, said, "I really do love baseball and I wish we could do this out on the lawn every day. I wouldn't even complain if a stray ball came through the Oval Office window now and then."
Encompassing 12,000 square feet, the Baseball: The Exhibition features some rare, historic items from the largest private baseball memorabilia collection. The exhibit shows historically significant players and organizations and their contributions to the game. A special section features the hometown Los Angeles Dodgers and the Brooklyn Dodgers.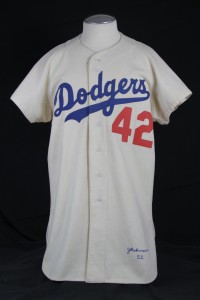 Baseball jerseys and uniforms from some of the game's greatest players are on display. Representing the Dodgers are Jackie Robinson, Don Sutton, Orel Hershiser and Fernando Valenzuela. Mickey Mantle, Yogi Berra and Joe DiMaggio pinstripes are presented. Babe Ruth's 1939 uniform worn while coaching the Brooklyn Dodgers, along with his traveling trunk of uniforms, is featured. Jerseys from Willie Mays, Barry Bonds, Ted Williams, David Ortiz and Hank Aaron round out a marvelous presentation.
The game is called baseball and some of the most famous balls are part of Baseball! The Exhibit. There's a baseball signed by Hank Aaron, and "755" is the one that tied Aaron's record and is signed by Barry Bonds. The Joe DiMaggio record-breaking ball from his 1941 56-game hitting streak and a baseball from the game that brought the streak to a close are featured, as is a ball signed by Pete Rose that broke the all-time hitting record of Ty Cobb.
Included in the collection are historic baseball bats, like the one signed by Babe Ruth, and gloves, stadium memorabilia and period folk art. Rounding out the exhibit is one of the most extensive baseball card collections, which includes the rare Honus Wagner trading card.
For more information on Baseball! The Exhibit and the Ronald Reagan Presidential Library & Museum, visit online at reaganlibrary.com or call 800-410-8354.
−Dave Bodle