Idyllic Main Street communities filled with craft and gift shops….heaping helpings of fried chicken and fresh-baked bread….Clip-clopping horse buggies clattering down country roads where Amish farm families have lived the simple life for generations.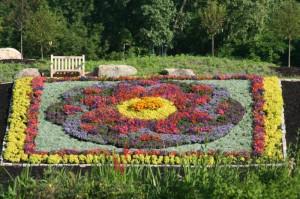 Northern Indiana's Amish Country seems to be custom-made for group tours, offering hearty meals, fun shopping and loads of nostalgia. But since 2008 the patchwork of small towns has been stitching together another crowd-pleaser—the Quilt Gardens Tour.
Designated an American Bus Association Top 100 Event for the third year in a row, the driving tour is one of a kind. Though the Quilt Gardens Tour spotlights a wide variety of gardens, it's hardly your garden variety tour. There's nothing like it anywhere else.
Check out the Digital Flipbook Version below: