Scenic beauty, world-class attractions, a state-of-the-art meeting facility and genuine hospitality make Pigeon Forge, Tennessee a first-class meeting destination.
The natural beauty of Great Smoky Mountains National Park, America's most visited national park, surrounds Pigeon Forge. Scenic drives, wildlife, waterfalls, fall foliage and great attractions highlight the park's offerings. In this setting an array of fun things to see and do have grown to make Pigeon Forge a premier packaged group travel, family vacation and getaway destination. You can add hosting a conference, meeting, trade show or sporting event to that list of reasons for visiting Pigeon Forge.
Hosting Heartland Showcase from March 3-5 lets Pigeon Forge show off its meeting facility while taking its destination message to the tour & travel industry. The host hotel will be the Music Road Resort. Nestled on the Little Pigeon River and conveniently located just off the Parkway, Music Road Resort offers a complimentary deluxe breakfast, private balconies and an elegant Southern charm. Complimentary shuttles will take Heartland guests from their accommodations to the LeConte Center at Pigeon Forge.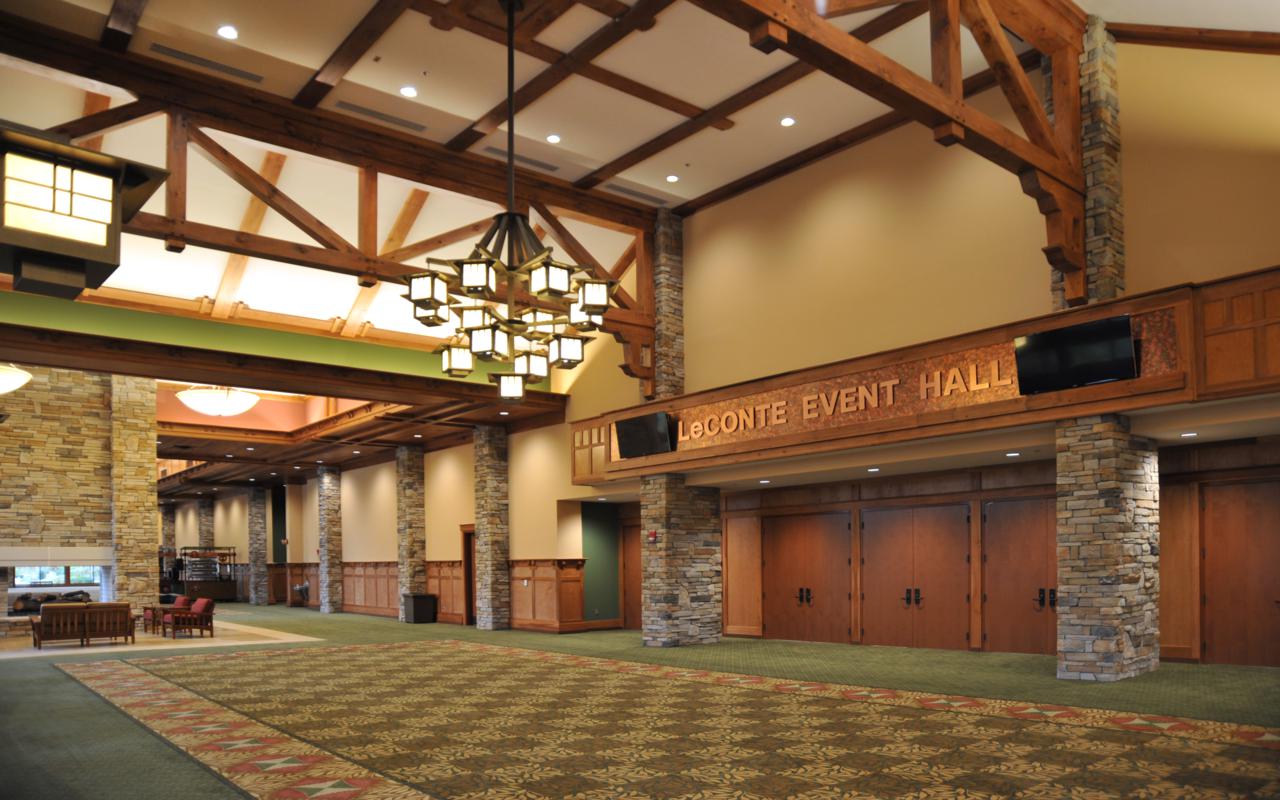 Located in the heart of Pigeon Forge, the center has a mountain lodge feel fitting the spectacular views of Mount LeConte in Great Smoky Mountains National Park. Since opening in 2013, the facility has received numerous awards and is a certified Tennessee Green Hospitality venue.
The facility's 100,500-square-foot, clear-span exhibit space will house appointment tables, supplier and partner exhibitors. The Foyer of the LeConte Center will host Showcase registration and sign-up on March 3. Shular Hospitality, a leader in the accommodations industry with five Pigeon Forge properties, including the new Courtyard by Marriott, is sponsoring registration.
Greenbriar Hall, a separate breakout room, will be the site for tour operator orientation followed by a brief exhibitor/operator meet & greet. The LeConte Center prides itself in handling one function at a time, allowing total focus on the event and its attendees. Wi-Fi is available throughout the Center, while parking is free and a free tram picks up attendees in the lot and transports them to the front door.
In addition to the business at hand, Pigeon Forge Department of Tourism and its partners have prepared a full agenda for visiting attendees. The opening reception at the Music Road Resort Convention Center is a wine & cheese evening event featuring wine sponsored by Smoky Mountain Winery, with samplings of Ole Smoky Moonshine from Tennessee's first legal moonshine distillery. Country Tonite performers will provide entertainment, highlighting numbers from their 20th season.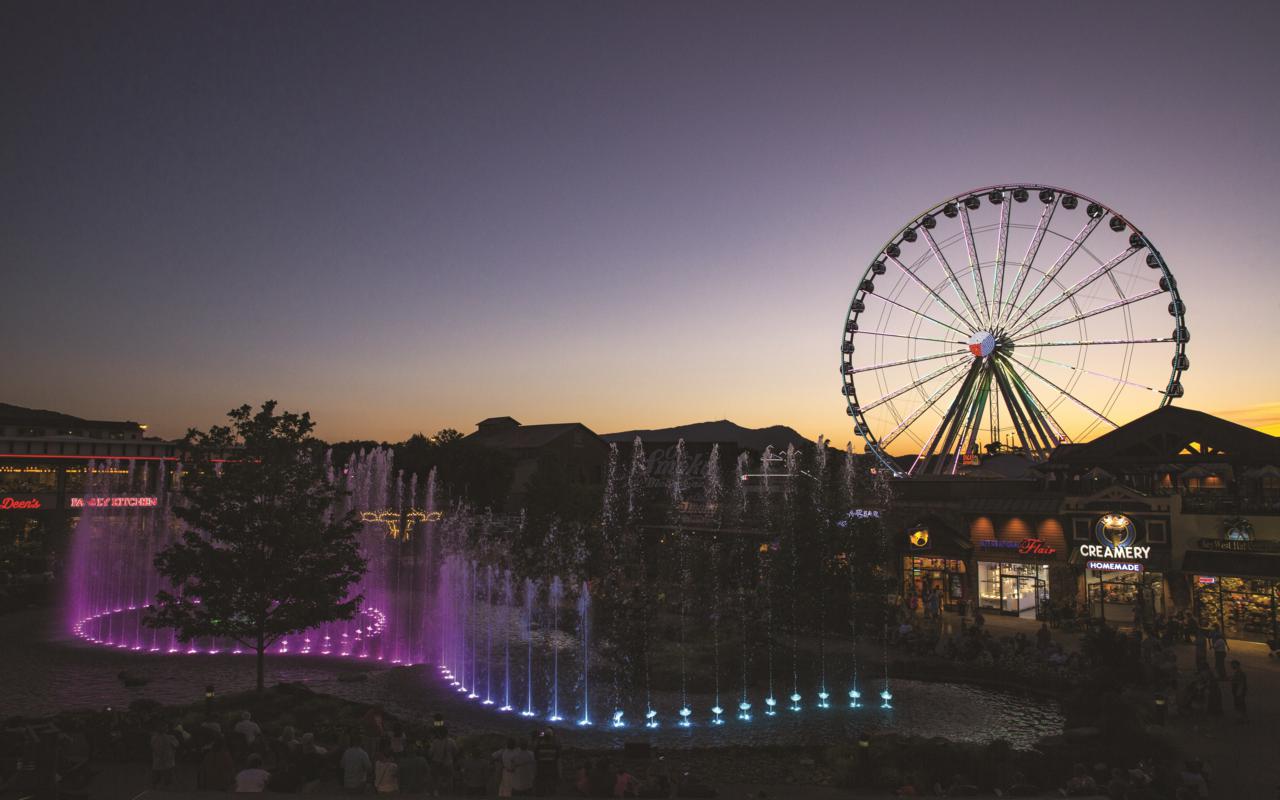 The Island in Pigeon Forge welcomes Showcase attendees to its 23-acre entertainment destination with the Great Smoky Mountain Wheel (a 200-foot-tall observation wheel) and multi-million-dollar show fountain. Dozens of restaurants and retailers throughout The Island are offering Showcase attendees special discounts and opportunities when they show their name badge. If one of Pigeon Forge's outstanding entertainment venues draws your interest, be ready to depart The Island for Music Mansion Theater.
Outside of The Island, the high-energy cast of Music Mansion Theater, formerly Smoky Mountain Opry, presents the ultimate variety show. Acrobats, dancers, musicians and vocalists blend seamlessly as they wow audiences. Top-quality visual and special effects and audio enhance the performance, which includes all music genres, from Broadway, pop and country to Motown, rock and roll, and patriotic.
After a day of appointments on the trade show floor, the second evening comes alive with more of Pigeon Forge's entertainment offerings. First stop is a reception at the Titanic Museum sponsored by the Titanic Museum, one of Pigeon Forge's top attractions. The progressive reception begins by giving each guest the boarding pass of an actual Titanic passenger. The reception takes place throughout the galleries, where more than 400 items, many of them personal and private, are on display. Before departing the Titanic, you'll learn of your passenger's fate. The evening is just beginning.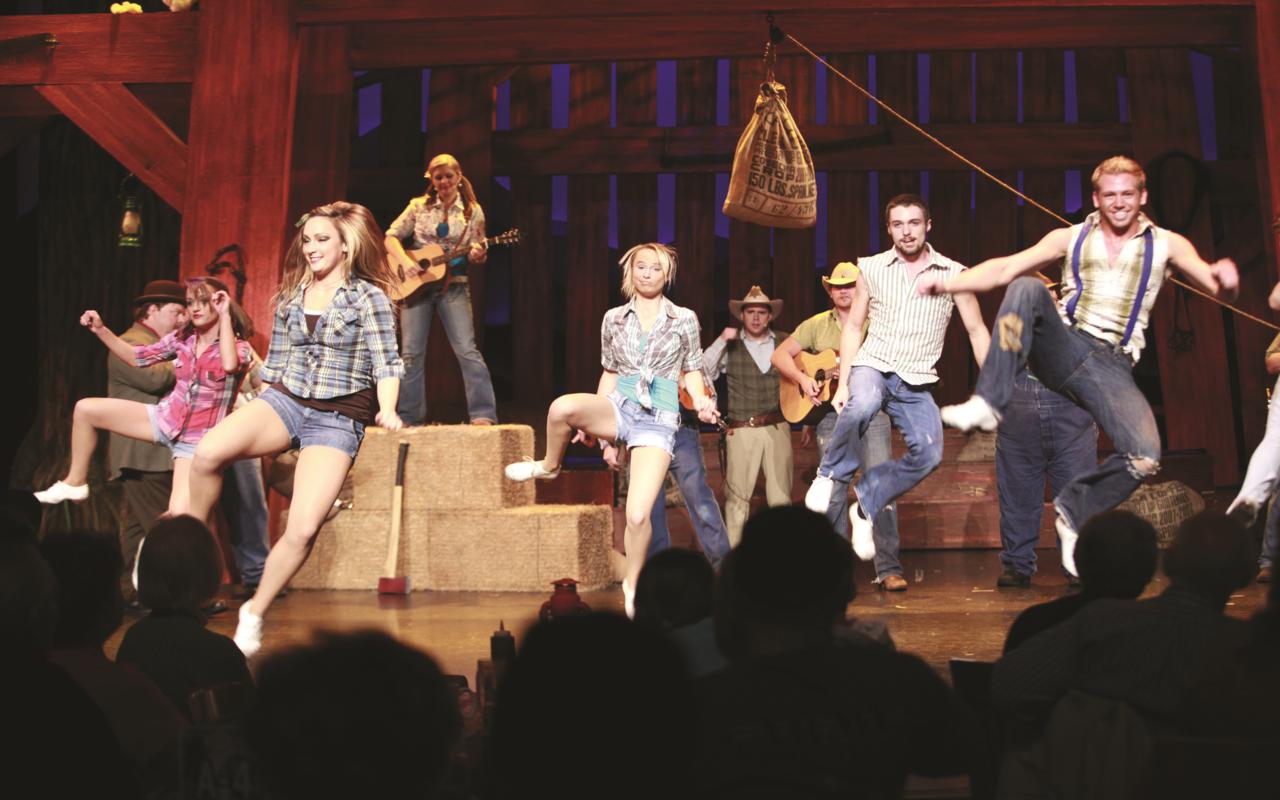 Next stop is the Hatfield & McCoy Dinner Feud, directly across from the Titanic and within walking distance. You're about to become part of the longest-running feud in history. Maybe you can even help the Hatfields and McCoys settle their differences, although that's doubtful. Here's what you can expect: singing and dancing to please city and country folks, acts of strength to amaze, jaw-dropping stunts and hilarious comedy. Plus, you'll enjoy an all-you-can-eat Southern Home-style Feast with eight items on the menu.
From check-in to checkout, Pigeon Forge's hospitality and attractions ensure both Showcase attendees and packaged group travel visitors a memorable Smoky Mountain experience.