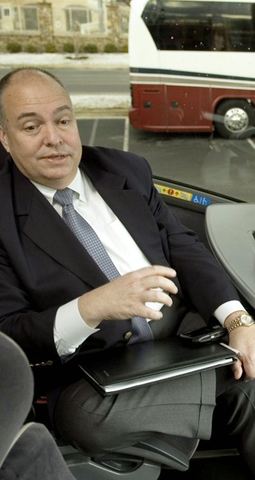 If there's a figurehead in the domestic group travel industry it's Peter Pantuso. President and CEO of the American Bus Association since 1996, Peter has successfully guided the organization to become North America's largest motorcoach, tour and travel association. ABA members represent over 65% of all motorcoaches on the highways.
We sat down with Pete this week at the association's 2015 Marketplace in St. Louis where he shared the state of the organization and provided insight as to what lies ahead for the group travel industry. Enjoy his take on the future of motorcoach and group travel in this edition of Take 5.
What are you most excited about right now at ABA?
I'm excited about how well travel is doing first of all. The industry is performing well, there are a lot of inbound travelers coming to North America and they understand and like to travel by group. I'm also excited about the direction the association is going. We've got great leadership, new members we just brought on to our board and a new chairman of our board. We are running on all 8 cylinders, having accomplished a lot in 2014 with a new laundry list for 2015. It's all going well.
What keeps Pete Pantuso up at night?
We're always concerned about safety. Whenever there's an accident of any kind we're on alert 24/7 so if anything happens in the middle of the night it literally keeps me up. We're trying to respond to those and paint a picture of the industry. But other than that I'm getting a pretty good night's sleep most of the time.
What in your opinion makes the American Bus Association's Marketplace the industry's #1 event?
The numbers make it, obviously; coming into the show we had more registrations than Nashville last year, but I think what matters it is the product we have to offer. The people who are here all week are getting business done like they do nowhere else at a North American travel show. They are happy with what they get – quality appointments, seeing a lot of tour operators at the show. They are finding that operators are coming to the show looking for new things, wanting new business and that's been the history of ABA since I've been with the association, even when we were much, much smaller.
That being said, we do extensive surveys after every show. We ask members what they liked, what they didn't like and what they want to see. So I can't tell you what we're going to be changing as we're going to be changing things based on their needs.
One of the issues that plagues the group market is the constant movement of suppliers in and out of the sector. What can ABA do to convince them to stay the course?
It's frustrating when you see suppliers that all the sudden say "not an important market for me" because they are slammed with other business. At our show we've shifted attendance – not as many hotels this year. We try to educate suppliers that you can't just turn it on and off – it's not just going to come back when you do and by the time you come back the market has shifted to other destinations or other suppliers.
The biggest challenge we face as an industry is…
Trying to figure out what the next generation wants. If we look back to the previous generation we had people who we took on buses until they were about 18-25 and then we wouldn't pick them up until they were 60-65. The perception was the bus is for my parents or grandparents. If I'm going somewhere, I'm going to drive, take a plane or train.
Now we have a group moving through the pipeline, an entire generation that is not driving as much. Issuance of drivers licenses is way down. They are moving into big cities, relying on public transportation more and they are moving from city to city by bus before they go by train or plane. In many markets that's the first form of travel. That's fantastic news for the industry.
So now we've got an entire generation of people who don't mind traveling in a group environment. But they are still very individualistic, so start looking out 10 years and say what makes that generation tick and how do we create product that is going to get them to keep traveling with us. To me that's exciting.
Connect with Peter Pantuso:
Email: ppantuso@buses.org
LinkedIn: Peter Pantuso
Phone: 202.218.7229
Listen to the latest interview with Pete Pantuso on the Traveling Tribes podcast.