In the minds of many travel professionals, Perillo Tours is synonymous with escorted vacations to Italy.
As America's oldest and largest travel company to Italy, the third-generation family operation has been running tours there for 68 years. But many Perillo travelers are greeted with a warm "Aloha" rather than a hearty "Buongiorno," as the company also commands a strong presence in Hawaii.
Perillo, in fact, is celebrating its 25th year in the Hawaii market. The New Jersey-based tour operator (perillotours.com) offers not only hosted tours for the general public but also customized group travel opportunities for the academic and affinity sectors, including music and science Learning Journeys options. All programs blend organized sightseeing with ample free time to absorb the laid-back island lifestyle of our 50th state.
The travel industry has seen a ramped-up demand for Hawaii vacations in recent months, and many travel pros cite the Islands as among their hottest-selling destinations at the moment.
Following are day-by-day descriptions of what travelers can expect on two Perillo programs in Hawaii:
Perillo Tours' "The Three Islander"
"The Three Islander," a 10-day, 9-night vacation package, showcases the tropical splendors of Oahu, Maui and Kauai, with deluxe accommodations at Hyatt resorts. Priced from $3,359, double occupancy, for the land portion, the program includes three nights on each island.
Day 1  After landing in Honolulu, you'll be met at the Hyatt Regency Waikiki with a traditional lei greeting. Dinner is your choice—in the Hyatt's new SWIM poolside lounge, at one of its two brand new restaurants or from the comfort of your own ocean-view balcony. A $40 per person hotel food and beverage credit is provided.
Day 2  After breakfast, attend a short familiarization talk on your Hawaiian adventure. The rest of the day features a tour along the Windward Coast to the Polynesian Cultural Center for a tour of the authentic South Pacific villages, with craft demonstrations, an all-you-can-eat buffet dinner and Polynesian dance revue.
Day 3  Today's sightseeing tour of Honolulu includes Pearl Harbor's USS Arizona Memorial, Punchbowl National Cemetery and the downtown area. The day ends with dinner at the Hyatt's Japengo restaurant followed by the Society of Seven cocktail show.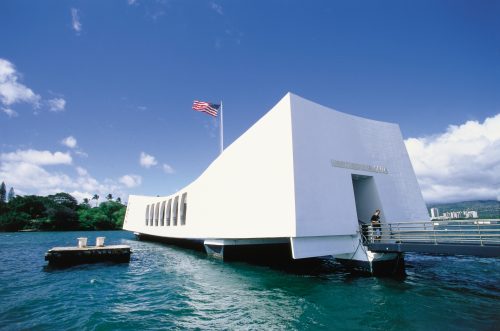 Day 4  After breakfast, you jet off to Maui, the "Valley Island."  Sightseeing highlights on the way to the Hyatt Regency Maui include a visit to the Iao Valley to view the famous Iao Needle and a drive through the historic whaling town of Lahaina.
Day 5  Enjoy a free day at leisure to enjoy the hotel's lush tropical grounds, the half-acre swimming pool and world-famous Ka'anapali Beach. Cap your day with a sunset cocktail cruise on a smooth-sailing catamaran, enjoying views of West Maui, Molokai and Lanai while downing hot and cold pupus with mai tais, beer or soda. If it's whale season (mid-December through mid-April), you might spot a humpback or two.
Day 6  An exploration of Maui is highlighted by a tour of 10,023-foot Mount Haleakala, a sleeping volcano that gave birth to the island. Truly majestic, her crater is a mile deep and stretches seven miles across. Tonight is the Drums of the Pacific Luau, a journey through the islands of Polynesia with the dances and music of Samoa, Fiji, New Zealand, Tahiti and Hawaii.
Day 7  Fly to Kauai, the "Garden Island," where your home for the next three nights is the Grand Hyatt Kauai, one of the finest resorts in Hawaii. Spend the afternoon relaxing at the beach or poolside or just exploring the lush manicured grounds.
Day 8  Hang loose and enjoy a full day at leisure. But if it's excitement you want, consider an optional helicopter tour.
Day 9  Visit Waimea Canyon, the "Grand Canyon of the Pacific," and Kauai Coffee's Koloa Estate, the largest coffee farm in the U.S., home to four million coffee trees.
Day 10  The tour ends after breakfast.
A shorter Hawaii option is "The Two Islander," a 7-day/6-night program (from $2,359, plus air) that ends on Day 7 of "The Three Islander." Either trip can be extended with a three-night stay at the Hilton Waikoloa Resort on the Big Island of Hawaii. The hotel has a four-acre swimming and snorkeling lagoon, three freshwater swimming pools and a dolphin encounter program, in addition to a beach, waterfalls, canal boats and tram rides.
Perillo Tours' "Hawaii's Traveling Classroom 2014"
This 10-day, 9-night educational immersion program is organized for student groups by Perillo's Learning Journeys division. During four days on the Big Island, the focus is on science, with hands-on lessons in geology, astronomy, botany and marine life. The Oahu portion of the trip provides close encounters with Hawaiian history and culture.
Day 1 After arriving at Hilo International Airport, the group is greeted with a traditional flower lei and then taken to a Hilo hotel that has inside corridors; girls and boys stay on separate floors, chaperones intermingled between. During the first-night pizza party/orientation briefing, the local tour director goes over hotel rules, safety and area shopping.
Day 2  With an interpretive guide the group studies the formation of the Hawaiian archipelago by Madam Pele, the goddess of the volcano, stopping first at Punalu'u Black Sand Beach. Students will learn how the beach was formed by hot lava entering the ocean, exploding and later cooling to form basalt black sand. There's time to explore the volcanic reef and see endangered hawksbill and green sea turtles basking in the sun.
Next the group enters Volcanoes National Park and heads to the Thurston Lava Tube, a cavern located in a forest of giant tropical hapu'u ferns. Students use their flashlights to proceed deeper into the cave, where lava flowed thousands of years ago. Then the group embarks on a mile-long hike through barren fields of cinder on the park's Devastation Trail, where the guide describes volcanic formations like Pele's Tears, Pele's Hair and Pumice. A lunch break at the park's visitors center includes a discussion of tectonic plates, the Ring of Fire and how Hawaii was formed through a "hot spot" in the Pacific Plate. The group continues on to visit steam vents where hot moist air warms their faces and tour the Jagger Museum, where they can watch seismographs record earthquakes right under their feet and view the lava lake in Halemaumau Crater as it erupts. At night they visit eruption sites and view the red-hot lava.
Day 3  At the Pacific Tsunami Museum, students attend a class and learn about tsunami awareness and the latest forecasting tools used around the Pacific. Next is a hike through a tropical rain forest at Akaka Falls, one of Hawaii's highest waterfalls. After the hike, head to the lower slopes of Mauna Kea for a vanilla bean farm experience. Students learn about the orchids that produce vanilla beans and how they are cultivated, pollinated, harvested and dried. Then it's time for a vanilla-infused lunch and the famous ice cream. The day ends with a deli-style dinner and star-gazing atop Mauna Kea; after a 60-minute documentary film the group moves outside to view the night sky through telescopes.
Day 4  In the morning enjoy a tidal pool walk along the ocean next to your hotel. After lunch, it's off to Keauhou Bay for a snorkel cruise to historic Kealakekua Bay, where Hawaii was first discovered by Captain Cook in 1777. Students will explore lava tubes and see sea turtles, spinner dolphins, maybe even a humpback whale or two.
Day 5  A short flight from Kona Airport takes the group to Honolulu on the island of Oahu. Soon after arrival you'll head to Hawaii's most famous landmark, Diamond Head, and climb to its 763-foot summit for a spectacular 360-degree view. After the hike you'll make a stop at the Waikiki Aquarium for a workshop on "What's a Coral?" Students will learn about Hawaii's delicate coral reef system and feed live corals found only in Hawaiian waters. At night the group is separated into teams for a Wiki Wacky Scavenger Hunt aimed at instilling knowledge of Waikiki's history and culture.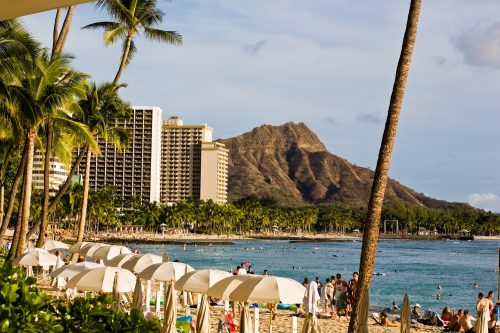 Day 6  Enjoy a full-day adventure at the Polynesian Cultural Center, where you'll tour the seven villages that represent the islands of the South Pacific. Highlights include shows throughout the day, an IMAX movie and a Polynesian feast that includes baked chicken, a turkey carving station, fried mahi mahi, Fijian curry, Samoan noodles, and salad and fruit bar. The day concludes with the big show in the open-air amphitheater.
Day 7  Hawaii's history and culture takes center stage on an Eastern Shores island tour that starts around Diamond Head and continues to the Blowhole—where water can spout hundreds of feet into the air. At Pali Lookout the wind is so strong that you can almost fly. Lunch is on the lawn of Iolani Palace, where you'll tour the former residence of Hawaii's kings and queens. Enjoy traditional entertainment and foods—and even try doing the hula—at an authentic Hawaiian luau that caps the day.
Day 8  It's time to hang loose Hawaiian style. Sit back and relax while enjoying your days in paradise or sign up for adventures like snorkeling, parasailing and rain forest hiking.
Day 9  Another free day to relax, explore or purchase adventure activities. At our farewell beach barbecue we'll announce the winner of the Wiki Wacky Scavenger Hunt, who will receive an authentic Hawaiian trophy.
Day 10  Departure Day