Paula Twidale is the executive vice president of Collette Vacations. After being elected as the first woman chairman of the United States Tour Operators Association (USTOA) during its annual meeting in Chicago this December, we sat down with her for this edition of Take 5.
That was quite an emotional inauguration ceremony. Tell me about that experience for you personally.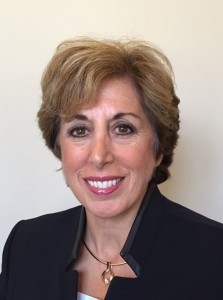 It was a bit overwhelming because the excitement built-up around the conference and it's been a long time coming. For women, I look at it as a milestone because the industry is predominantly female. I am really trying to take gender out of the role and make it more of being recognized for your core competencies and your skill level. Like I had said in one of the presentations—giving other women the confidence to go forward and strive to be the best they can be and encourage other people to follow. Personally, I don't really like the focus being on me, but I knew it was a milestone that had to be brought forth.
The prior celebration we did for women in leadership that morning was a little bit unexpected but that was a nice thing that our partners decided to do. It was wonderful because there's so many women leaders in this industry that were able to relish in that and spend 20, 30 minutes just chatting amongst each other and really bonding with the people in the room.
When you think back in your career in the travel industry, did you ever think this day was going to come? Was this your destination?
I don't know that you can ever anticipate this day coming. I'll make it brief by saying I stumbled into the industry sort of by default. I graduated from college in the social science area and I was working as I was going through graduate work.
I went into the airline industry trying to learn as much as I possibly could. It was very male-dominated back then, we had 175 cities at Eastern Airlines and only a handful of top female managers. So to say that I would anticipate this back then—no. But I didn't look at anything as a barrier. I felt challenging myself was something that inherently I always did. So it evolved over time by having that kind of personality that catapulted you into an arena where other women looked at it as, like, "Oh, wow, you've achieved this and you've done XYZ and what made you do it?"
I think it's confidence in yourself. Know your limitations but don't be afraid to take risks. That's what it's about.
For women entering the business today, will they encounter barriers in their attempt to achieve leadership roles in the travel industry?
I think it is more advantageous for them today. It's very, very different from years ago where there we fewer opportunities and certainly lesser pay. I made less than my colleagues when I was at the airline, I know that. That didn't stop me from still wanting to do better and improve myself.
That's why it was so important to communicate that message to the audience today; to be the role model to give them the spirit and the confidence to keep moving forward. Go for that brass ring. Because if you don't try, they're going to know. And you need to fail so you know how to succeed going forward.
As we say in tourism, you're seeing your destination through a different lens—people are seeing life through a different lens today and it's one with equality. It's a day for gender to come out of the equation.
Was there any debate on the title of your new role?
I'm going to offer this to you … people say, "Why not chairwoman? Chairperson? Chair?" They want to create some connotation to the word chairman. I took chairman after some with deliberation because it's not male-oriented. People assume it is because the word "man." But it's really "man, mana" for the Latin word hand—hand presiding over the chair. That's what the derivative of the word means. So I said, "Well, that really speaks volumes that what has been inherently thought of as male should not have to be gender-specific or gender-changed because a woman takes the role."
Focusing on the position and the task at hand, what's your goal for your term @ USTOA?
I think my vision is to execute the mission of the organization. That's why I focused on integrity. Integrity in tourism is the pillar and it's part of our tagline for a reason. Being an active member indicates that there is integrity in the process—this core competence amongst active members so that consumers can feel confident in their choice of these particular companies. We can market and create more brand awareness about what USTOA brings to the table and to be that voice of the industry.
We do it on Capitol Hill. We made ourselves relevant in the eyes of people like the DOT—we're developing relationships because we want to do the right thing and we want to create dialogue to help them understand how tourism is an economic driver. If anything is hampering tourism or becoming problematic for companies to survive in this environment, we need to have that voice put forward so they understand the implications of their actions. That's the vision we're going to carry forward.
It's interesting to see that shift from a professional perspective because USTOA historically has steered away from politics. Will you be coordinating efforts with ASTA, ABA, NTA, other trade associations?
At the moment, we have our caucus and do Capitol Hill visits prior to the caucus. We're doing that standalone, but we're encouraging other entities to come in and speak at the caucus, so there is a collaborative effort. It's premature to say that we will work directly with another organization but there are synergies that exist so we may emulate the same process or dovetail on something that they've done.
We've done things with sister organizations like ETOA in Europe. When it came to the Italian government trying to impose more fees and restrict coaches for the Jubilee year, we banded together.
So, taking your USTOA hat off, it seems like Collette is always innovating. What are you most excited about right now?
PT: Well, I'm excited on a few different folds. I'm excited on the product side because we've launched spotlight tours this year and they're doing very well. We have spotlight tours in over 15 destinations, places like Paris, Barcelona, San Antonio and New Orleans. It's one-city specific escorted tour for people who are time-deprived with options to spoke out from the main cities into a 9- to 10-day program.
We're also excited about the national parks. The centennial is next year so we're collaborating with Tourism Cares by donating money for every passenger we send to the parks. That's an initiative that's spot-on our message of sustainability. We have core values at Collette, as an organization we value innovation, integrity, collaboration and social responsibility. I feel that social responsibility allows us to go out and do things for not only the destinations that we travel to but to give back. Product wise, we're launching a Winter in Yellowstone program. This offseason program allows travelers to see the destination through a different lens, with a unique perspective of that area at that time of year.
Are you seeing a transformation in your workforce?
We're a family-owned company and we're looking at strategically aligning the leadership of our company with family members in high roles in the company. That's not only exciting for them, but exciting for us because we also have a lot of opportunity for our young people in the company.
It is a transformation and rewarding for me to help be a mentor for those individuals. I had a mentor in the airline days and because this person believed in what I could do, I think he pushed me that extra mile. Because he believed in me, I started to believe more in myself. If you have strong people behind you, believing in you, giving you that little extra push and being a resource is very helpful. So that's what I find exciting.