Packaged Golf, whether for men, women or couples, has not been embraced by the tour & travel industry. It's time to put aside a few tour planner concerns from the past.
There are Plenty of reasons to be optimistic about packaged golf's future and women's golf in particular.
At the 2016 PGA Championship, the director of the Professional Golf Association said on television that there are 30 million golfers in America. The National Golf Foundation (NG) in a 2014 report stated that 19 percent, or more than 5.7 million, are women. That's a strong target market, but it gets even better.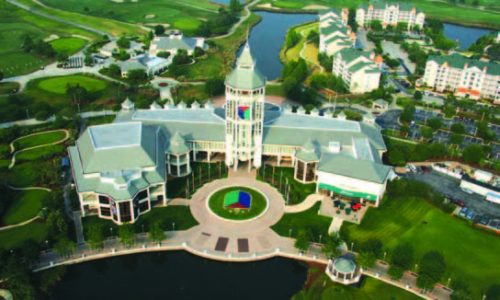 Although golf can be an expensive sport, the 2014 NGF report said golf attracts an average household income of $93,000. Millennials in particular are coming to the game in the largest numbers of any age group. Golf requires a cost and time commitment and that's exactly why women's packaged golf travel is a great fit for any tour planner. Everyday busy home and work schedules are not allowing enough time for their game. We know there's disposable income for travel and what better way to spend vacation time than playing the game they love. It just seems logical for tour operators to offer – and destinations to feature – a "Fore Ladies Only Golf Getaway" package.
There's no way I can get clubs and luggage on a coach. That was probably true 15 years ago, but today's coaches have plenty of room for clubs and luggage. There are even TV monitors onboard for watching golf. Those large bags that resemble travel trunks you see the professional golfers using are not reflective of what the average lady golfer is carrying.
I don't play golf and know nothing about golf. Granted, but you probably are not very well versed in how a zoo operates or a Broadway show is produced, but you're still sending your guests to both. You trust your supplier and you need to do the same with packaged golf. Just like any new package you're researching, start at the local DMO level and follow their direction. Golf directors in every golf destination can be found at hotels, resorts and independent packages. The local CVB can point you in the right direction. Your CVB contact will assist in helping build the remainder of your itinerary – meals, attractions, spa, activities.
Golf packagers do not understand how tour & travel does business. That's not totally incorrect, but certainly not as dire as it sounds. A good golf packager's deposit requirements, final pairings and room list, and payment terms will not be unfamiliar policies to a tour planners need to understand that golf courses have limited tee times each day. It's not like visiting a 2,000-seat theater and deciding between matinees or evening performances.
Lady golfers are not part of my customer base. You might be surprised how many of your customers are golfers. Golfers are like any other special interest group. Your customers that play golf are enjoying their activity with like-minded individuals. You can reach out to women and men golfers by attending a golf show. Beginning in January and continuing through early March, thousands of men and women attend North Coast Golf Shows in Philadelphia, Columbus, Washington, DC, New Jersey, Cleveland, Pittsburgh and Long Island. Consider partnering with the destination/resort/course you'll be featuring. Finally, the Executive Women's Golf Association has participating members in 100 chapters. You can find their members in 41 states and the District of Columbia.
You're good to go on your ladies golf getaway except for one minor detail. Where will you go? In much of the South, golf is a year-round activity. Here are three Southern destinations that roll out the red carpet for lady golfers.
North Myrtle Beach, South Carolina
Nestled in the "Seaside Golf Capital of the World," the are offers a cornucopia of reasons for ladies to pack their clubs. There's the wide selection of quality golf courses, from traditional beach courses that attracted golfers decades ago to championship golf courses designed by the likes of Arnold Palmer, Jack Nicklaus and Greg Norman. Each course takes advantage of what nature has provided, whether it's the ocean, a waterway or marshland. Full-service hotels dot the beach, while condos offer ocean, waterway or fairway views. Maybe it's a large beach house that fits the group needs.
Fun options abound off the golf course. Explore outlet and mall shopping and every golfer's delight – Golfsmith and the PGA Tour Superstore. North Myrtle Beach has a variety of salon and spa services, from general massage to medical treatments. Horseback riding on the beach is always a favorite activity. Wine samplings at La Belle Amie Vineyard or Duplin Winery make a delightful afternoon activity.
Discover local dining favorites Sea Blue Restaurant and Midtown Bistro, or go for the area's best variety at Captain Jacks Seafood Buffet. Make sure to check out ONE The Show or visiting artists at the Alabama Theatre, or catch dinner and a concert at the House of Blues. To get started building the best ladies golf itinerary, visit the North Myrtle Beach Convention & Visitors Bureau at 877-332-2662 or visit explorenorthmyrtlebeach.com
Pinehurst, North Carolina
The Pinehurst, Southern Pines and Aberdeen area of North Carolina proudly and rightfully states they are The Home of American Golf®. For more than a century they've hosted major championship tournaments, many on world-famous Pinehurst No. 2. Today, 40 courses welcome players of all levels with eight courses listed in the Top 20 Courses in North Carolina. Course ratings may vary, but the scenic beauty of the Piedmont region makes it a challenge to keep your concentration. Pinehurst-area lodging options range from well-known flag hotels to luxury golf resorts to bed & breakfasts.
After walking off the 18th green, there's plenty to do before enjoying a sunset from your porch. North Carolina is well respected for its wine, and several Pinehurst-area shops offer wine tastings from both state and international collections. Going directly to the source, you can taste varietals from Cypress Bend Vineyards and Winery. A pair of craft breweries features the best of Southern beers.
After golf, wine or beer, a spa treatment could be the perfect way to unwind, and a trio of nearby relaxation spots awaits the weary visitor. English-inspired gardens at Sandhills Horticultural Gardens, plus historic walking and equestrian tours, round out a day on or off the links. Outstanding local and European culinary expertise is on the table art area restaurants. Call 800-346-5362 or visit the CVB website, homeofgolf.com, to start your planning.
Jacksonville, Florida
If you're interested in the history and tradition of the game, the World Golf Hall of Fame should be the first stop before hitting the links. Artifacts and memorabilia combine with interactive exhibits to spotlight the history of golf and the top pros. In addition to the Hall of Fame and The Players Championship, golfers in Jacksonville and The Beaches find 50 courses designed by experts like Pete Dye, Tom Fazio and Gary Player. Lodging options feature downtown flag hotels close to dining and entertainment to properties with fairway, river and ocean views. Who would have thought you could find great golf in Florida's most populated and largest city at 840 square miles?
Jacksonville's big-city vibe has something for ladies on their golf vacation. Shopping mall options include The Avenues, River City Marketplace and the outdoor St. Johns Town Center. Eclectic boutique shopping can be found in neighborhood throughout the city, while outlet malls are sound nearby.
Jacksonville's multi-cultural history is high-lighted by self-guided tours and accompanying landmarks. Almost a dozen museums and galleries share Jacksonville's love of history and art. Evenings are a buzz at live theater and music venues, while festivals and events serve up great food and music. Discover all there is to see and do in Jacksonville by visiting online at visitjacksonville.com. More about golf in the area can be found at florida-golf.org.
Great golf destinations are found throughout the South. Hot Springs, Arkansas combines classic accommodations and world-famous spas and baths with outstanding golf. The Biloxi, Mississppi area seamlessly combines great beach golf and gaming with culinary delights. Alabama's Robert Trent Jones Golf Trail encompasses a spectacular collection of 26 golf courses at 11 sites.
The next time you sit across from a supplier representing a Southern state, ask "What do you have for lady golfers?"