Visitors to Oregon undoubtedly expect an experience that is clean, green and even pristine, but a recent familiarization tour hosted by Star Destinations of Carroll, Iowa, showcased the state to a group of bank travel directors via a packed itinerary of activities ranging from mild to wild.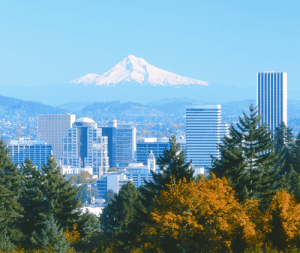 An enthusiastic group of club directors joined Cathy Greteman, Star Destinations president and current NTA chairman, on the week-long adventure co-sponsored by Tour Oregon, exploring destinations as diverse as the lush Willamette Valley and beautiful Pacific coastline.
Blessed with a climate favorable to flowers and vegetation, Oregon's abundance of agri-tourism sites, including inviting fruit farms, surprising wineries and lush botanical gardens like Portland's International Rose Test Gardens, make it an ideal destination for garden buffs. The city's famed Rose Festival and Parade, held each year in early June, brings out throngs of tour groups to enjoy a "rosy" celebration indeed with flower-festooned floats, a Rose Queen and her court, and marching bands in the morning, followed by rose garden tours in the afternoon.