From the evening news to YouTube, the world is talking about North Dakota's oil industry and its impact in the Bakken and Three Forks formations. The state  serves as a model in fostering innovative, long-term energy development to meet America's growing demand for energy security in an environmentally responsible manner.
The Bakken/Three Forks Formation stems from the late Devonian to early Mississippian age, underlying approximately 200,000 square miles of Montana, Saskatchewan and North Dakota with shale, middle dolomite and upper shale. These formations hold some of our nation's richest oil reserves. So much oil, in fact, that North Dakota has become the second-leading oil producer in the nation behind Texas.
Getting oil out of the shale, to the surface and to market is a massive undertaking. Tourism leaders in the oil-rich areas have recognized the interest of tourists in energy development.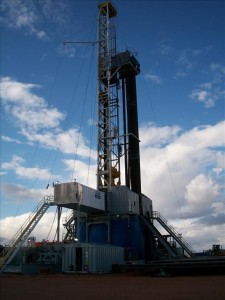 Kathy Chadwell of A&B Tours in Minot has put her knowledge to work in developing several one-day tours in Oil Country.  Chadwell provides an eye-opening visit to a crew camp (or man camp), along with historical, cultural and educational experiences related to the growth of North Dakota's oil industry. Groups are encouraged to ask questions regarding the environment, oil and gas infrastructure, and the impact on the state.
Chadwell said most of her passengers are curious seniors who live in North Dakota and want to learn not only about some of the scientific issues but social matters like the growth of small towns. She said, "If you drive over yourself, you're in constant semi-truck traffic, and these are people who are more used to driving to the grocery store."
A&B Tours also has booked a bank travel club and attracts curious individuals from Canada, Montana and Wisconsin. Lunch is provided at a hotel at one of the camps built and managed by Target Logistics. (Chadwell said about seven percent of North Dakota's population lives in such temporary housing complexes, which are "well looked after—they're nice accommodations," complete with recreational facilities.) Groups get as close to wells, rail-loading sites and other workplaces as they legally and safely can, Chadwell said, noting that "what they (the workers) do is very dangerous." (701-852-8144)
Dawa Solutions Group has worked with the oil industry since 2002 and facilitates oil industry conferences. They offer one-day tours throughout the summer. The "Bakken Briefing and Bakken Field Tour" is for curious individuals, business investors and developers. (701-577-1100)
The city of Dickinson is at the epicenter of the state's oil activity. Just off Interstate 94, Al the Pumper – a miniature version of an oil field pump jack – greets tourists at the Dickinson Convention and Visitors Bureau, a tribute to the area's oil activity.
In the middle of the Bakken, Watford City is a growing hub of activity. The Pioneer Museum of McKenzie County (located at the Long X Trading Post Visitors Center in Watford City) recently expanded its exhibits to include scale model replicas of drilling equipment and includes a video showing how a well is drilled.
The State Museum at the North Dakota Heritage Center in Bismarck will have an energy exhibit in its $52-million renovation. New space will tell the story of North Dakota's last 70 years, including World War II and the growth of coal, gas, wind, oil, agriculture, manufacturing and technology industries. The first gallery will open this October, with the oil exhibit opening in June 2014. 

More Evidence on How the Oil Boom Helps Tourism
With 42 new hotels opening in the past two years, adding 3,500 rooms to the state's inventory, North Dakota's hotel industry is up to meeting increased visitor demand. While the majority of hotel development has occurred in western North Dakota, hotels have opened or are under construction in 11 communities across the state. Moreover, national park sites, state parks, attractions and visitor centers in the Oil Country all reported increased visitation in 2012.