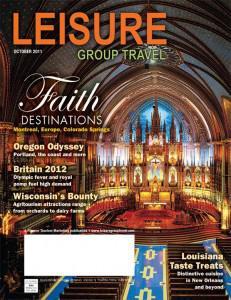 The October issue of Leisure Group Travel explores the topic of religious travel with three destination reports and a column by a faith travel expert who provides tips on starting or expanding church travel programs. The cover story spotlights historic churches in Montreal, while another article singles out 10 sacred sites in Europe. On the domestic front, Colorado Springs inspires faith travelers with faith-oriented options and natural attractions like Pikes Peak and Garden of the Gods.
Culinary delights and agritourism make up another thread in the October issue. The story "Wisconsin's Bounty" covers everything from wine and cheese to pumpkins and cranberries. "Mississippi's Rural Heritage" spotlights agriculture and aquaculture, mentioning sights as diverse as Jackson's Mississippi Agriculture and Forestry Museum and the Biloxi Shrimping Trip. "Louisiana's Taste Treats" focuses on distinctive cuisine in New Orleans and beyond. The growing popularity of agritourism is noted in a column by an authority on the subject.
The Britain feature looks at popular sights in England, Scotland and Wales with eye toward the 2012 Summer Olympics. In "Oregon Odyssey," the writer recaps a bank travel club director FAM tour to Portland, the coast, Willamette Valley and Columbia River Gorge.
Features
10 Top Religious Sites in Europe
Britain Rolls Out the Red Carpet for 2012
Faith Journey Through Montreal
Wisconsin's Bounty
Louisiana Taste Treats
Mississippi's Rural Heritage
Colorado Springs Inspires Faith Travelers
Oregon Odyssey
Columns
Refilling the Funnel
Rules for Successful Trips
Farm Vacations Inspire Your Inner Backyard Agrarian
Cruise Ship Dining Charts New Territory
Spread Your Wings with Faith-Based Travel Programs
Getting Your Message into Print
Departments
What's New in the Midwest
New Tour Options in the South
Latest News from the West
Check out the Digital Flipbook Version below: