Sparkling spring openings, coupled with long-running favorites, ensure a solid lineup for New York-bound groups
As warmer weather hits the streets of little old New York, the Broadway theater scene promises to be red-hot. From big-name musicals to thought-provoking plays, groups have nearly 40 choices this season on the Great White Way.
Broadway is booming. Nearly 13 million people saw a show last year, and 2016 got off to a brisk start as Broadway set an attendance record the week ending Jan. 3, with the highest weekly grosses in its history. Tourists comprise two-thirds of the Broadway audience, and who doesn't want to see a show when they're in town? Seasonal attendance for Broadway performances tops that of all 10 New York and New Jersey professional sports teams combined.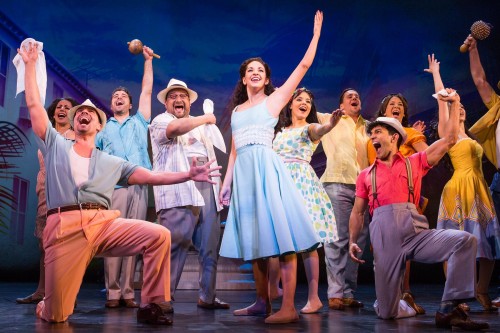 How far in advance should groups book? Stephanie Lee, president and co-owner of Broadway.com, a one-stop shop for all things Broadway, says, "Group tickets are generally booked three to six months in advance for the best discounts and availability. However, groups often have exclusive advance access for new musicals and plays prior to the public sale period; savvy group buyers take advantage of deeper discounts during this period. And there are almost always deeper discounts for performances in the fall months of September and October and winter months of January and February."
Asked about new shows he is most excited about, Lee started with Shuffle Along, a vintage musical being revived for today's audiences. With an infectious jazz score, exuberant dancing and "one of the starriest casts in recent history," she says, "Shuffle Along is sure to impress." One of the first hit Broadway shows written and directed by African-Americans when it debuted in 1921, Shuffle Along stars five Tony Award nominees (including two winners)—Audra McDonald, Brian Stokes Mitchell, Billy Porter, Victor Dixon and Joshua Henry—and features original choreography from the legendary Savion Glover.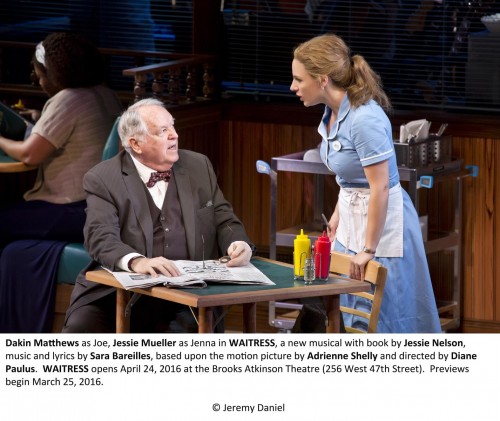 Lee is looking forward to Waitress, a new musical that opens April 24. Based on the 2007 film of the same name, it's about a small-town waitress and baker named Jenna, who has dreams of opening her own pie shop and getting out of a loveless marriage. Jessie Mueller, winner of the 2014 Tony Award for her starring role in Beautiful: The Carole King Musical, plays Jenna. Music is by five-time Grammy nominee Sara Bareilles in her Broadway debut.
Bright Star, a new musical inspired by an astonishing true event, features the collaborative musical stylings of Grammy and Emmy winner Steve Martin and Grammy-winning singer-songwriter Edie Brickell. Set against the rich backdrop of the American South in the 1920s and '40s, the tale of love and redemption revolves around successful literary editor Alice Murphy and a young soldier just home from World War II. Their connection inspires Alice to confront a shocking incident from her past.
"If you are looking for the perfect show for a wide range of audience members," Lee says, "look no further than Tuck Everlasting based on the beloved bestseller and directed by Casey Nicolaw (Aladdin, The Book of Mormon)." The musical about love, family and living life to the fullest centers around a young girl who discovers the magical secret of the Tucks, a family that has gained eternal life by drinking from a spring that flows from a tree in the woods.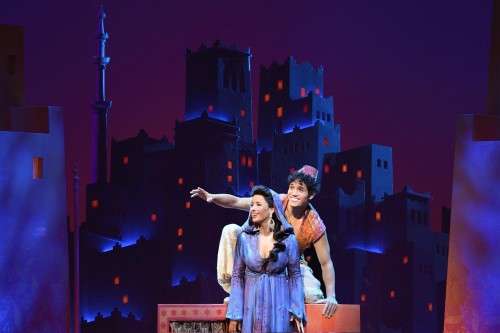 Disney's Aladdin, now in its third year, is another family favorite and one of Broadway's highest-grossing shows week after week. Based on the 1992 Disney animated film, Aladdin has played to more than a million at the New Amsterdam Theater.
The hottest ticket on Broadway these days, though, is Hamilton, a hip-hop-infused phenomenon about one of America's founding fathers, Alexander Hamilton. A regular sell-out, it won Best Musical Theater Album at the Grammys.
Oscar and Grammy winner Jennifer Hudson, in her Broadway debut as the sultry Shug Avery, brings star power to The Color Purple, a joyous musical with a soul-raising score of jazz, gospel, ragtime and blues. For something with a Latin beat, consider On Your Feet!, based on the life of Emilio and Gloria Estefan. Andrew Lloyd Webber's School of Rock , a new musical adapted from the 2003 movie starring Jack Black, features a kids' rock band belting out 14 new songs as well as original songs from the film.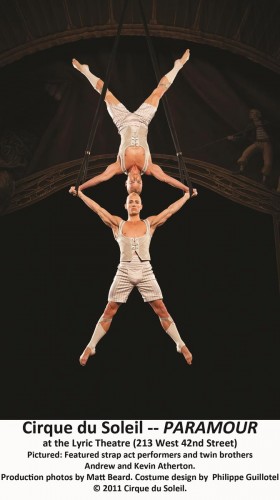 Cirque du Soleil makes its Broadway debut with Paramour, which runs from April 16 to Dec. 25, 2016 at the Lyric Theatre. The internationally renowned troupe blends eye-popping acrobatics with sumptuous music and dance, all set around a love triangle in the glamorous world of Golden Age Hollywood.
Some groups may be attracted to Nerds, the Musical Comedy, a story that plugs into the epic rivalry between titans of tech Steve Jobs and Bill Gates. It's an irreverent celebration of the tech we love, hate and ultimately can't do without.
If you don't want to take a chance on a new arrival, rest assured there are plenty of trued-and-true productions with broad appeal. Lloyd Webber's The Phantom of the Opera is the longest running show in Broadway history and has been entertaining audiences since 1988. Other standbys showing no signs of slowing down include Chicago (1996), The Lion King (1997), Wicked (2003), Jersey Boys (2005) and The Book of Mormon (2011).
A revival of Lloyd Webber's Cats, which ranks third on the all-time longevity list, opens July 14. Les Miserables, at No. 6 all-time, closed in 2003 after a 16-year run, but a revival has been packing them into the Imperial Theatre since March 2014. A fresh new production of Fiddler on the Roof another beloved Broadway tradition, has been playing since December 2015. The King and I winner of the 2015 Tony Award for Best Musical Revival, has been lighting up the Lincoln Center's Vivian Beaumont Theater for more than a year. Hello Dolly, this time starring Bette Midler, returns to Broadway on March 13, 2017.
Whether your group wants to see an old favorite or the latest smash hit, there's a show for them in midtown Manhattan, the very heart of America's theater scene. Come on along and listen to the lullaby of Broadway!