Far from stuffy, the American Writers Museum makes literary traditions come alive with state-of-the-art exhibits
Hannibal, Missouri has the Mark Twain Museum. You'll find the Ernest Hemingway Museum in Oak Park, Illinois, and the Sinclair Lewis Interpretive Centre in Sauk Centre, Minnesota. All around the country, book lovers seek out shrines to authors like Carl Sandburg, Willa Cather, Nathaniel Hawthorne and Edgar Allen Poe.
Until this past May, however, no U.S. museum had offered an expansive view of great writing. Now, in the heart of downtown Chicago, the American Writers Museum celebrates the diversity of literary talent that has enriched the nation from colonial days to the present. Filled with interactive exhibits, the high-tech, high-touch museum engages guests of all ages.
American Voices is a 60-foot-long exhibit wall that takes visitors on a journey through the literary history of the United States, tracing the development of the written word with 100 emblematic authors. They are not ranked as the 100 best but were chosen for their influence at the time they lived (none are living today). Videos are interspersed among the written descriptions. Some of the featured writers were political figures and leaders of social movements, including Benjamin Franklin, Thomas Jefferson and Martin Luther King Jr.
Across from American Voices, the exhibit wall Surprise Bookshelf presents display boxes that visitors can slide out and read, each box showcasing an example of great American writing in broad sweeps of genre and media. Featured are sports writers and science fiction writers, poets and humorists, and activists famed for their social commentary. Food writing is represented by Julia Child and James Beard, travel writing by Meriwether Lewis and William Clark, cutting-edge comedy by Richard Pryor. Some boxes have videos, while the box of composer Stephen Foster plays the song "Oh! Susanna."
At an interactive kiosk, visitors can sit down and choose five to 10 favorite works that can be made into bookmarks and emailed to themselves for printing at home. At a table with reconditioned typewriters, those so inspired can pound out their own literary masterpiece. WordPlay tabletop consoles offer games that encourage visitors to experiment with words and test their knowledge of famous American authors.
The American Writers Museum also has a Children's Literature Gallery and a gallery devoted to Chicago writers, including author/historian Studs Terkel, poet Gwendolyn Brooks and newspaper greats such as advice columnist Ann Landers and film critic Roger Ebert.
In addition to permanent exhibitions, museum-goers can explore temporary exhibits. Through Oct. 6, The Beat Journey: Jack Kerouac's On the Road displays the original scroll manuscript of the modern classic On the Road. Live palms, a video and sounds of nature envelope visitors to Palm: All Awake in the Darkness, an immersive temporary installation (through Oct. 27) inspired by the life and work of poet W.S. Merwin, who lives in Hawaii.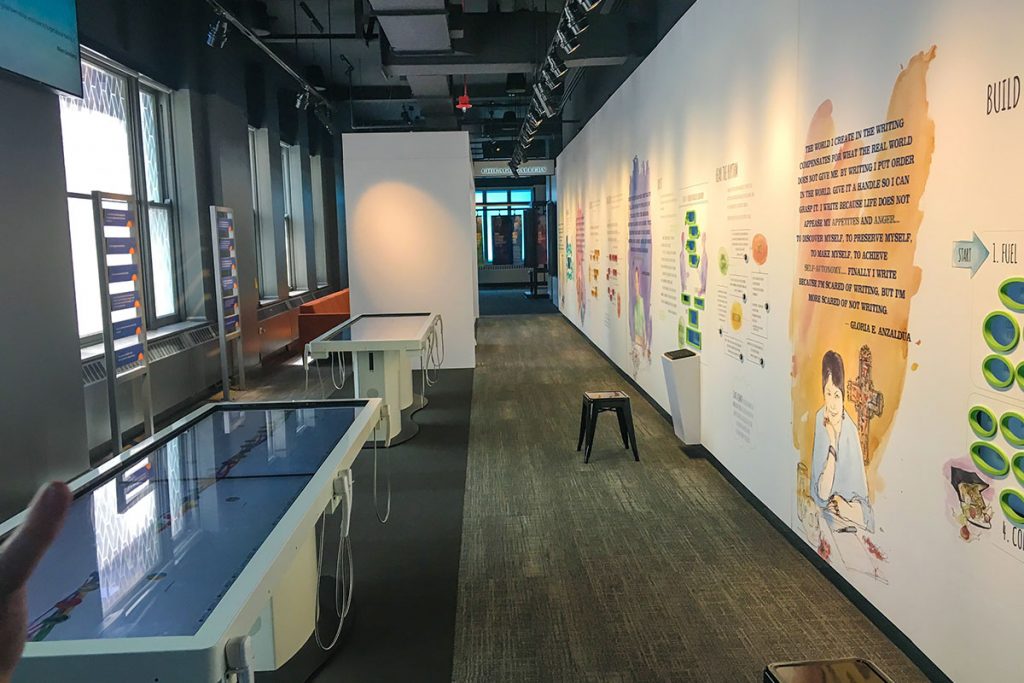 The American Writers Museum works with author museums/homes across the country through an affiliates program. Bookmarks showcasing these literary attractions are available free in racks on either side of the admissions desk.
Tickets to the museum are $12 for adults, $8 for seniors (65+) and students with valid ID; children 12 and under are free. For groups (15 minimum, 50 maximum), the adult rate is $9, or $6 for seniors and students. Group tours are available.
The American Writers Museum is located on the second floor of 180 N. Michigan Ave., a few blocks south of the Chicago River. (312-374-8790, www.americanwritersmuseum.org)