During the months since the temporary halt of cruising caused by the COVID-19 pandemic, cruise lines have been working on new health and safety protocols.
MSC Cruises engaged Aspen Medical to assist them in creating their own enhanced procedures. The line also formed a blue-ribbon group of experts in the fields of public health, medicine and related scientific disciplines. MSC Cruises was able to develop comprehensive operating procedures and decided to focus first on a restart of cruising in the Mediterranean.
Following the approval of both local and national authorities in Greece, Italy and Malta, MSC Cruises successfully resumed operations on August 16, when the MSC Grandiosa departed from Genoa, Italy. She stopped at ports in Italy and at Malta, and it was a completely safe cruise. The MSC Grandiosa has successfully continued seven-night sailings since then.
MSC Grandiosa and Her Relaunch
The MSC Grandiosa, a mega-ship that normally accommodates 4,842 guests, has successfully resumed Mediterranean sailings without a single case of COVID-19 onboard.  In addition to having her sail at less than 70% capacity, MSC Cruises implemented aggressive, comprehensive safety and health protocols. The line notes that its guest satisfaction has been extremely high since the restart.
Guests booked to sail August 16 on the MSC Grandiosa from Genoa arrived at the cruise terminal at their allocated time slot. Then the new universal screening procedures took place. Measures included a temperature check, an antigen COVID-19 swab test and a medical review of a health questionnaire for every guest prior to boarding. After receiving test results while still in the terminal, guests deemed fit to travel were allowed to embark. Also, their luggage went through sanitation procedures.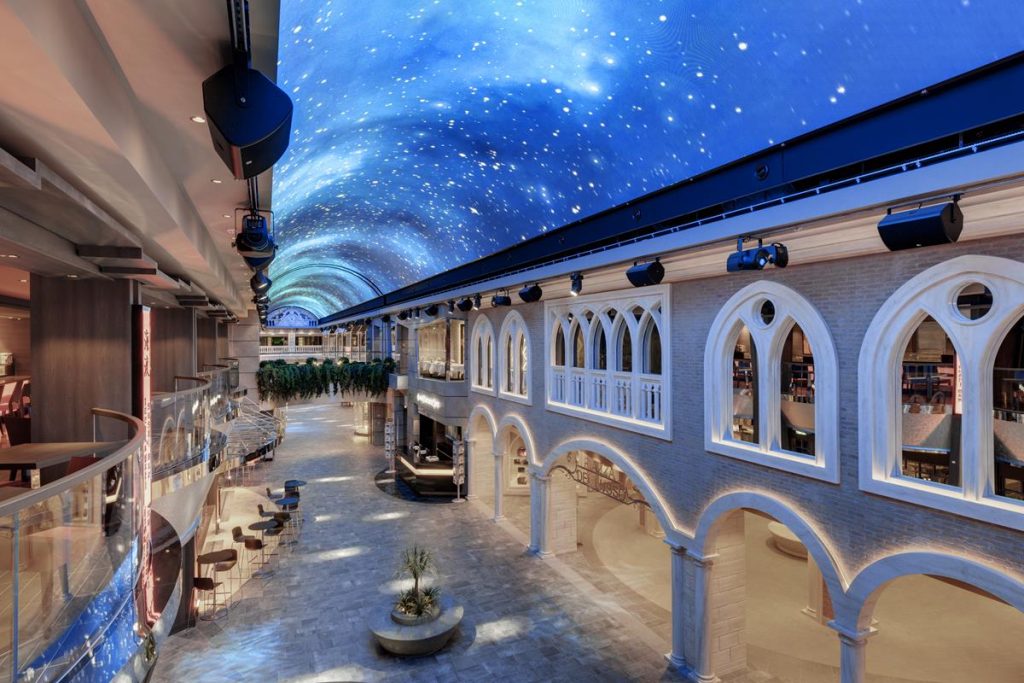 Guests were given a complimentary MSC for Me wristband, which provided them with contactless options, including opening doors to staterooms and making payments. Also, if and as needed, these special wristbands were developed to help with facilitating the proximity and contact tracing.
As far as entertainment onboard, MSC Cruises decided to temporarily suspend Cirque du Soleil at Sea on the MSC Grandiosa. But other live music performances were available. These included ones offered in the Carousel Lounge  – "Who's Who: A 60s Musical Celebration" – and a theatrically staged concert, "The Beatles – A Musical Celebration."
Guests enjoyed other onboard experiences, with activities and entertainment redesigned to enable small group sizes. Restaurants, bars and lounges provided social distancing, and all drinks and meals were served to guests at their tables.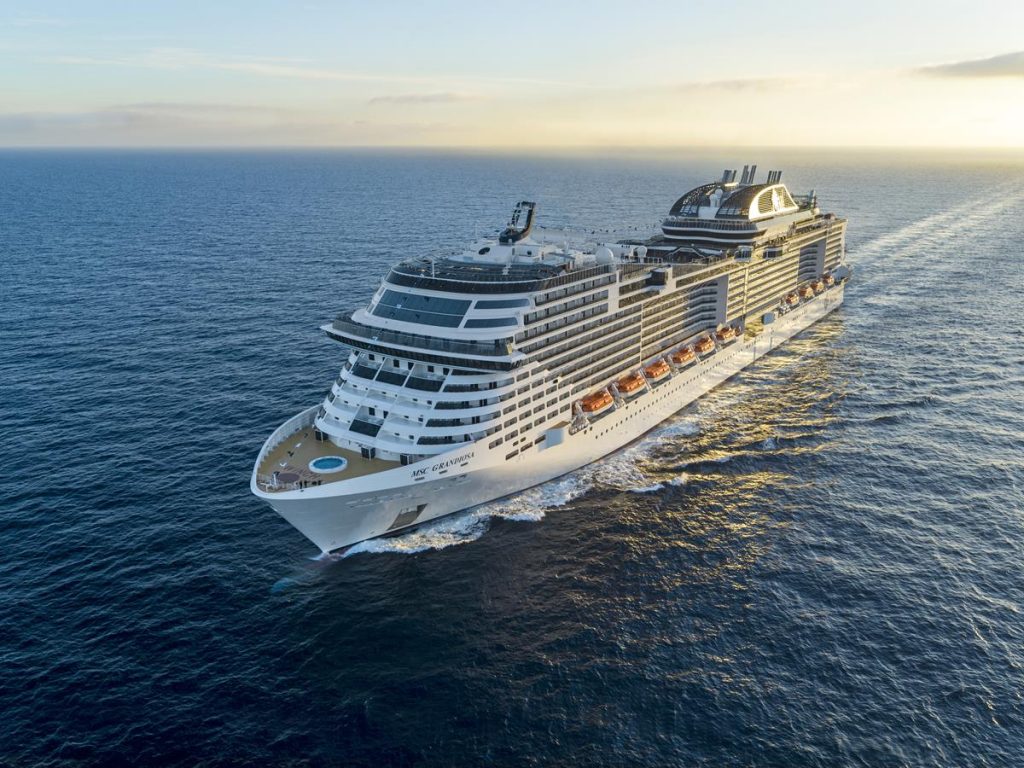 As for the buffet restaurant, it now provided a new service concept and facilitated social distancing. Instead of self-service, guests selected what they wanted, and the food was plated and handed back to them to take to their tables. For a contactless experience, guests were able to access restaurant and bar menus by scanning a QR code on their personal mobile device.
MSC's New Health and Safety Protocols
The new health and safety protocols focus on six areas. They include:
Universal health screening of guests prior to embarkation. The three steps, as noted: a temperature check, completing a health questionnaire and a COVID-19 swab test. Depending on the screening results, a secondary health screening or testing could take place. And if a guest tests positive or has symptoms, they would be denied boarding.
All crew members are tested for COVID-19 prior to embarkation as well as regularly during their contract.
Elevated sanitation measures include new cleaning methods and using hospital-grade disinfectant products.
Social distancing is being enabled with the reduction of capacity in public spaces. Activities are being modified, allowing smaller groups to pre-book services. When social distancing is not possible, guests are to wear face masks. Wearing them in the elevators is one example. Face masks are provided to guests on a daily basis, in their staterooms and around the ship.
Enhanced medical facilities and services. In addition to providing highly qualified staff who have been trained, there is the necessary equipment to test, evaluate and treat cases of COVID-19. Free treatment is available at the Medical Center for any guest with symptoms, and dedicated isolation staterooms can be made available.
Ongoing health monitoring is being conducted throughout the cruise. Guests as well as crew have temperatures checked daily either when they return to the ship after being onshore or at dedicated stations around the ship.
Guests are only allowed to go ashore as part of an organized MSC Cruises shore excursion. The line is ensuring that transfers are properly sanitized and that there is adequate space. If guests go ashore as part of an organized MSC excursion but then wander off on their own, they are denied the right to reboard the ship.
MSC Grandiosa Sailings
MSC Cruises has extended sailings of the MSC Grandiosa through the end of 2020. She continues to do weekly seven-night cruises with embarkations in the Italian ports of Genoa, Naples, Civitavecchia and Palermo, and in Valletta, Malta. The ship departs from Genoa on December 20 for her Christmas cruise.
One of the line's other ships, the MSC Magnifica, is scheduled to start weekly cruises later this fall from Trieste and Bari, Italy, to ports in Greece.
Restarting in the U.S. Market?
MSC Cruises will restart cruises in the U.S. market following approval by the   Centers for Disease Control and Prevention, known as the CDC, the national public health agency.
In Europe, MSC has created its own "safety bubble," and it has been working. The feedback from thousands of guests that have sailed on the MSC Grandiosa has been extremely positive. Many guests have called their cruise experience one of the safest vacation options available, noting that MSC Cruises has gone above and beyond guidelines that were set by national as well as regional authorities.
MSC will continue the "safety bubble" onboard their ships once cruises restart in other areas.
---
Cindy Bertram has 15+ years of cruise industry expertise in marketing, content creation, sales and training as well as social media. Her MBA from Loyola University Chicago complements her high creative edge and liberal arts BA. She can be reached at cindy@ptmgroups.com.