It's no secret that Minnesota is a great arts destination. The Minneapolis-Saint Paul area is proud to be the second-largest city per capita in the U.S. for live theater. Much is locally produced at the Guthrie, Ordway, History, Jungle, Mixed Blood, Penumbra, Plymouth Playhouse, Old Log, Chanhassen and other theaters.
Minneapolis is also home to a large Broadway touring market in its historic theater district, soon to include the relocated and revitalized Schubert Theater for dance and performing arts. Many more options abound statewide, from Winona's Great River Shakespeare Festival and Lanesboro's Commonweal Theatre, to MSU Moorhead productions or Bemidji's Paul Bunyan Playhouse.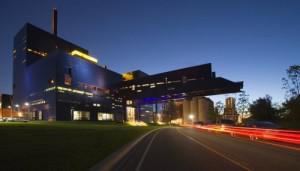 The region's premier theater, the Guthrie, has 11 productions in its upcoming season, alternating between the 1,100-seat thrust stage and 800 seats on a traditional proscenium stage. In addition are several new works and productions from around the region to be hosted in its 250-seat studio space.
Much Ado About Nothing, one ofWilliam Shakespeare's most popular pieces, last performed at the Guthrie in 1998. (Sept. 10-Nov. 5, 2011)
The Burial at Thebes, based on Sophocles' fifth century B.C. tragedy Antigone, directed by Marcela Lorca,and featuring original music by J.D. Steele. (Sept. 24-Nov. 6, 2011)
A Christmas Carol, Charles Dickens' perennial favorite that received a new adaptation by Crispin Whittell in 2010 and continues the Guthrie's holiday tradition for the 37th year. (Nov. 19-Dec. 30, 2011)
Charley's Aunt, the classic British farce: an Oxford student impersonates the millionaire aunt of two college chums hoping to win their girlfriends' hands in marriage. (Nov. 26, 2011-Jan. 15, 2012)
Cat on a Hot Tin Roof, Tennessee Williams' drama tells the story of a Southern family in crisis, and a reunion that jogs memories and revelations for a father and son. (Jan. 14-Feb 26, 2012)
End of the Rainbow, starring Tracie Bennett as Minnesota's own Judy Garland, in this glimpse into the iconic actress' final days, featuring some of her most memorable songs. (Jan 28-Mar 11, 2012).
Hay Fever, Noël Coward's hilarious high-farce 1920s comedy of manners about a family whose theatrical excesses torment a group of unsuspecting visitors. (March 10-April 22, 2012)
Time Stands Still, the 2010 Tony-nominated play about a photojournalist and a foreign correspondent  confronted with changes in ordinary relationships and social issues during war. (April 7-May 20, 2012)
The Amen Corner, produced with the Penumbra Theatre Company, looks at the power of love and price of salvation, and features the renowned Fellowship Missionary Baptist Church. (May 5-June 17, 2012)
Roman Holiday, the American premier of the legendary film with the songs of Cole Porter musical. Memorable numbers include "Easy to Love," and "Ev'ry Time We Say Goodbye." (June 9-Aug. 19, 2012)
The Sunshine Boys, Neil Simon's hit, starring Guthrie favorites Raye Birk andPeter Michael Goetz as crotchety retired vaudeville comedians who reunite after 11 years apart. (July 7-Sept. 2, 2012)
The Ordway Theater, located on Saint Paul's Rice Park, also just announced its 2011-2012 performance season:
Come Fly Away, features a score of beloved Frank Sinatra classics, as 15 of the world's best dancers tell the story of four couples falling in and out of love at a swinging night club. (Oct. 11-16, 2011)
Cinderella, Rodgers & Hammerstein's timeless enchantment of this magical fairy tale is reborn. The hearts of children and adults are guaranteed to soar when the slipper fits. (Dec. 13, 2011- Jan. 1, 2012)
Blind Date, part burlesque, part Lucille Ball, part Match.com. Mimi, a Parisian temptress who goes on a blind date with a different man every night—plucked right out of the audience! (Feb. 22-April 1, 2012)
Memphis, the hot Broadway musical bursts off the stage with the vibe of underground dance clubs of 1950s Memphis, featuring explosive dancing, irresistible songs and forbidden love. (March 13-25, 2012)
The Addams Family, brings the darkly delirious world of Gomez, Morticia, Uncle Fester, Grandma, Wednesday, Pugsley and, of course, Lurch to spooky and spectacular life. (May 8-20, 2012)
Fela!, explores Afro-beat legend Fela Anikulapo  Kuti's controversial life as an artist, political activist and revolutionary musician with a blend of jazz, funk, and African rhythm and harmonies. (June 12-17, 2012)
For group tour assistance, go to www.TravelTrade.ExploreMinnesot.com or call 800-657-3600.