Interactive programs at the Milwaukee Art Museum have visitors falling in love with their favorite works of art again and again.
Just like any good art institute, the walls of the Milwaukee Art Museum proudly gleam with Picassos, Monets, Van Goghs and Rembrandts. Famous statues stand in frozen dignity as they line the halls, and nearby Athenian pottery glistens in glass cases. Just around the corner, Jackson Pollock paintings burst with an almost tangible chaos. Yet despite the fact that the Milwaukee Art Museum has spent 125 years collecting these beloved pieces and almost 30,000 more, artwork is not the sole reason that over 400,000 guests flock there each year.
In addition to its impressive galleries, Milwaukee Art Museum offers opportunities and experiences that infuse these timeless collections with vibrancy and personality, giving the museum an edge over other art institutes. Regardless of your group's ages and interests, the museum's interactive programs will help you see your favorite works in an entirely new light and give children the chance to learn, play and grow.
Forever Young
The Milwaukee Museum of Art knows that playing isn't just for kids. Whether it's date night or girls night, take your next evening on the town to another level and surround yourself with art.
MAM After Dark: Once a month, the museum pulls an all-nighter and puts an adult twist on its collections. Snag a drink from the cash bar, then enjoy music, food and after-hours access to the galleries as you make new friends and mingle with old ones. Each MAM After Dark has a different theme, and recent events have focused on everything from modern rebels and graffiti to salsa dancing and caricatures.
Gallery Night and Day: Experience art within the museum and beyond when you embark on this two-day journey through Milwaukee. The adventure allows visitors to explore 64 different galleries located both inside the museum and in the surrounding downtown area. Perfect for big groups, the Gallery Night and Day program lets your group explore the venues at your own relaxed pace.
Slow Art Saturdays: Spend a Saturday morning devoting all your attention to just one work of art. This experience lets you uncover new delights in some of your favorite pieces through guided "slow looking" and lively discussion with fellow art enthusiasts.
Beauty in Bloom: Spring blossoms right inside the halls of the museum during this annual four-day celebration that serves as homage to flowers, fashion and art. Gather a few girlfriends and spend an afternoon wandering through fashion-inspired floral arrangements in the Couture Gardens, or head downstairs to browse through stalls of clothing, jewelry and garden accessories at the Beauty Bazaar. End your day with a glass of wine or two at the Bistro and Wine Garden.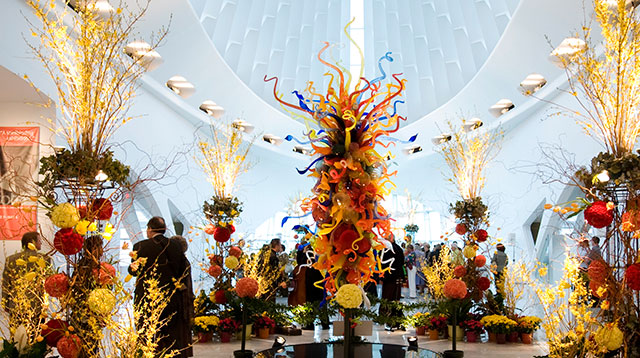 Family Fun
The Milwaukee Museum of Art offers countless opportunities for the kids and families who walk through its doors, and makes a conscious effort to bring artwork to life for even the youngest of visitors.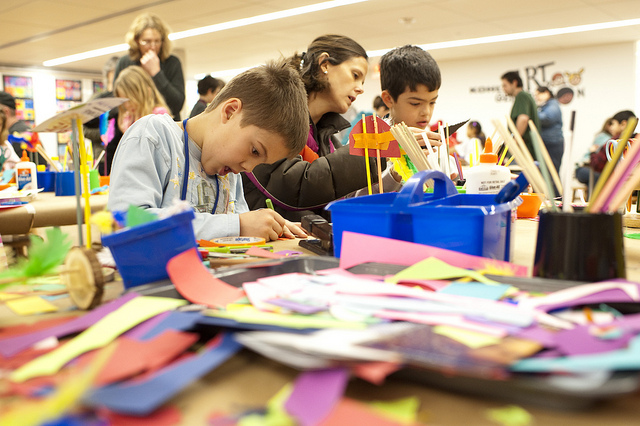 Kohl Art Generation Open Studio: Let your kids discover their inner Picasso as they paint alongside you at the museum's family studio. Explore a myriad of materials and techniques that famous artists have used for centuries, then guide your kids through the galleries and help them identify these components in the artwork hanging on the walls.
ArtPacks: Worried your kids won't be interested in paintings and statues? Pick up a free ArtPack at the entrance of the museum and put your worries to rest. Complete with puppets, picture books, puzzles and a sketch pad, ArtPacks make art interactive and allow your child to personally connect with the museum.
Story Time in the Galleries: If your family is visiting the museum on a Saturday, stopping by for Story Time is a must. Kids get to sit in front of a famous work of art and hear a tale that inspired the piece, then are encouraged to get their own creative juices flowing as they make a drawing based on what they've just seen and heard.
Lakefront Festival of Art: With everything from beer gardens and live music to face painting and mini art classes for kids, the Lakefront Festival of Art is sure to have something for everyone in your family. Sit your younger kids down at a magic show or finger painting station, then take a few minutes to yourself and grab a drink at the wine or beer gardens. Once you all regroup, enjoy a stroll through the Sculpture Garden to see statues and figurines that visitors of all ages will appreciate.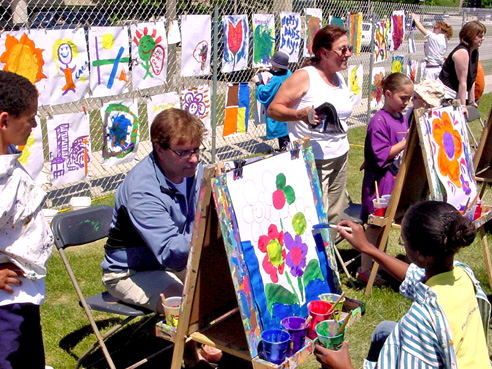 Ask Away
The museum staff is ready and willing to handle any question you may have about planning your visit, but here are the answers to a few of the most common inquiries.
Q: If we need to leave the museum for a few hours, are we able to come back?
A: Hold onto your ticket! Even after you've entered the museum, you're free to come and go the rest of the day as long as you can present your ticket at the entrance.
Q: Are there places to eat near the museum?
A: You don't even have to leave the building. Your group can grab a bite on the patio at the museum's Cafe Calatrava and enjoy gorgeous views of Lake Michigan.
Q: Does the museum offer any tours?
A: Browse through the list of tours that the museum provides online, then call ahead and pre-book. Additionally, your group can explore the museum with the help of audio guides for just $5 per person.
Q: What if my group wants to take a tour but needs a little extra help?
A: Milwaukee Art Museum wants everyone to visit. If you call ahead, the museum can arrange for bilingual tour guides and ASL interpreters, and the staff is more than happy to work with your group if any other issues arise.
As home to almost 30,000 works of art, the Milwaukee Art Museum has Warhol prints, Roman urns and everything in between. Young or old, art aficionado or not, there's sure to be an activity or attraction at the museum that will excite everyone in your group. It doesn't matter when you decide to visit or who you bring along with you—the museum promises to deliver an artistic journey that will leave you anxiously awaiting your next visit.