These five towns host winter festivals, light displays and holiday shopping opportunities for groups of all interests
As the holiday season quickly approaches, groups will be looking for events and displays that can handle large numbers of people and offer a variety of activities. Fortunately, many Midwestern cities are home to festivals and winter wonderlands ready to accommodate your group no matter its size or age. These five Midwestern hubs are a few of many excellent locations to enjoy a bright weekend in the dark days of winter.
Santa Claus, Indiana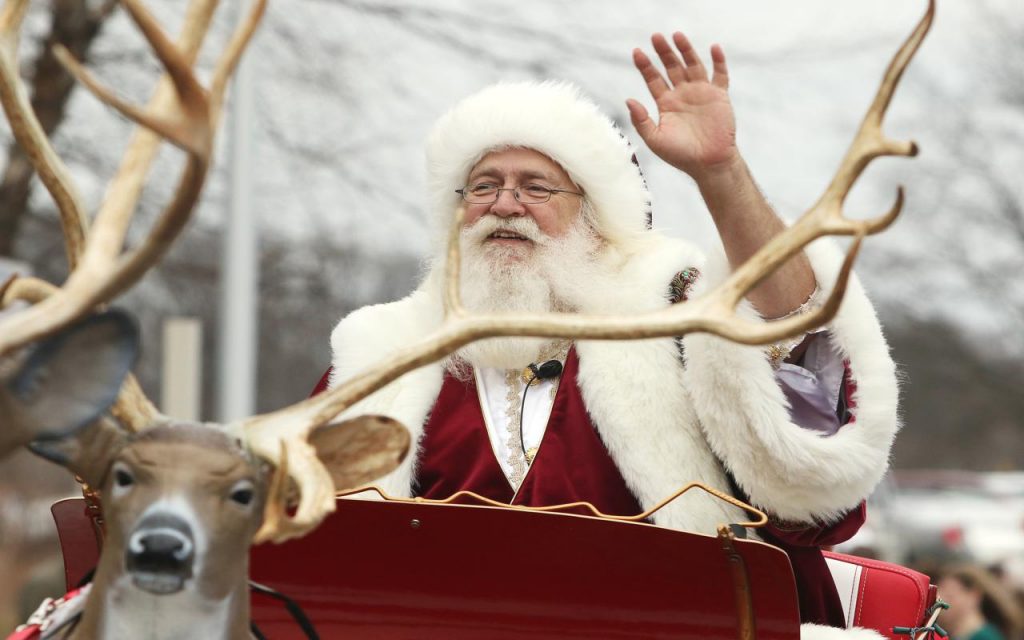 This charming town in southern Indiana is the only city in the world named after Old St. Nick. Originally called Santa Fe, the city eventually changed its name after the competing city in New Mexico grew larger, and today the post office receives thousands of letters from children all over the world with their Christmas wish lists. Since 1914, a group of local volunteers called Santa's Elves has ensured these children get custom replies from the Big Man himself, and "America's Christmas Hometown" has become a nationwide symbol of yuletide spirit.
---
Digital Edition of December Leisure Group Travel Powered By
---
Groups can spend an entire day exploring the town's Christmas-themed attractions. At Santa's Candy Castle, children can log in to the North Pole Network and connect with one of Santa's very own elves, and the expansive selection of toffee, taffy and chocolate makes for great presents for loved ones back home. For more gift ideas, stop by Santa's Toys for action figures and games or the Santa Claus Christmas Store for commemorative ornaments and nutcrackers. At Santa Claus Museum & Village, group members can write a letter to Santa and explore galleries filled with town memorabilia.
Omaha, Nebraska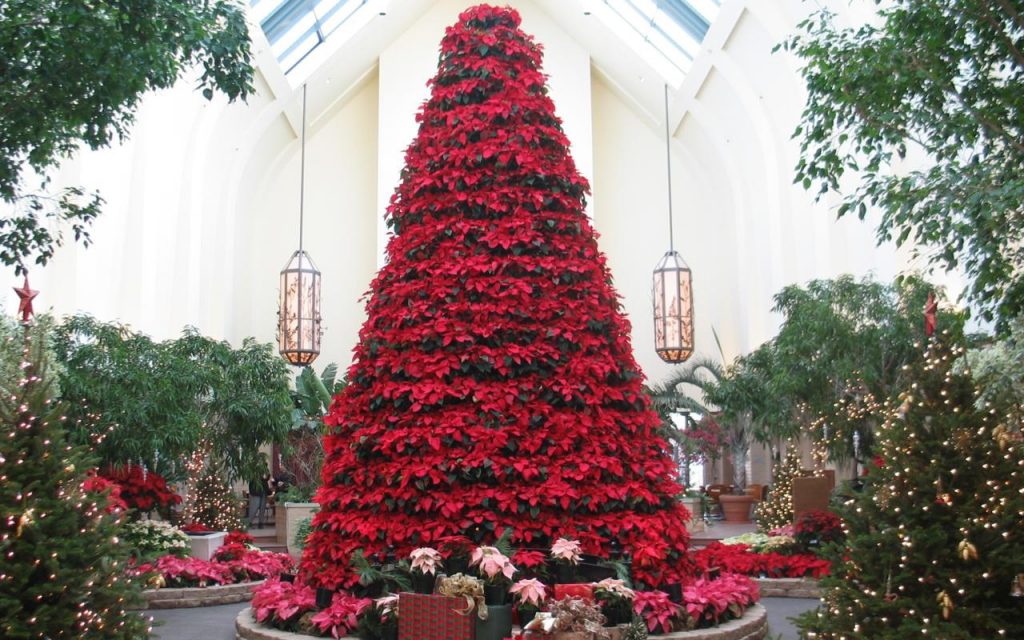 Associated with Christmas since the 16th century in Mexico, poinsettias bring a festive splash of red to any holiday display. Omaha's Lauritzen Gardens takes thousands of these plants to create an immense floral display in its greenhouse, and its centerpiece is a magnificent 20-foot-tall poinsettia "tree." More than 5,000 poinsettias in 26 different varieties are grown for the display, and volunteers are on hand to discuss their role in Christmas iconography. The flowers are accompanied with cascades of twinkling lights, adorned with colorful ornaments and surrounded with the whir of the garden's model trains. An ode to Omaha's history as a transportation hub, these trains pass by miniature models of iconic buildings such as First National Bank Tower and the Old Market Buildings. Special evenings include a visit from Santa Claus and holiday concerts accompanied by hot beverages.
Downtown, Union Station is a historic railroad terminus and preserved example of Art Deco architecture that hosts group- and family-friendly holiday events November through January. The Ethnic Tree Exhibit symbolizes Christmas traditions around the globe, while Family Nights with Santa bring Old St. Nick and his reindeer for photo opportunities.
Frankenmuth, Michigan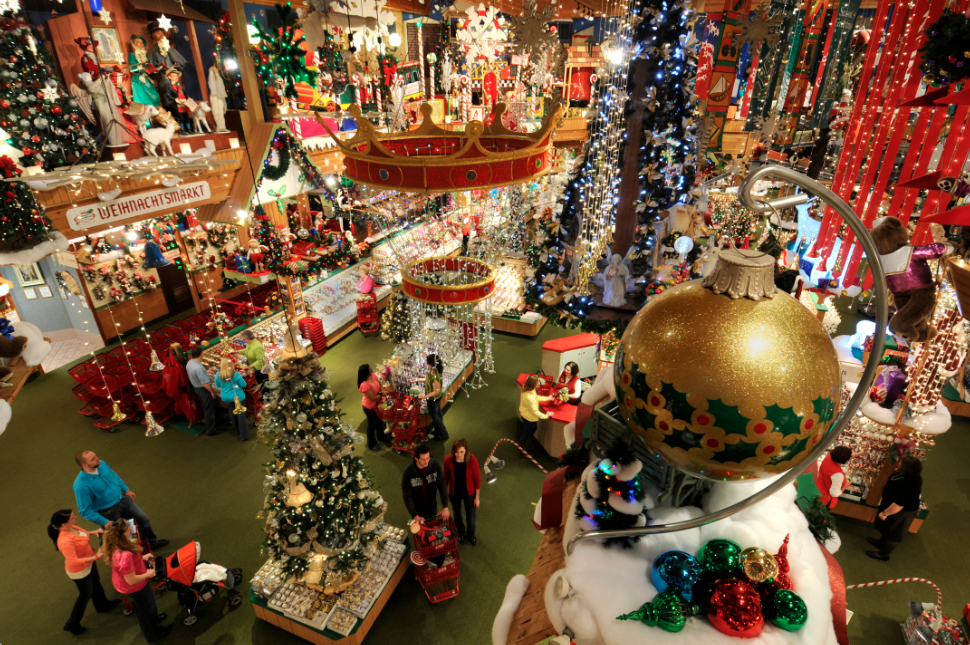 Catch the holiday spirit any time of year at Bronner's CHRISTmas Wonderland in this northeastern Michigan town. Promoted as "The World's Largest Christmas Store," the year-round holiday outlet has over seven acres of retail space. Wally Bronner opened the Wonderland in 1945, and the property now welcomes over two million visitors a year. The Alpine architecture and giant snowman on the grounds lend a holiday atmosphere even in the peak of summer, and your group can browse through a selection of 50,000 different items no matter the season. Outdoor lights, Nativity scenes and Santa suits are all available for purchase, and you can personalize stockings and ornaments with names and dates. Bronner's also holds exclusive rights to sell Precious Moments Christmas-themed figurines, so be sure to add one to your collection.
---
---
Also on the grounds is Bronner's Chapel, an exact replica of the church where the carol "Silent Night" debuted in 1818. It's modeled after St. Nicholas Church in Oberndorf, Austria, where young Father Joseph Mohr first performed the piece on guitar at Christmas Eve Mass. Surrounding the chapel are 27 acres of beautiful woods leading into Christmas Lane, an avenue of holiday lights that keeps the area illuminated year-round.
Cambridge, Ohio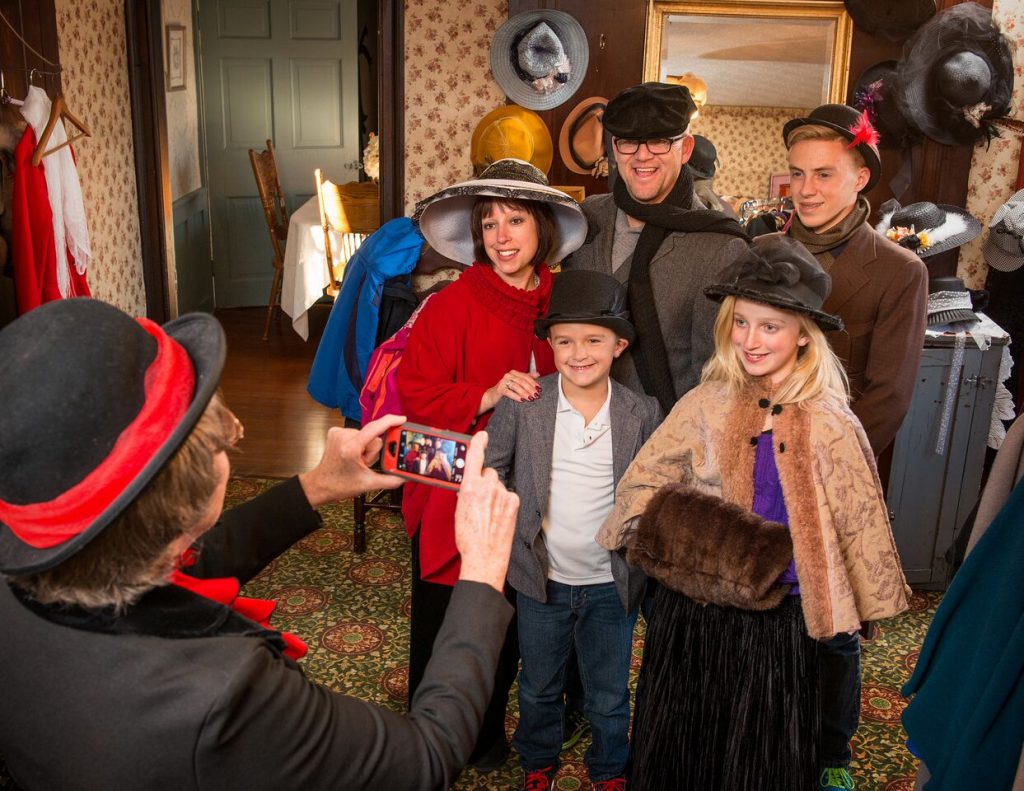 Already sporting an English namesake, Cambridge is home to one of the world's largest Charles Dickens celebrations. The Dickens Victorian Village began in 2006 with a few figures dressed in Victorian garb and now spreads across 93 scenes in the downtown area throughout November and December. Scenes from Dickens' famous A Christmas Carol novella are placed under each lamppost on historic Wheeler Street, with exacting replicas of iconic characters like Tiny Tim and Bob Cratchit accompanying Ebenezer Scrooge's journey to redemption. Creating each Dickens figure in Cambridge is an extensive process; craftspeople spend many hours making mannequins proportional, researching period-accurate clothing and ensuring that the figures can withstand the cold Ohio winter. Bronze plaques accompany each figure with information about Victorian life, and you will find many characters integrated into the display windows and storefronts of local businesses.
Groups looking to experience the Village should first stop at the Welcome Center. Here they can sample English teatime in the Victorian Tea Room and learn about 19th century society from volunteers. A trolley tour will wind your group past the city's street scenes, and you'll be sure to want a hot cocoa or cider to keep warm in anticipation of the Courthouse Light Show. Over 55,000 lights are synchronized to holiday carols and classical selections for this special nighttime presentation.
Duluth, Minnesota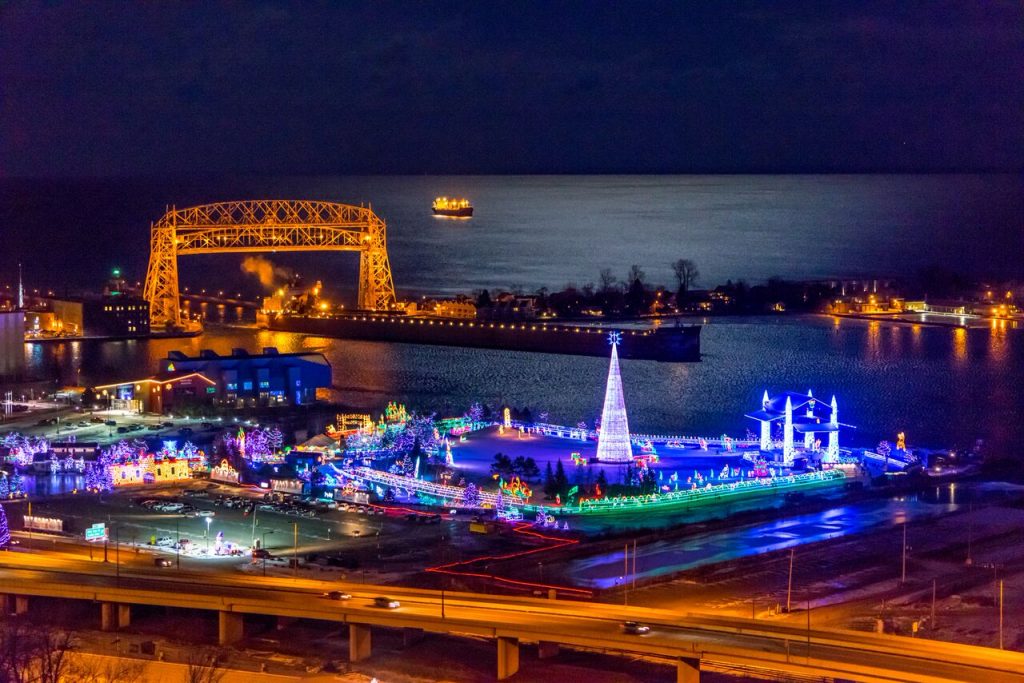 The stunning Bentleyville Display of Lights takes up 20 acres of harbor space along the Lake Michigan shoreline. Each year, crews light over 4 million bulbs to illuminate Bayfront Festival Park with enormous holiday scenes, LED tunnels and depictions of local Duluth landmarks such as the Aerial Lift Bridge. The tradition was started in 2001 by local Christmas enthusiast Nathan Bentley after buses of visitors began inundating his growing light display, and now the festival welcomes almost 300,000 visitors in November and December. The display has grown from modest snowflakes and Santas to expansive gingerbread villages, medieval castles and enormous depictions of Duluth's ore-shipping vessels. Best of all, the entire experience is still free. Your group can enjoy roasted marshmallows and keep warm by open fires while admiring Bentleyville's signature display, a 128-foot-tall animated Christmas tree, all for free.
By Miles Dobis