Hosted by Circle Wisconsin, the annual trade show brought rave reviews
Nearly 150 travel professionals converged in south-central Wisconsin this April for the fifth annual Midwest Marketplace trade show. Circle Wisconsin welcomed independent tour operators and representatives from CVBs, attractions and hotels as they gathered for three days to forge connections and encourage camaraderie throughout the region's travel industry.
Wisconsin, Iowa, Indiana, Illinois, South Dakota, North Dakota, Minnesota and Michigan were all represented at an event that included sales floor sessions and evening entertainment. The event was hosted by Walworth County: Lake Geneva and Beyond at the Grand Geneva Resort, a Frank Lloyd Wright-inspired hotel complex that includes a golf course, gourmet restaurants, ski hill and expansive ballroom space for meals and presentations.
"Our members were very complimentary towards the Grand Geneva," said Circle Wisconsin Executive Director Wendy Dobrzynski. "The layout ensured the entire event was self-contained, and the service was excellent."
Circle Wisconsin, a membership-based organization that promotes statewide tourism, created the marketplace in 2014 with the goal of establishing a smaller and more manageable trade event with distinct emphasis on the Upper Midwest. "Midwest Marketplace was something we wanted to develop to really showcase regions and attractions that can sometimes get lost in the crowd at larger conferences," said Dobrzynski. "Most of these buyers and sellers are nearby geographically, so it benefits everyone attending that we have a tighter regional focus."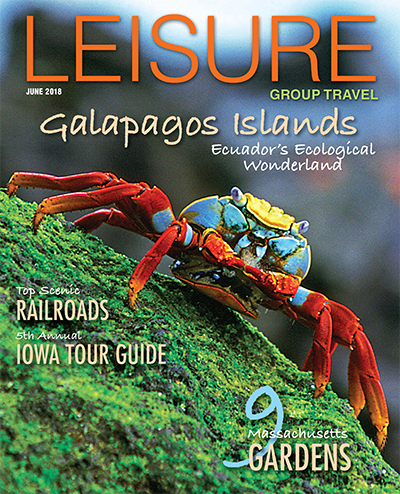 Unlike many trade shows, Midwest Marketplace encourages a casual and contained atmosphere, with the entire sales floor fit into one ballroom. Tour operators were encouraged to socialize freely in between sessions, enjoy a variety of refreshments and visit a convenience station across the hall that featured free pharmaceutical and office supplies. First-time attendees immediately felt comfortable, citing the collaborative environment.
"We've already generated several quality leads," said Alana Fuller of Comfort Suites Urbana-Champaign. "This is my first time at Midwest Marketplace, but it's already evident that they're really trying to reinforce a community atmosphere that makes the operators feel comfortable." Dobrzynski believes Midwest Marketplace's goal to match every tour operator and every attraction for at least one meeting gives it an advantage. Buyers and sellers were matched for six-minute appointment sessions for a total of nearly 3,000 one-on-one meetings.
"What makes our conference impressive is the number of connections suppliers and operators can make," said Dobrzynski. "Some trade shows are limited to only 20 appointments, but we can guarantee nearly double that, which gives us an edge."
Sonya Nash, director of group & experiential sales and marketing for Elkhart County, Indiana, agrees. "The buyer-supplier ratio is very equitable," she said. "There are clear benefits of talking with potential buyers when you don't feel rushed and know you'll be socializing with them later."
Midwest Marketplace's other strength is its friendly and communal atmosphere. Cocktail breaks are frequent between sessions, attendance is limited to encourage personal connection and tour operators are encouraged to dress casually and mingle with new acquaintances.
"The smaller pool of buyers ensures you're not enveloped at a conference like ABA," said Kristal Painter, group experiences curator for Visit French Lick West Baden. "The intimate and personable atmosphere really distinguishes the event."
The event is also notable for its strong regional emphasis. Only Midwest DMOs and attractions are invited to attend, and the approach allows operators to develop strong regional itineraries without diluting the focus of the event. "What distinguishes Midwest Marketplace is its focus on the Upper Midwest," said Mary Ross, group sales and marketing director for Madeline Island Ferry and a Circle Wisconsin board member.
"Many other trade shows are so geographically spread out that it can be overwhelming for operators, but this event really allows those DMOs and attractions to shine."
Dobrzynski and her fellow organizers excelled at evening activities and showcasing local Geneva attractions. Conference-goers embarked on an evening aboard a Lake Geneva Cruise Line sightseeing tour that included views of mansions belonging to the famous Driehaus and Wrigley families. Dinner and entertainment were later provided at the Riviera Ballroom, a beautiful space that hosted local magician Tristian Crist, entertainment by the talented performers Mark and Gretch of Rosewood and booths that highlighted Walworth County attractions.
"I really enjoyed the entertainment that was scheduled this year," said Madison County CVB marketing director Maureen Lambert. "It's always encouraging to see local attractions and talent being showcased."
With this excellent reception, Midwest Marketplace looks to solidify itself as one of the best travel conferences in the nation. "We're continually expanding our membership and always encouraged by the positive feedback we receive, and this year was no exception," said Dobrzynski. "This was our fifth year, and we're not planning and slowing down any time soon. "
The 2019 Circle Wisconsin Midwest Marketplace is set for April 7-9 at Eagle Ridge Resort & Spa in Galena, Illinois.