With a passion for her home state of Virginia, Mary Lewis set out to create her own tour company to showcase the abundant experiential opportunities for groups.  The Heart of Virginia was successfully launched in February of 2016 and continues to grow. Learn the story of The Heart of Virginia in this edition of Take 5.
Tell me a little bit about your background before you started Heart of Virginia.
I spent 18 years at the Colonial Williamsburg Foundation and while there had the great opportunity to be able to work in the hotels, manage the taverns and also work in the marketing department. It was a great training ground for me. From there I became director of marketing at a Civil War site called Pamplin Historical Park. From there I became a destination marketing director, actually starting the first tourism office for a county here in Virginia. The last job I had was working with an internet marketing company called eBrains, Inc. I like to tell people that I started in the 18th century and eventually made it to the 21st.
Through these 35 years of working in the tourism industry I've been able to work in nearly all facets of tourism here in Virginia, which really led to what I am doing at Heart of Virginia Tours.
Thinking back to your days at Colonial Williamsburg, what were you able to draw upon when starting this business?
Their tour and travel market was usually mature adults and students. When I worked there I kept seeing all these wonderful things that were being offered to student tours, but much of it wasn't being rolled out for adults. I thought, "We're missing the ball here because the adults want that interactive, immersive experience too. They don't want just a tour of the historic area. They really want to get in and make soap and make candles and dance the Virginia reel in the ballroom at the Governor's Palace."
Is that where the idea for Heart of Virginia came in?
While working for E-brains I missed the feel of the tour and travel family and how everybody works together to reach a common goal in the travel industry. So I started thinking more and more about "Wouldn't it be really cool if I started my own company?" My husband and I talked about it and gave it a lot of thought.
I have to give a lot of the credit for my decision to Joe Veneto. Joe had been promoting experiential travel and encouraging DMOs to really start thinking about building products around experiences. When I reached out to Joe he got really excited and said, "You need to come out to one of my workshops!" So that's how it began.
After seeing the experiential tour product in Columbus, Ohio, and what they had accomplished, I thought, "Oh my gosh, this would be so easy to do for Virginia. It has so many products that are just sitting there untapped." What I didn't realize is that convincing the partners that experiential is really the way to go tends to be harder than you realize.
I love my state and I really wanted to be a part of the Virginia team bringing tour groups to Virginia. I knew this was the way to do it.
I launched in early 2016. I did consulting for All-In-One Tours. Cathy Strite was really sweet to take me on and give me some direction and let me get my feet wet again in the tour and travel industry. I worked with her for three years, then launched Heart of Virginia Tours in February of 2016.
I had been out of the industry for about nine years, and I knew that it had changed and I wanted to make sure what I was doing was still viable and could be done. I wanted to better understand the clients and what their needs were and so this gave me an opportunity to do that.
 Tell me about your first days, weeks, months in business.
Cathy prepared me for many of the challenges and what to expect, which really helped. Working with my Virginia partners to develop new experiential product was hard at times because we were really breaking new ground in some localities. Some of our partners came up with great new ideas which we worked hard to develop and present to potential clients. So really, much of this initial start up period was spent in developing the products.
Let's talk in more depth about experiential travel.
It is all about connecting with people's interests and then taking it a step further. It's about getting out and doing – actually immersing yourself into an experience. We don't want the traveller to simply sit and see, we want them to get out and do. That creates an experience! That creates a memory and that is more valuable to take home than some souvenir. For example, we offer tours that include workshops with a horticulturalist where you learn to create a container garden that you can bring home with you. But you have also acquired a new skill. And you got it in Virginia.
Tell me about some of the experiential tour programs you've put together
We have a historic home here in Richmond called Agecroft Hall. It originally was a 15th century home in Lancashire, England, and a wealthy banker went over during the 1920s, purchased a portion of this house and brought it to Richmond. You can tour the house and see it is furnished as it would have been in the 15th century. What a lot of people don't know is that the house has an extensive art collection in its archives that few get to see. I worked with the Agecroft staff to develop a tour that included a hands-on experience with that art. Our guests can actually put on white gloves and handle some of the pieces while the curator describes their history. This is part of a Richmond Art tour that includes visits to the Virginia Museum of Fine Arts and its rare collection of Russian Faberge eggs and a visit to a glass studio where you even get to blow your own glass ornament.
At James Madison's Montpelier I helped develop a tour focusing on Dolley Madison and the women that served her. That experience is part a larger tour that I developed showcasing our nation's First Ladies from Virginia. We focus a lot of attention on our Virginia Presidents and I thought it was time to shine a light on their wives, who were so instrumental in starting this great nation. I call the tour Petticoats Behind the Presidents and my groups love it. It includes a colonial era fashion show, candle making at Henricus Historic Park where you discover the two lives of Pocahontas and even learn your "courtesies" at Shirley Plantation.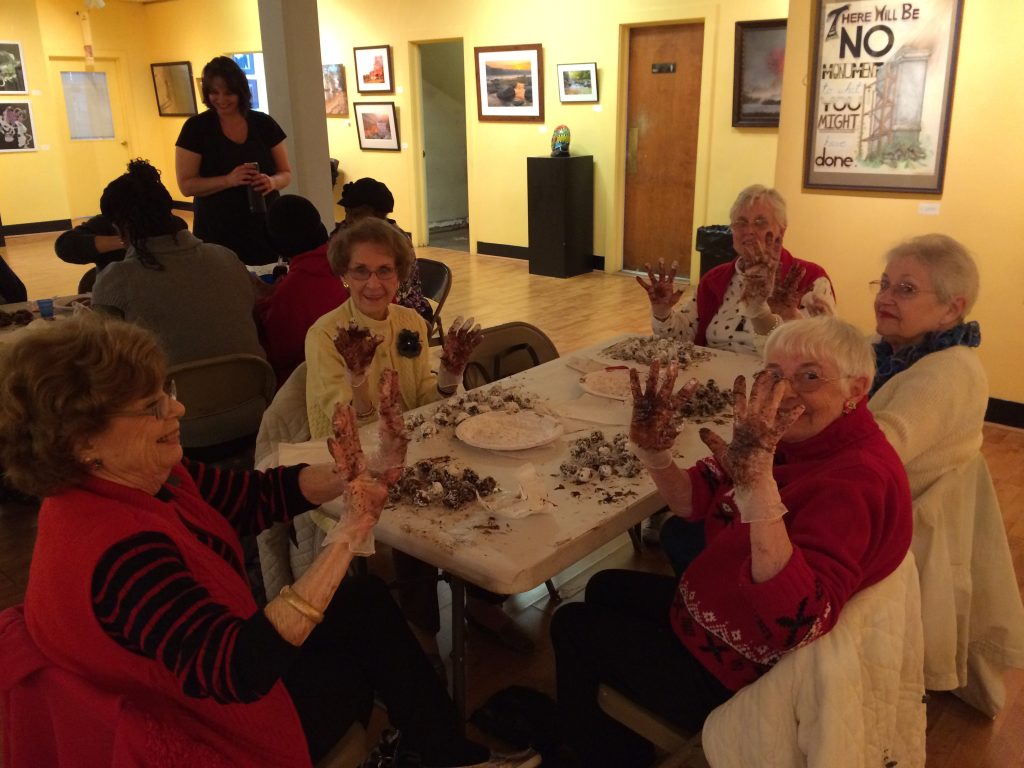 You developed the website early on. Is that something you did on your own or did you seek outside help?
I have enough knowledge in online marketing, but not necessarily in web development so I interviewed several companies to do my website. I knew what I wanted it to look like and what I wanted it to do but needed assistance on the actual layout and coding that was needed. Some of it, like the PayPal feature, was to support corporate groups in local hotels that wanted to be able to do tours, but wanted their customers to pay directly. So there was a lot of thought that went into that website. I wanted to make it easy for tour professionals.
What about the travel blogs?
I can't take credit for those. My husband is the creative writer in the family. Richard was the director of national media relations for the Virginia Tourism Corporation, and was responsible for Virginia stories and bringing travel writers into the state of Virginia until last year when he retired. So it worked out perfectly because he does all my creative writing.
Outside of the website, how have you promoted the company?
One of the things that I've noticed about experiential is that there's different levels. What a senior might want is not what a millennial is going to want. A millennial is going to want that white-water rafting ride down the James River. A senior is probably not.
In looking at my website and at the means by which I market my company, I realized that social media is really the way to reach millennials. We're just about ready to launch a Facebook page and Twitter account. Richard has been writing some creative pieces geared more to millennials up to the baby boomers to create "new" interest online.
My emails tend to be more for the senior travel groups because they are always looking for new ideas. I have set up my email marketing so there's an area where you get something new every month. I also have a feature partner section in my emails and on my website that gives an introduction to the new products that my partners have created. This gives the reader a chance to get to know some of these partners and what they do. I also have a "Travel Tips" section for tour operators where they can get up to date travel information from Virginia, road conditions, detours, road work etc.
Has anything disappointed you in particular since you've started this business?
As a new business you always have challenges and for me part of it has been the ability to streamline my efforts. A big part of what I do is customizing and after coming from a large conference like ABA it can be difficult not to over work myself and stay focused on where the best business potential might be. Balancing my sales and marketing efforts with product development can be tricky as I have to jump from being creative to being an administrator.
Any advice for somebody in a similar position who's starting a tour business?
Belonging to ABA and NTA is so very important. As a new business it's tough sometimes financially, but it really is worthwhile on so many different levels. I personally like the networking but the seminars and education at conferences can also be very beneficial as it is like a university with a highly trained faculty. Just being able to sit down and learn the newest trends or listening to tour operators talking about their challenges, it really helps you as a tour business to understand what other people are going through. I encourage people to get out there and be a part of these organizations.
Also build relationships and work very closely with your DMOs and state tourism offices. Rely on them and work with them because it's so beneficial to have that kind of support. When you think that you're up against the wall they can come up with some great ideas and provide contacts that you will not be able to get on your own.
Contact Mary:
mlewis@hovtour.com