Carnival's newest ship will sail out of Port Canaveral
Carnival Cruise Line's next ship, the Mardi Gras, is going to bring some groundbreaking features and innovations, with six themed zones and 2,600 staterooms in 20 categories Also, the Mardi Gras is the very first ship in North America that will be powered by liquified natural gas (LNG), which is Carnival Corporation's "green cruising" platform.
The 5,200-passenger Mardi Gras is set to enter service this November, when she will start a season of seven-day Caribbean cruises from Port Canaveral.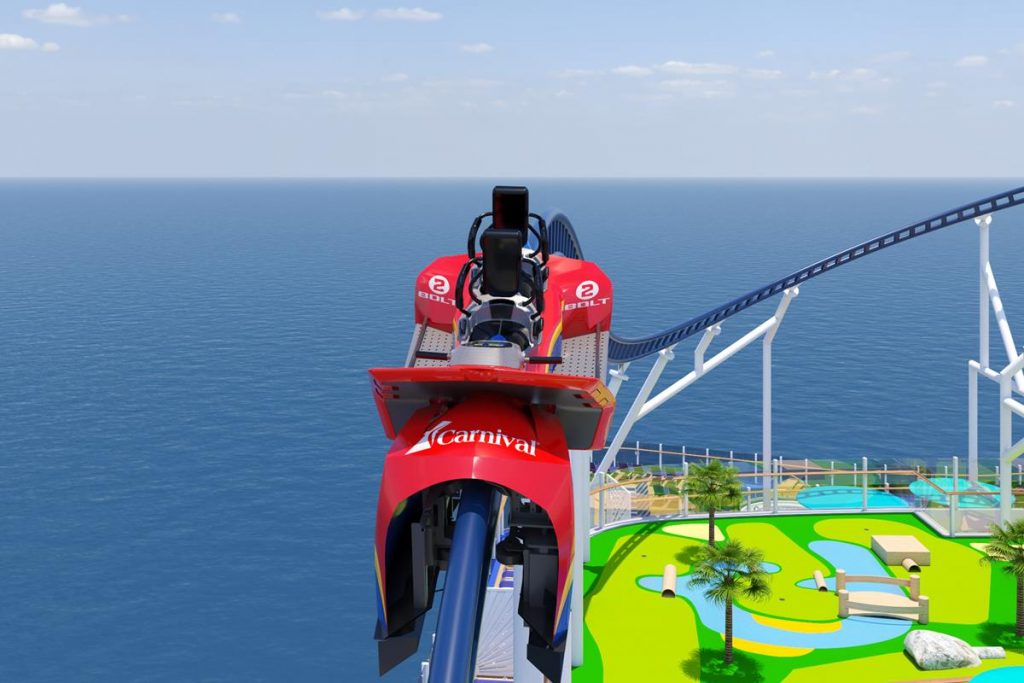 First Roller Coaster at Sea
Taking cruise industry innovations to a new height, BOLT will be the first roller coaster at sea. Riders will be able to race on an 800-foot track that's 187 feet above sea level. Guests can choose their own speed, so each ride is unique. Riders' speeds are also posted after the race, and guests can have their photo taken during the ride.
Themed Areas
 Themed zones on the Mardi Gras include Grand Central on decks 6-8, French Quarter on deck 6, La Piazza on deck 8, Summer Landing on deck 8, the Lido on decks 16-17 and Ultimate Playground on decks 18-20.
The Ultimate Playground, which is located on the aft of decks 18-20, includes the largest and most elaborate Carnival WaterWorks aqua park in the Carnival fleet. There's also an expanded SportsSquare, and this is also home to the new BOLT: Ultimate Sea Coaster. Guests can enjoy this family-friendly play area, soaking up the sun along with sea vistas.
The expanded Lido, located aft on decks 16-17, offers some Carnival favorites—Seafood Shack, Guy's Burger Joint and BlueIguana Cantina Mexican eatery—as well as some new eateries.
Summer Landing, aft on deck 8, is home to Guy's Pig & Anchor Smokehouse Brewhouse. There will also be a pool and whirlpool, ample lounging spaces and hangouts, and lunch counter for the Smokehouse Brewhouse.
La Piazza, located mid-ship on deck 8, will transport guests to Italy. They can enjoy the casual, family-style Cucina del Capitano, a new Mediterranean-themed seafood restaurant. and 24/7 Pizzeria del Capitano.
French Quarter, aft on deck 6, shares New Orleans' culture. Combining a fun food scene with lively entertainment, it will feature new bars, eateries and music. A traditional New Orleans jazz club will offer live entertainment.
Grand Central, located mid-ship on decks 6-8, is a day-to-night entertainment complex. With a spectacular three-deck-high, floor-to-ceiling windows and a bar that overlooks the starboard side of the ship, this is the perfect venue for socializing. Also located on Grand Central is the first-ever dedicated Punchliner Comedy Club, where guests can enjoy nightly shows. And there's Piano Bar 88 for singalongs. Grand Central will house Bonsai Sushi and Bonsai Teppanyaki as well.
Entertainment
Entertainment is at the heart of the Mardi Gras experience. Onboard will be the first-in-the-fleet partnership with Family Feud. In addition to a dedicated Punchliner Comedy Club, there will be new live music options and Playlist Productions.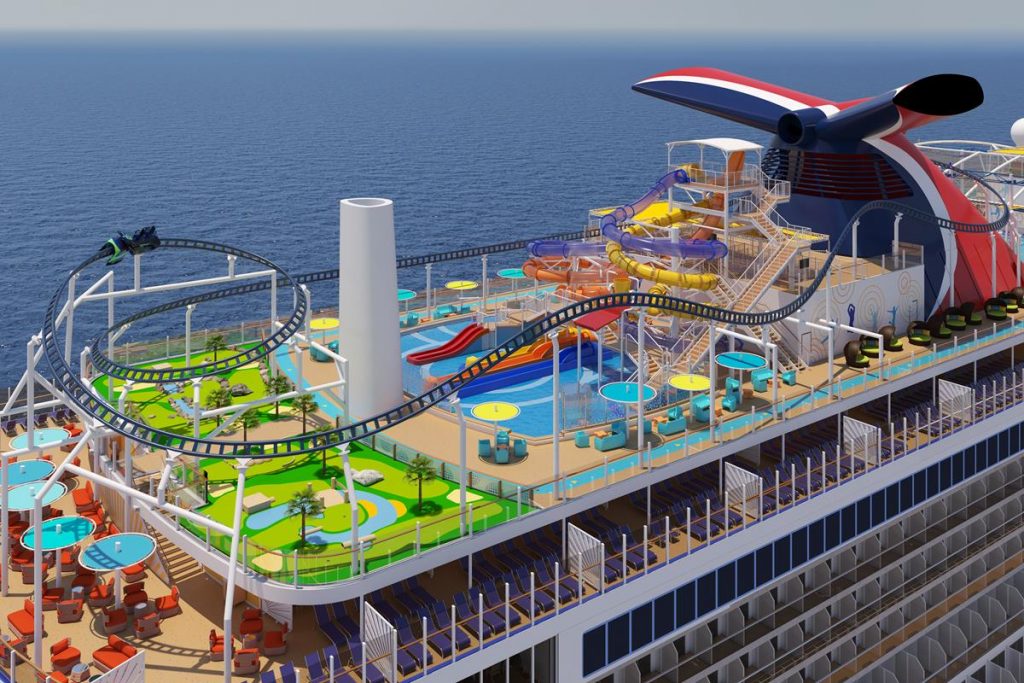 Diverse Dining
Famed New Orleans chef Emeril Lagasse will be introducing his first restaurant at sea—Bistro 1396. An expanded Guy's Pig & Anchor Smokehouse Brewhouse will offer the smoked-onboard barbecue favorites created by Guy Fieri, a longtime Carnival partner. Carnival's exclusive ParchedPig craft beers, brewed onboard, will be available.
Other Carnival standbys include the New England-inspired Seafood Shack, Guy's Burger Joint and BlueIguana Cantina Eatery. Bonsai Sushi and Bonsai Teppanyaki are being expanded.
Itineraries
The Mardi Gras will be based in Port Canaveral, Florida year-round. She'll be offering two different seven-day itineraries. Eastern Caribbean cruises will visit San Juan, Amber Cove and Grand Turk. Western Caribbean swings will stop at Cozumel, Costa Maya and Mahogany Bay (Isla Roatan.)
Carnival Cruise Line continues to expand, and its second XL-class ship, starting construction in 2020, will be delivered in 2022. This will also mark the 50th anniversary of the company's founding.
The Mardi Gras is a cutting-edge ship to consider for your future cruise group.
By Cindy Bertram
Cindy has 15+ years of cruise industry expertise in marketing, content creation, sales and training as well as social media. Her MBA from Loyola University Chicago complements her high creative edge and liberal arts BA.