A new cruise venture in the Dominican Republic provides hands-on opportunities to help people in need
On a hilly, unpaved street in the little town of Monterico, about a half hour's drive from the cruise dock, I found myself on the front porch of a humble home shaded by a huge mango tree. Motorbikes buzzed by, and neighborhood dogs lounged at the doorstep, oblivious to the animated conversations between residents and American tourists seated in plastic chairs that took up almost every square inch of the cozy space.
The Thursday afternoon English tutoring session, led by three ship passengers and attended by eight eager Dominicans from kids to grandmas, was hardly a typical shore excursion, but those who had signed on to the concept of the brand new cruise line didn't expect to be spending idle hours at the beach or sipping daiquiris poolside.
The cruise industry is always coming up with new wrinkles and novel twists, but the brand that Carnival Corporation rolled out in April is a real game-changer. Called Fathom, the pioneering line is committed to making a difference in the places it visits.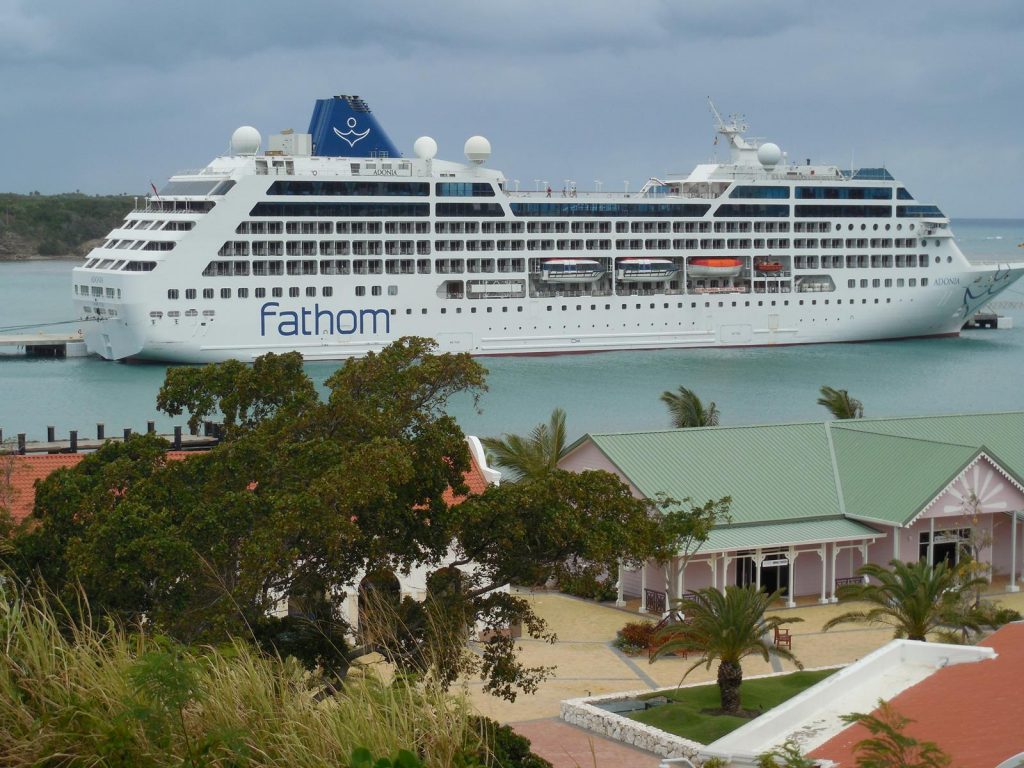 Every other week Fathom's freshly refurbished, 704-passenger Adonia departs Miami for Amber Cove, Carnival's spiffy, $85-million development on the Atlantic coast of the Dominican Republic, near Puerto Plata. For two full days and parts of two others, Fathom passengers have a chance to fan out into the countryside to volunteer in educational, economic and environmental projects coordinated by two established aid organizations—Entrena and IDDI. The 7-day Dominican sailings alternate with cultural cruises to Cuba. (In May, Fathom became the first cruise line in more than 50 years to sail from the U.S. to Cuba.)
The Spanish-speaking Dominican Republic, located 700 miles from Miami, occupies two-thirds of Hispaniola, the island it shares with French-speaking Haiti. It's the second-biggest Caribbean island, exceeded in size only by Cuba, which we passed on the way there.
[cta id="54018″ vid="0″]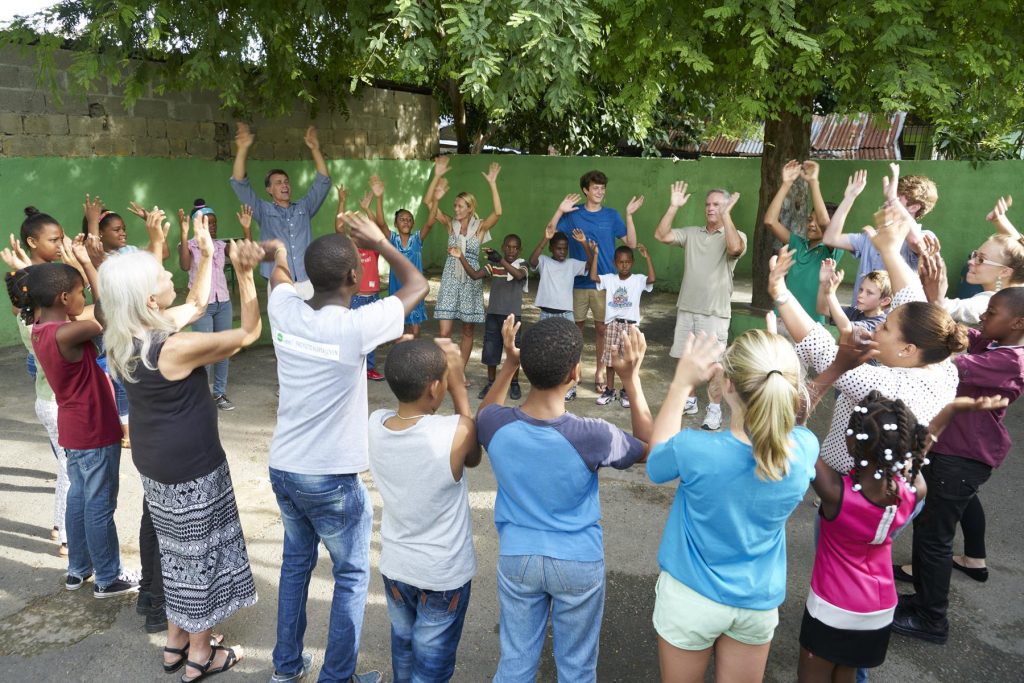 Puerto Plata was a popular resort area in the 1980s, and many cruises called there regularly. But when ships stopped coming and the resort action shifted to Punta Cana and other locales to the east, Puerto Plata and the north suffered from the decline in tourism. The influx of hundreds of Fathom volunteers every month is expected to help boost the region's fortunes. Knowing English is a stepping stone to getting a good job in the tourist industry, which has shown a recent uptick in the north, partly fueled by the Amber Cove development.
Promoting a philosophy that sets it apart from other lines, Fathom has introduced a category it calls "social impact travel," a term that officials say implies an ongoing commitment and differentiates it from "voluntourism." Others might call it "philanthropic travel." (I referred to it as a "humanitarian cruise" when telling people about my upcoming trip.)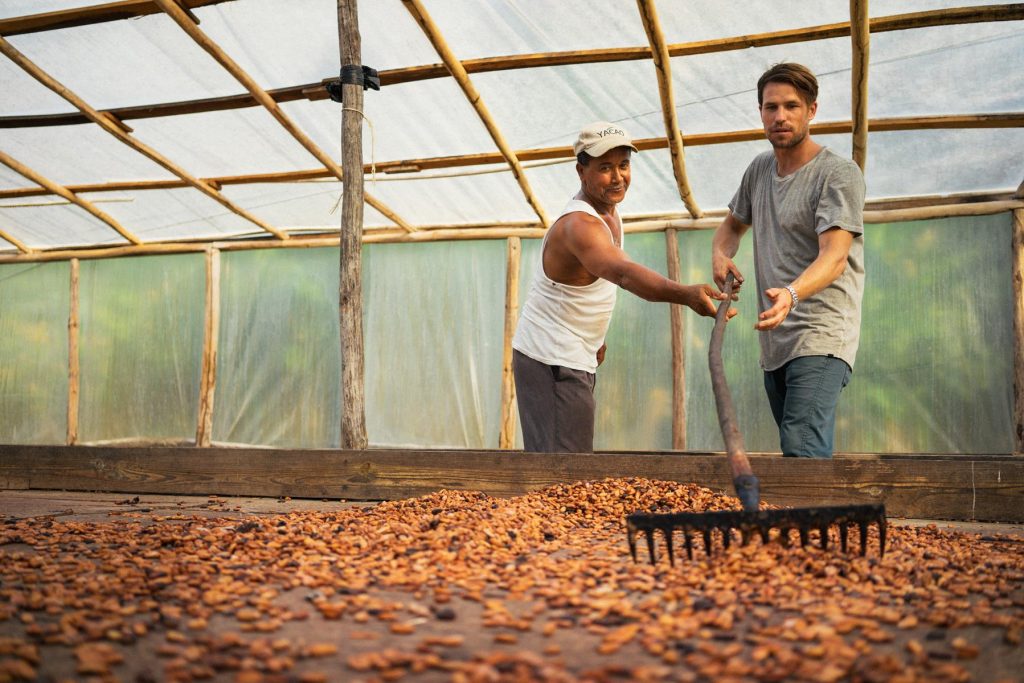 With a goal of transforming communities, Fathom intends to harness its resources for "large-scale, systematic, long-term impact, to forge partnerships with organizations that are on the ground every day, week after week, all year round," says Tara Russell, the line's president.
Russell says she loves the nautical term "fathom," which implies delving below the surface to make "deep connections with communities and fulfill dreams of what is possible." The line's hashtag is TravelDeep. Furthermore, she hopes Fathom travelers will "be inspired to unleash their superpowers by doing more after the cruise, even starting their own programs at home."
The state of volunteer travel, Russell says, is now "fragmented," with a lot of churches and local organizations doing "one-off" trips. She mentions that her own Idaho church, which has a mission trip to Africa once or twice a year, always has to figure out who will lead it and handle the logistics. With Fathom, she asserts, it's "pre-organized, with all the pieces in place."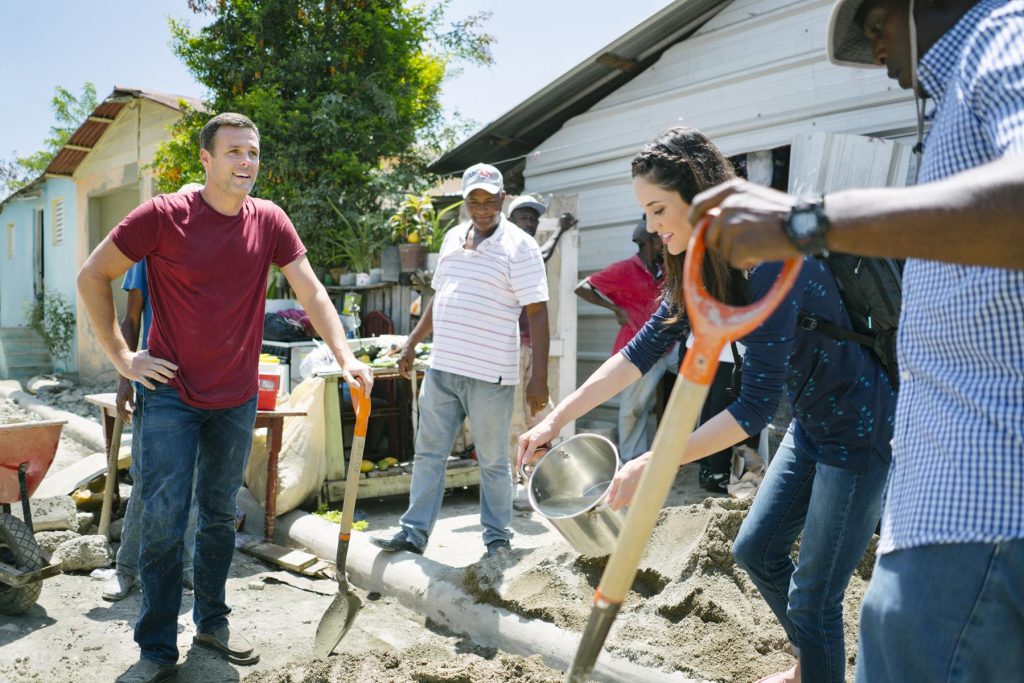 It's obvious that Fathom cruises would be a natural for groups of many types, especially religious travel groups. "There's been an enormous volume of interest from faith-based groups, and yet most of them don't even know we exist," Russell says. "We've got faith groups every week through 2016."
Click the Instant Info Logo to let us connect you!
She says Fathom could tailor a group program through its contacts with faith-based organizations in the Dominican Republic, just as it could a program for groups interested exclusively in English tutoring. Fathom expects to be welcoming a variety of affinity groups, including university groups. It also is targeting the millennial, family and multi-generational markets.
My fellow passengers included retirees, teachers and families with home school kids. Because this was the inaugural sailing, there were many press and travel industry professionals on-board as well. There seemed to be a common bond and sense of purpose among us, and we got to know each other in practical and motivational workshops held throughout the cruise.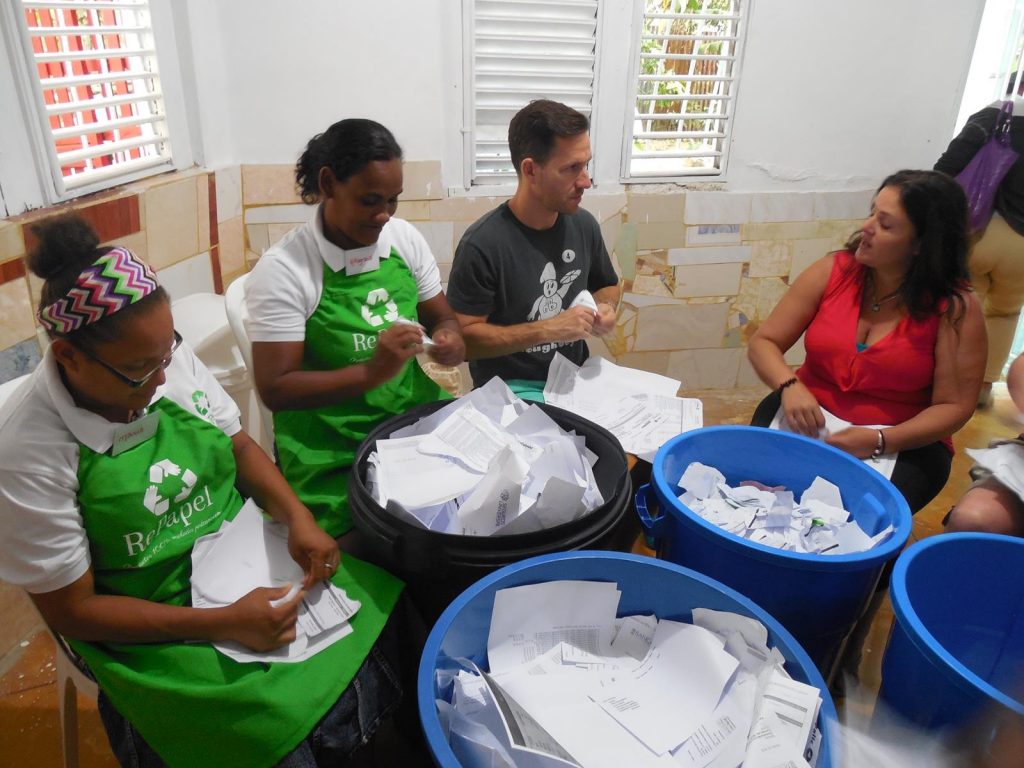 The sessions were designed to open us up to new experiences and connect with each other as well as the local people we would meet. Through quizzes, games and discussions in small groups led by young "Fathom guides," the idea was to get out of our comfort zones in preparation for on-ground "impact activities," the core of the whole endeavor.
In my first orientation session at sea, our guide said the made-up word "alongsidedness" best describes the Fathom approach—working one-on-one to empower people and developing empathy to see things from their perspective. I also attended classes in Dominican culture, basic Spanish, English tutoring and one called "The Curiosity Advantage."
My first impact activity—at a paper recycling/arts and crafts initiative called RePapel—had us working alongside the women who run this cottage industry.
After our two busloads arrived, some of us went to work at a station where we sat in a circle shredding paper (from banks, offices, hospitals) with our hands and tossing it into plastic barrels. The paper was then put through a washing machine and refined in a kitchen blender. We helped format the gray goop into sheets of paper using mesh screens, pressing out the water before letting it dry on racks. At RePapel we also got crafty, making jewelry (threading seeds and coffee beans), twine napkin holders, cardboard coasters and scented candles. The ladies didn't know English and most of us couldn't speak Spanish, but it was a festive time, and at one point dancing broke out amidst the racks of drying paper.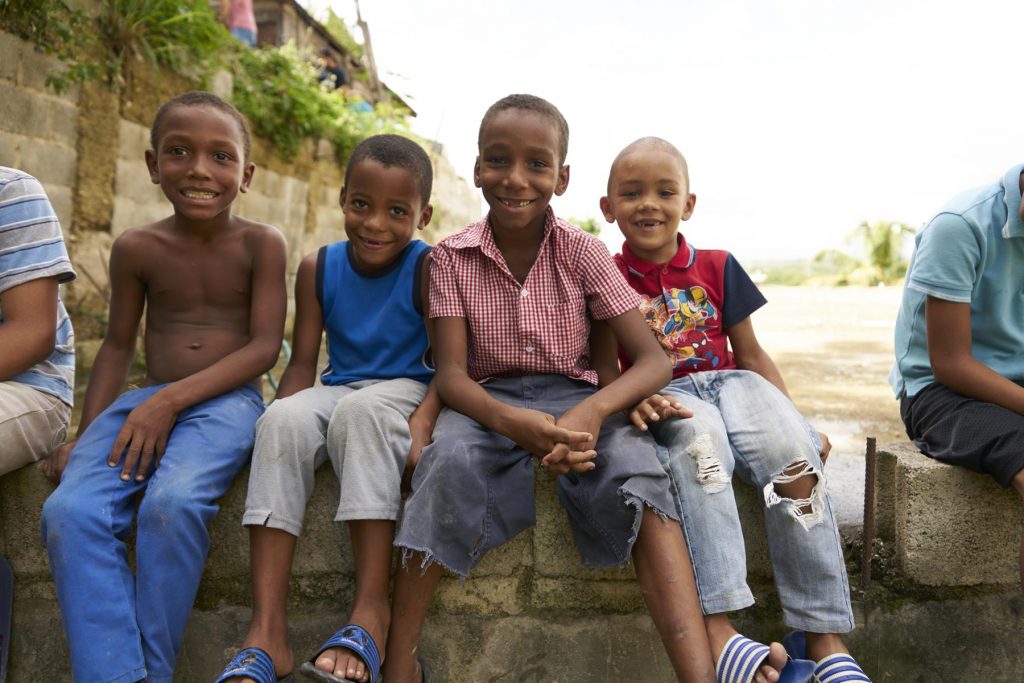 Besides community English tutoring and recycling, I signed up for half-day slots in reforestation (planting mangrove seedlings in a nature park) and teaching English to school children. I wanted to help at Chocal, a women's organic cacao cooperative —sorting cacao bean shells from the nibs, molding liquid chocolate, and wrapping and boxing the artisanal bars bound for high-end shops—but those slots were all filled. Other volunteer projects involved making ceramic water filters and laying concrete floors—both vital needs in a country with clean water challenges and homes with dirt floors. Everywhere the people seemed genuinely glad to see us and appreciated our modest contributions. In some cases, though, it seemed like the work was too light or there were too many volunteers with too little to do.
Excessive introductions, pep talks and bonding activities ate up time that could have been used for the task at hand. But this was the first cruise, and hopefully these issues are being addressed.
In addition to impact activities, Fathom passengers have time to play and relax—at sea and on shore. My "Best of Puerto Plata" shore excursion included a rum factory visit and a 16th century Spanish fort overlooking the Atlantic. Snorkeling, zipline, deep-sea fishing and Playa Dorada Beach outings also were available.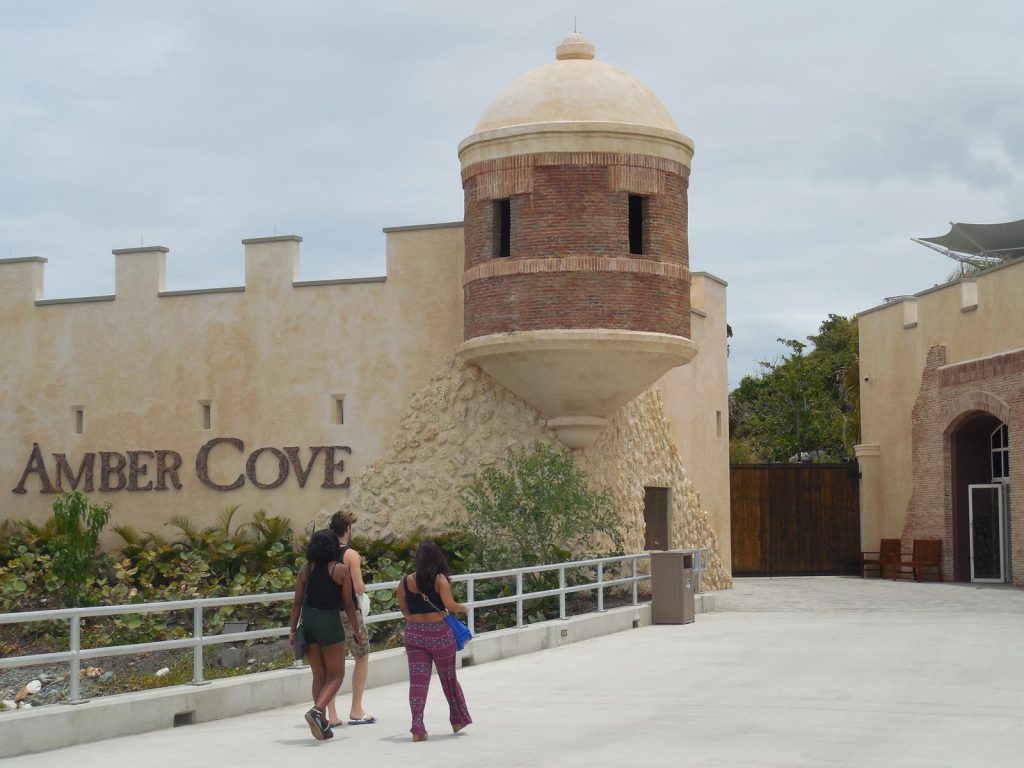 Amber Cove, a pristine, village-like complex with vendor kiosks and pastel buildings housing shops, has its own zipline, plus a spacious pool with lazy river and swim-up bar, waterslide and thatched cabanas for rent. Diversions onboard the Adonia included dance bands, merengue and salsa classes, a dominoes tournament, Dominican folkloric shows, scavenger hunts, big-screen movies at the pool and a Wine & Paint Night in the Glass House wine bar. Meditation, yoga, pilates and fitness sessions were offered as well.
The ship itself, plusher than I had expected for a "working" cruise, sports some beautiful Edwardian public rooms paneled with dark wood—clubby British country house interiors left over from its past life. (Built in the late 1980s for Renaissance Cruises, the Adonia until recently was part of P&O Cruises, one of Carnival's 10 brands.) Food in the restaurants included a lot of Dominican and Cuban dishes.
A Fathom trip may not be for everyone, but these week-long cruises to the Dominican Republic present a golden opportunity for the right groups to touch lives by opening their hearts and lending a hand.