More than 20 stops are featured in Rapides and Avoyelles parishes, where Solomon Northup endured 12 years of enslavement on Louisiana plantations
A free man of color, Solomon Northup was kidnapped from Washington, D.C. in 1841, sold into slavery and sold again to central Louisiana plantation owners. His memoirs published in 1853 were adapted for the film 12 Years a Slave, winner of the 2014 Academy Award for Best Picture. Markers on the 90-mile Northup Trail, a member of Louisiana Trails & Byways, recalls Northup's experiences, from his arrival in Louisiana to gaining freedom in 1853.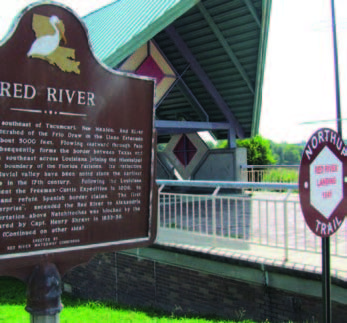 Begin your experience in Alexandria at Red River Landing. Established in 1836, the area was once a transfer point for immigration. Solomon Northup and three other slaves belonging to William Prince Ford arrived at this point in 1841 and subsequently were sold to Edwin Eppes. On the campus of LSU Alexandria is the restored Edwin Eppes House. Eppes was a cruel and depraved man who believed slavery was normal. Northup spent 10 years on the Eppes property.
There are a half-dozen locations in Bunkie, one involving Sue Eakin, owner of the Bunkie Record newspaper. In 1821 she found the Northup account in old records at Oak Hall Plantation and spent considerable time researching Northup and his story.
On January 4, 1853, the Avoyelles Courthouse was the site where Solomon Northup gained his freedom. A chance meeting with a Canadian abolitionist presented Northup with an opportunity to reach out to his family in New York that set in motion the path to his freedom and a changed life.
Throughout the Northup Trail there are period cemeteries, churches and listings on the National Register of Historic Places. To download a map detailing the trail route, visit the Louisiana Trails & Byways website. (louisianabyways.com/byway/northup-trail)
Along the route are several accommodations and dining options to enhance your tour. For more information, including additional stops along the trail, contact the Avoyelles Commission of Tourism (travelavoyelles.com) and Alexandria/Pineville Area Convention and Visitors Bureau.
(alexandriapinevillela.com)
---