Already well known for successes in the river cruise industry with Viking River Cruises, Torstein Hagen, chairman and CEO, recently announced the creation of Viking Ocean Cruises. Since Torstein Hagen founded Viking River Cruises in 1997, they have become a driving force in the fast growing river cruise industry and a dominant leader. And now they are expanding in a new area – ocean cruising via their new Viking Ocean Cruises.
Launch of Viking Ocean Cruises in 2015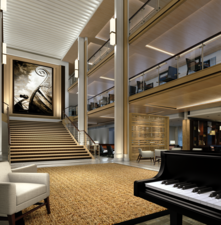 The launch of Viking Ocean Cruises in May 2015 by Viking Cruises will actually be the travel industry's first new cruise line to debut in ten years. And their ships (2 are under contract, with 4 more under options) will be a departure from the "bigger is better" focus many cruise lines now have. Torstein Hagen, chairman of Viking Cruises has mentioned that "…many cruise lines have lost sight of the destinations" by building bigger ships, and don't spend enough time at each destination. So he and his team started developing an ocean cruise concept that would appeal to what their Viking guests have come to enjoy. These are guests who are mature, well educated and love to see and experiences destinations up-close.
Onboard the Viking Star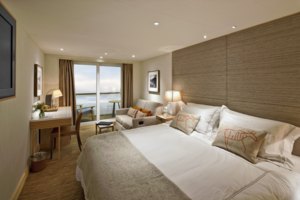 By accommodating just 928 guests, the Viking Star will offer a more intimate experience onboard and she'll be an all-veranda ship. There will be five stateroom categories, ranging from 270 square feet to the 1,438 square foot suite onboard. As far as the two pools, one will have a retractable dome and the other will be a glass backed infinity pool located at the ship's stern. Another special and unusual feature is the "Snow Grotto" in the spa, where "snowflakes gently descend from the ceiling through the chilled air." And there are several dining options, which are also included in the fare. The main dining room will be called the Restaurant, an Italian Grill, and an intimate Chef's Table, as well as a Viking Deli offering Scandinavian specialties are some of the choices. There will also be cooking school and an intimate restaurant called the Kitchen Table.
In addition, some of the areas that have been designed to facilitate meeting and mingling with other guests include Explorers' Lounge and the Wintergarden. Located at the bow of the ship, the Explorers' Lounge provides a perfect place to take in scenery while enjoying a drink. And the Wintergarden provides a serene environment to relax and enjoy an afternoon tea service.
All inclusive pricing – Yes!
The Viking Star along with the other Viking Ocean Cruises ships will offer all inclusive pricing. The cruise fare includes a verandah stateroom, as well as shore excursions in each port of call. All meals onboard are included, with complimentary beer and wine provided with lunch and dinner. In addition, all port charges and government taxes are included in the price. Other extra included amenities are WiFi, 24 hour room service and a self service laundry.
Viking Star Itineraries
When the Viking Star debuts in May 2015, she will be offering maiden voyages in Scandinavia and the Baltic, along with Eastern and Western Mediterranean cruises. The itineraries have been specifically designed for maximum time in ports and often include late evenings and overnights, which will give guests a chance to experience evening performances and local night life. Ports of call will include "collector ports," as well as cosmopolitan cities.
Competing with Crystal Cruises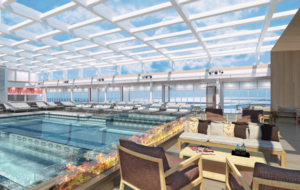 With the size of their ships as well as amenities and the all-inclusive pulse, Viking Ocean Cruises will really be competing more with cruise lines like Crystal Cruises, Azamara Club Cruises, Oceania Cruises and Regent Seven Seas.
If your group is one that prefers to try a new ship that will be more all inclusive along with a focus on experiencing the destinations and enjoying overnight stays and late evening departures, along with providing an understated and Scandinavian modern design? Maybe Viking Ocean Cruises is one to check into.