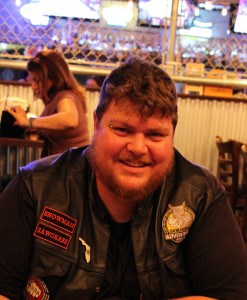 This Canadian transplant parlayed his love of motorcycle riding into a new tour business, Iron Horse Adventures. This custom tour company specializes in motorcycle touring for small groups, visiting some of America's iconic destinations. Learn Kurt's story and his tips for destinations on becoming motorcycle-friendly in this edition of Take 5.
How did you get into the group travel business?
When my wife Natalie decided to attend the PhD program at the University of Miami, I was trying to figure out what I was going to do in Miami. I remembered that when Natalie and I rode Route 66 on our honeymoon in 2012, we encountered a number of motorcycle tour groups en route. I thought to myself, that seems like a great business, it will allow me to do what I love and share it with a lot of people, and I thought I could do it better than the tours we saw.
Many are familiar with Sturgis and Daytona as destinations for bikers, any up-and-coming locations?
The thing with riding a motorcycle is it's often about the ride itself and not the destination. Having moved to the U.S. only in the last couple of years, I'm still exploring many of these roads and places myself. As for riding, there are a number of incredible roads in the U.S. – Blue Ridge Parkway, Tail of the Dragon, U.S. 1 to Key West (incredible ocean riding), another one is Florida A1A which runs along the east coast of Florida. A1A is one of my favorite rides locally; between the ocean views, winding roads and colossal mansions, there is no shortage of sightseeing.
What are the benefits of traveling in a group on motorcycle?
Traveling in a group environment on a motorcycle is kind of like summer camp for adults. Everybody shows up not knowing each other, maybe a little nervous, but by the end there is a great level of camaraderie. With motorcycle touring the cool thing is everybody gets to participate, everyone is on a motorcycle experiencing his or her surroundings, whether that's a beautiful sunny day or a downpour. When you stop for a break, everyone gets to discuss what just happened in the last leg, something silly or something interesting. At the end of a long day of riding there is really a sense of accomplishment and everybody gets to take part in the feeling because everyone participated. Even when bikes break, those moments are memorable because everyone pulls together to help get the person back on the road. When they say there is a biker brother/sisterhood, it's true.
What are some of the issues you have to overcome when traveling by bike?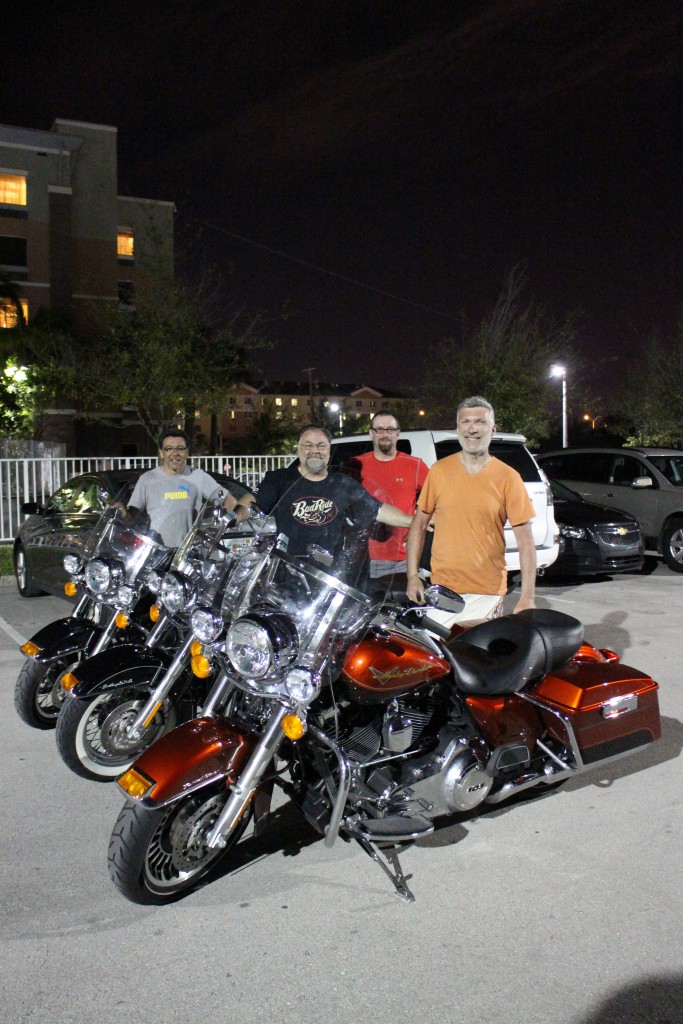 There can definitely be some challenges when travelling by motorcycle, not the least of which is the more limited number of miles you're able to safely cover in a day. Depending on the experience of the rider (the group is held to the abilities of the least experienced), the roads you're riding, the weather conditions and speed limits, you can comfortably cover between 200 to 400 miles per day. At Iron Horse Adventures we try to keep the mileage around 200-250 miles per day. When on a motorcycle the journey is the ride, not the hotel at the end of the day, that's important. So we take our time and enjoy a nice relaxing ride, breaking where we need to; we're not on a mission to get somewhere.
Luggage can definitely be an issue when travelling by motorcycle, especially if you're two-up (with a passenger), how do you pack for a week vacation for two people in two saddle bags and maybe a tour pack? This was one of the problems my wife and I found when we rode Rt. 66, on top of not being able to carry enough stuff was the pain of having to pack and unpack a motorcycle everyday, especially at the end of the day when you're exhausted!
When I started Iron Horse Adventures, this was definitely one of the hassles I wanted to eliminate. So with our tours that are more than one or two nights, we offer a support vehicle and trailer. With this, we transport all of the riders' luggage for them (except for what they might need for the day). The support vehicle breaks off from the group toward the end of the day and when our tour arrives at the hotel, their luggage is already unloaded and waiting for them. There is no need to pack/unpack your bike, and you're free to enjoy the ride without all the added weight of the luggage. An added bonus is you're not as limited in the amount of luggage you can bring, so you can bring your nicer clothes for a dinner out.
The best place to experience by motorcycle is…
Honestly? Every place is better when experienced by motorcycle. First, on a motorcycle you actually experience your surroundings. When you're in a car there is this barrier around you that separates you from the smells, the sounds, the temperature, the wind, the rain. On a bike you truly get a 4D experience unlike any other. You move through the winding roads, leaning left and right. There's just a more tactile experience on a bike, which makes traveling by motorcycle better than any other mode of transportation in my opinion.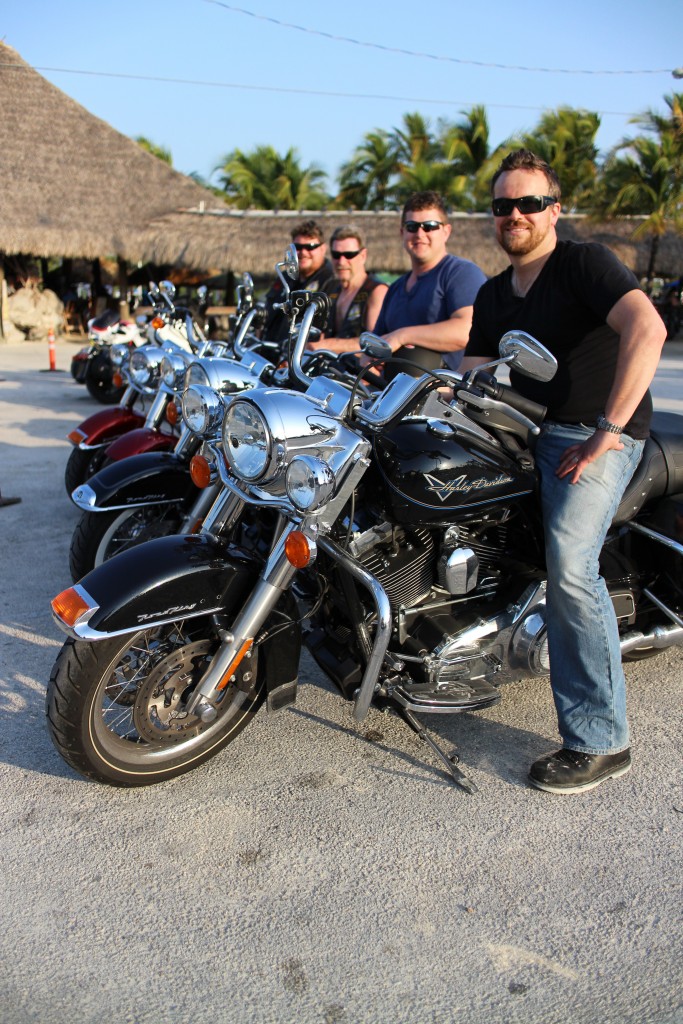 Secondly, when you're on a motorcycle almost everyone is your friend. In my experience everyone wants to talk to you when you're on a motorcycle. The guy at the gas station wants to know where you're going, where you're coming from. Little kids want to get a picture on your bike, or wave and get very excited when you rev the engine for them or honk the horn. Other bikers, with few exceptions, will almost always want to chat, offer some advice on where to ride and what to see. Traveling by motorcycle is a friendlier and more human way to travel and experience the world.
How do you differentiate Iron Horse Adventures?
We do things a little different than most rental and tour shops. We offer free delivery/pickup of our bikes, free airport pickup and drop off. We don't nickel and dime our customers with fees and up-sells. Our focus is really first-class customer service; we want our customers to feel like they are in the first-class cabin in a jet, or like they're at a luxury hotel, and most of all that they are important to us. Touring on a motorcycle can often be a rugged affair, and we would like to make it easier and more enjoyable.
What is the opportunity for destinations to market themselves as "bike friendly?"
Motorcycles are becoming more and more popular and mainstream. We're seeing a huge increase in women riders, which is really great to see. With that, there is a lot of opportunity for destinations to market themselves as "biker friendly," and it begins with leaving your biases at home. Bikers often wear leather and chains, have tattoos and piercings, and are often unshaven, dirty/wet from the road. They are also doctors, lawyers, police officers, military members, mothers, fathers, grandparents, etc; they often spend much of their free time riding for charitable causes. When a biker enters your establishment, don't just assume they are criminals or lowlifes. Treat them as you would any of your customers. Bikers are nothing if not loyal, and they have lots of friends who ride. If they are treated well and feel welcome at an establishment they will bring their friends around to spend money in your restaurant, bar, hotel, etc.
Another great way to be biker-friendly is to have reserved motorcycle parking, preferably at the front and in sight from inside. Bikers like to keep an eye on their motorcycles and their gear; unlike a car, it can be hard to secure all of your belongings on your bike. Motorcycle parking at an establishment tells me they welcome our business and understand our unique needs.

Now What? Connect!
Kurt Kivell
Have something interesting to say? We are always looking to talk with group travel organizes who have a story to tell…Drop us an

email

!