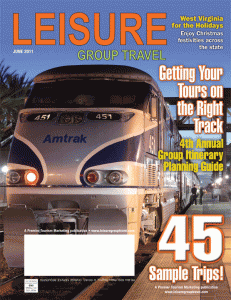 The fourth annual Group Itinerary Planning Guide is the centerpiece of June's Leisure Group Travel, featuring 45 sample itineraries submitted by CVBs and other tourism organizations.
Divided into Midwest, South, Northeast, West and Canada, the planner provides day-by-day details on trips that tour planners may wish to offer their groups. Destinations range from suburban Chicago and Northern Indiana Amish Country to Pennsylvania's Oil Region and the Black Hills of South Dakota. A full page is devoted to each itinerary.
Readers also will find articles on sightseeing cruises and scenic railroad trips in each region. As alternatives to motorcoach travel, these water and rail options cover Boston harbor cruises, Mississippi river cruises in New Orleans, and train trips on Amtrak and steam-powered tourist trains, to name a few. One article spotlights scenic trains in North Carolina. And railroad authority Don Heimburger, a guest columnist, shares his expertise on train attractions.
For those thinking ahead to Christmas, the article "West Virginia for the Holidays" abounds with November-December tour ideas in the Mountain State. Another feature on holiday travel spotlights seasonal celebrations at Gaylord Opryland Resort in Nashville, Louisville's Galt House Hotel and Granbury, Texas.
Also in the June issue, readers will explore German-American connections in Iowa, some lesser-known museums in Washington, D.C., Tacoma's glass art and historic Montana mining towns. International coverage includes reports on Australia and the International Peace Garden, a popular group-tour attraction that straddles the border of North Dakota and Manitoba.
ITINERARY SECTIONS
Sample Midwest Itineraries
Sample South Itineraries
Sample West Itineraries
Sample Northeast Itineraries
Sample Canada Itineraries
FEATURES
Holiday Trips Involve More Than Lights and Carolers
What's Up Down Under?
Ethnic Iowa
Bank Clubs Network in Iowa at Heritage Clubs Annual Conference
Midwest Rail & Cruise Options
International Peace Garden
Chugging through North Carolina
West Virginia for the Holidays
South-Seeing by River & Rail
Montana's Mining Heritage
Tacoma's World of Glass
Western Rail & Cruise Options
Sampling the Museums of Washington, D.C.
Northeast by Rail & Water
Canada by Train & Boat
COLUMNS
Planes, Trains, Cruises or Buses
Rules of the Road for Short Excursions
Is Branding Really Important to Your Business?
Rail Museums All Steamed up for Groups
DEPARTMENTS
Meet the Contributors to This Issue
Online Tools: Key to Marketing
Check out the Digital Flipbook Version below: