Joey Spellerberg grew up in the tour business. His father's tour company, Moostash Joe Tours, has been leading travelers on vacation for 40 years. As the next generation, Joey has stepped into the leadership role, being cognizant of what's made the operation successful, while adding his own brand of digital savvy. With over 100 tours per year, this company is moving some serious volume. Learn their story in this edition of Take 5.
With a name like Moostash Joe Tours, there's got to be an interesting story behind the business.
Yes, we celebrated our 40th year here in 2015. My dad Joe started the company here in Fremont, Nebraska and has been known his whole life for his polka music. He has had a radio show for 50 years, He also had a couple different polka bands and they did a lot of traveling all over the world. Over the years he developed quite a following.
He was approached by a tour operator about doing a tour over to Germany for Oktoberfest and promoting it through his band. That was in 1975, and I think the trip sold for $599 including airfare and meals. Obviously the industry has changed since then, but the neat story behind that is the first year they took 50 people, which was a heck of a turnout. Then the next year they took 150 and the next year they took 300 people.  As the story goes, my dad saw a business opportunity. Mainly he just did overseas travel until about 1990 when he started promoting motorcoach tour business. Coincidentally, that's when I was born.
Where was the first domestic trip?
That's a neat story, too. It was in a little town here in Nebraska, Pioneer Village in Minden. It was kind of an experimental two-day trip. We took a van that had six people in it – my mom and dad, my mom's mom and dad, and two friends. I was in a basket about six weeks old.
Through his band and radio show we started promoting Branson. And then we promoted to a few casinos, but we don't do much to casinos anymore. We would go up to Mall of America. The Black Hills in South Dakota was also a huge start to our business. We gained a following for the motorcoach side of the business and we would still be promoting our overseas business.
What's crazy is we're doing over 100 tours that we put together and we're serving over 4,000 people. We have five full-time employees and over 10 tour directors. It's pretty neat to see where we're at now. We've been very blessed for sure.
How was it growing up in the family tour business?
I was out scouting with my mom and dad on these tours when I was a little kid. Me and my brother, John, who's in the business now too, went to Tetons and Yellowstone as kids. We went to Rocky Mountain National Park. We went all the way to D.C. and New York. My mom and dad didn't have the luxury of the Internet. You actually went to all these places. You went to every hotel. You did the mileage of the coach. Now we have technology that can help save some time and some money, but this is how it all got started. That's how we put tours together.
Did you have the best vacation stories to tell when back-to-school time rolled around?
To me, traveling is the best education. I learned more traveling than anything else in my life. The perspective that you gain takes you out of your shell and it puts you in a new environment. It teaches you to adapt and to be OK with change because when traveling, anything can happen. You meet all kinds of different people.
I look at this world and I see the majesty that God created through His national parks and all the wonders of this world. As a young child, that really shaped my mind.  I'm very grateful that I had the opportunity to see these things at such a young age and have that affect me as I'm the person I am today. I am proud to help other people experience the same things I did.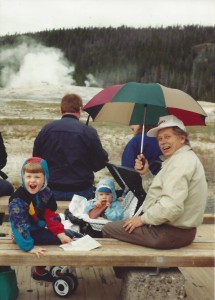 When you transitioned this business, your dad had a certain way of doing things. What's the biggest thing that's changed operationally?
I don't know if I would say I'm doing things much differently. He's turned over the reins but he does pop in and out. He definitely will always be part of the company. I would say that I'm expanding on what was already established for us.
Bringing in technology has only made us more efficient in everything that we're doing. If anything, the industry is changing from what it was. We're trying to attract new customers and some of the younger customers are using technology more. We have updated our website. We're constantly on Facebook, we're using email marketing a lot. I would say maybe the one big change is the way we are interacting with our customers. And the way we are trying to reach new customers has changed. But operationally, what's changed? Probably not too much. We're trying to continue to do what we've always done and that is to give the highest quality tour at the best possible pricing to attract the best tour directors in the industry and to continue to give our customers more for their money.
Talk about this new consumer. Are they receptive to your offerings or is it harder to get them on a tour?
I think they're even more receptive. I think that it is a refreshing way to go. I really do. Our customers are not only demanding coach travel—but they're expecting it. They're buying it more than ever. We have more of a rural base of a customer that appreciates this method of traveling. I'm not saying it's for everyone, but I'm surprised every day by what I'm hearing from our customers saying things like "Wow, I'm really glad I went like this." And, most importantly, it's the least expensive way to go for sure.
How has your marketing strategy changed, if at all?
We can now quantify what marketing avenue is working the best. We use Facebook a lot for our business. We aren't pushing product on Facebook. I never want to post and push; people don't want to be sold on Facebook. I want to build a loyal community of Moostash Joe Tour travelers. I want people to be sharing things. I want them to be talking to their friends about where they went. That's how I want to build awareness through Facebook. I think there's a confusion in the industry on "how do I use social media?" Our customer is 65 and older. Most of them are on Facebook. And my motto is, "I'm going to do one thing good and I'm going to do one thing great." We started with no followers two years ago and are up to almost 1,700. We're gaining traction and that's driving traffic to our website.
We've redesigned our website and now I'm seeing traffic on our site go from maybe 30, 40 hits a day to upwards of 100, 120 hits a day. I can see that it is working.  I don't have to be spending as much money on newspaper advertising. I can pass those savings onto our customer.
How do you get new ideas for trips?
That is one of the biggest challenges in our business. I sit at my desk everyday thinking, "I have solid products that I know are going to do well, but what else is out there that I'm not doing that our customer would enjoy doing?" I'm trying to figure out what are people buying. I have to try to get in their head because I don't want to spend all this time putting a tour together and then it not work in the end. We can't run a business like that.
We had a product called our "Great Parks of the Northwest" that was a good product, but it maybe could have been tweaked a little bit. So we tweaked it a little bit and we're being able to spend more time at Glacier, where we'd be able to do a few more things. We're doing more rail than we've ever done before. We're doing a "West Virginia Rail Tour", we're doing a "Great Canadian Rail Journey."
What are your goals for Moostash Joe Tours?
I want to take what was established here with my dad and his name and I want to build a very strong company. I want to serve as many people as I can. I want to help as many people experience the majesty and wonder of God's creation as possible. Where that takes me, I don't know. I'm going to do everything I can with 100 percent commitment and 100 percent integrity to the company. This is my passion. This is in my blood. With me, my brother Johnny, my wife Ashley and our team here – we're going to do the best we can and we'll see where that takes us.
Connect with 

Joey Spellerberg
Phone: 402-721-7944