Where memories are made
Tulip Time
Pella's authentic 1850s Vermeer Mill and Low Country architecture reinforces its Dutch heritage, which is proudly honored with Tulip Time. This spring bloom festival celebrates the Netherlands' rich culture with a costume style show, cheese market demonstration and presentation of the Tulip Queen and her court. Visitors also have the opportunity to participate in Dutch dancing, tour the Pella Opera House and watch floral arrangement demonstrations.
North Iowa Band Festival
Mason City, May 23-27, 2019
Hometown of The Music Man composer Meredith Wilson, Mason City honors the show's legacy with the annual North Iowa Band Festival. Celebrating its 80th anniversary in 2018, this event is the largest free marching band competition in the Midwest. Young performers from around the nation showcase their talent at Mason City High School stage and a parade through the business district. Other activities include an open-air musician marketplace, memorial race and performances by local rock bands.
Pumpkinfest
Anamosa, October 6-7, 2018
The pumpkin capital of Iowa, Anamosa welcomes autumn with a weekend of food, crafts and one of the state's largest parades. Activities include a 5K run, giant pumpkin weigh-off, a pumpkin recipe contest and carving exhibit that showcases the elaborate designs of local artisans.
National Balloon Classic
Indianola, July 27-August 4, 2018
Nearly 100 balloons dot the summer sky during the National Balloon Classic, an annual celebration of flight held in Indianola. Balloon styles range from the traditional inverted teardrop to the wacky Flying Purple People Eater, and visitors can admire either the morning Dawn Patrol or evening Nite Glow while listening to live music. With advanced planning, your group can even book a hot air balloon ride with stunning views of the festival grounds.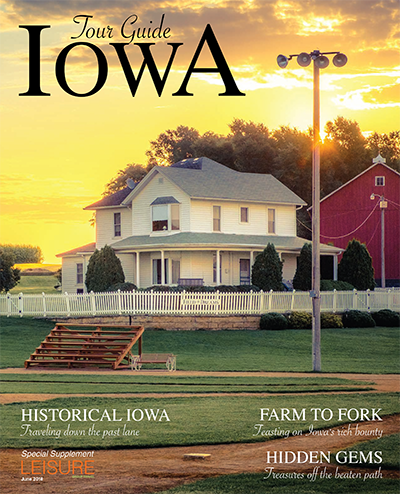 World Food & Music Festival
Des Moines, September 14-16, 2018
A selection of Ukrainian, Vietnamese, Caribbean, Bosnian and Greek cuisine greets visitors as downtown Des Moines is transformed into a global village. Whether it's gallo pinto from El Salvador, dumplings from Korea or wine from New Zealand, your group will be sure to discover a brand new flavor. In addition to international offerings from over 50 food vendors, the festival supplies world music performances and cooking demonstrations throughout the weekend.
Nelson Pioneer Farm Festival
Oskaloosa, September 15, 2018
Hosted on the grounds of Nelson Pioneer Farm, this festival transports visitors to the "Good Old Days" of the pre-industrial Midwest. Over 30 exhibits and demonstrations provide hands-on activities such as butter churning and rope-making, while other stalls allow guests to thresh oats, shuck corn and craft soap. A parade, country dinner and old-fashioned children's game session round out the activities. Live entertainment includes a fiddle contest that attracts musicians from across the state.
Oktoberfest
Amana Colonies, October 5-7, 2018
Eastern Iowa transforms into Bavaria every autumn for Oktoberfest—a celebration of German culture and cuisine. After the official keg-tapping ceremony (where free beer is served until the keg is drained), live oom-pah music and plentiful schnitzel accompanies a weekend of dancing and craft exhibitions in the Festhalle. Visitors can also tour the Amana Colonies with a horse-and-buggy ride and sample German-inspired beer from the Millstream Brewing Co.
Iowa Irish Fest
Waterloo, August 3-5, 2018
The spirit of the Emerald Isle visits Waterloo for a weekend festival that celebrates Irish cuisine, music and sport. The Lincoln Park festival grounds include a merchandise mart, food court serving Irish comfort food and stage showcasing Irish dancers and pub bands throughout the weekend. Other activities include a rugby match, whiskey tasting and Sunday mass accompanied by Celtic folk music.
Iowa State Fair
Des Moines, August 9-19, 2018
Where else can you witness a tractor race, taste award-winning pie and test your mettle on a thrill ride in one place? The Iowa State Fair, one of the largest in the nation, welcomes over 1.1 annual visitors over its two weeks and honors the Hawkeye State's rich agricultural and livestock heritage with hundreds of booths and demo stages. The fair's most famous attraction since 1911 is the Butter Cow, a life-sized bovine sculpted from 600 pounds of climate-controlled butter. Other areas popular with groups include the new Thrill Zone (which features roller coasters and bumper cars) and the Anne and Bill Riley Stage, which hosts an annual talent search.
Glenn Miller Festival
Clarinda, June 7-11, 2018
International visitors and entertainers converge in Clarinda every June to celebrate the life of American composer and bandleader Glenn Miller. The trombonist scored more No. 1 hits than Elvis Presley and influenced generations of jazz musicians, many of whom perform over four days at Clarinda High School. Visitors can tour the Glenn Miller Birthplace Museum, admire WWII historical displays and move to the Great American Songbook on a temporary dance floor.
Madison County Covered Bridge Festival
Winterset, October 13-14, 2018
Winterset, home to the John Wayne Birthplace Museum, also showcases six extant covered bridges made internationally famous by the hit novel and 1995 Clint Eastwood/Meryl Streep film. Guided bus tours stop at each bridge to explain their architecture and the life of designer Eli Cox. Lumber from nearby mills, sand from local creeks and lime burnt in Madison County kilns are all integrated into these iconic structures. In addition, visitors can enjoy a weekend of live music, cannonfiring and sheep-shearing demonstrations.