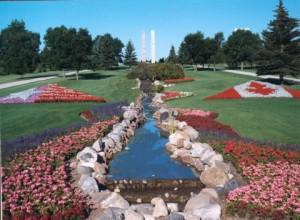 In the Turtle Mountains of North Dakota and Manitoba lies the International Peace Garden, a unique attraction dedicated to the peace and friendship between two countries. Embodying beauty and serenity, the botanical garden spans over 2,300 acres and draws thousands of tourists every year.
Constructed and dedicated in 1932, the International Peace Garden is a representation of unity and peace between the United States and Canada. A monument, constructed from native stone, was placed on the American-Canadian border as a symbol of this friendship with an engraving that reads, "To God in His Glory…We two nations dedicate this garden and pledge ourselves that as long as men shall live we will not take up arms against one another."
Half of the garden is in North Dakota, half in Manitoba. The cascade panel, a narrow channel of water, flows through the center, dividing the garden in two. Each side can be identified by a floral display of its country's flag. The American and Canadian flags are the only two floral displays in the garden that remain the same every year.