Artesian coffee and craft brews await visitors to Indiana's South Central region. Home to many of the state's art studios, this area is perfect for groups who want a hands-on experience or wish to bring a piece of Indiana back home. Classes in floral arranging, silk scarf painting and jewelry making can all be found in the area's charming towns, and local culinary specialties are served at the Dearborn Country Club and Great Crescent Brewery.
3 Unique Experience on This Trip
McCabe's Greenhouse & Floral
Great Crescent Brewery
Dearborn Country Club
Duration: 3 Days
Available: Year-round
This Itinerary is Ideal For: All
Itinerary Details
---
Day 1:
Evening: Your group tour of Southeast Indiana is for a Good Cause. Proceeds from this trip go to Dearborn County, Indiana's Tour for the Cure® program, giving you two reasons to travel – one for you, one for someone else. This travel program raises money for breast cancer research to turn your good times into great news, supporting the Vera Bradley Foundation for Breast Cancer.
Start with arrival in Lawrenceburg for two nights at the Hollywood Casino. Dinner is included tonight at the Casino's
Epic Buffet. Enjoy all your traditional favorite dishes, specialties from around the world and the best desserts this side of heaven.
"All you can eat" is a wonderful thing! Following dinner, you head to the Hollywood on the Roof Lounge for a Pink Cocktail. If you are feeling lucky, you may want to try your luck in the casino or just enjoy the live music at the Lounge.
Day 2:
Morning: Following breakfast, it's time to roll up your sleeves and have some fun. Start with a visit to McCabe's Greenhouse & Floral. Depending on the season, you have a number of hands-on projects you can create at McCabe's. From your own Herb Garden or Fall Floral Arrangements, to Summer Hanging Baskets and Holiday Wreaths, you will enjoy a "how to" with the greenhouse designer. You will also have time to shop for home and garden accessories and sample McCabe's freshly made fudge.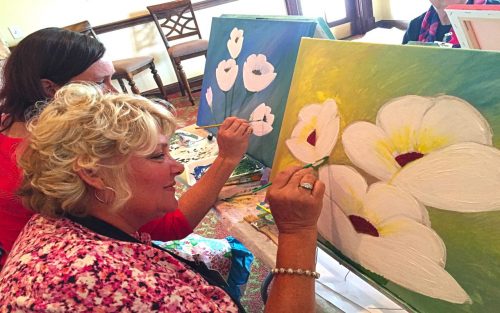 Afternoon: Lunch today is included at the Dearborn Country Club. Not only will you enjoy a delicious lunch, but you will also enjoy a painting class. You'll be joined by an experienced painting instructor from The Framery for a session on working with acrylics. Put your own touches and twists to a 16" x 20" canvas to create your unique masterpiece.
Then you will head to Aurora, Indiana and the Great Crescent Brewery for a Dessert & Tasting. Enjoy sampling locally roasted coffees from Funny Farm Coffee Company, house-made soft drinks (root beer, cream soda and sparkling limeade), and artisan-crafted ales. Choose your favorite beverage to accompany a "house special" cupcake for an afternoon pick-me-up! Watch a beer bread-making demonstration and take home a one-quart container of their Steepletown Gourmet Beer Bread Mix.
Evening: Head to the The Framery Gallery and Studio in Lawrenceburg's historic district for a "Bling Bash" Arty Party. Start with a mini-reception of appetizers, sandwiches and pink drinks (alcoholic or non-alcoholic), followed by activities like silk scarf painting or a fused glass jewelry-making class. Enjoy a "walk & shop" to nearby quilt and vintage shops for more refreshment samples. (Finished pendants are fired and mailed to participants.)
Then you return to the Hollywood Casino where you can try your luck in the Casino or relax with a night cap and live music in the Hollywood on the Roof Lounge.
Day 3: 
Morning: You return to McCabe's Greenhouse this morning for your last hands-on projects. You will create a Kokedama, an ancient Japanese form of bonsai, and some edible art – fudge-dipped and decorated apples and marshmallows.
Then your last stop is the Hillforest Victorian House Museum in Aurora where you'll enjoy a tour of the "steamboat gothic" mansion with costumed guides. Relax during a lovely three-course Victorian Tea served in the beautiful double parlors.