Westfield San Francisco Centre, the city's premier destination for world-class fashion, entertainment, and dining, is thrilled to announce that it will showcase Illuminique Under the Dome, presented by American Express, this holiday season. Westfield's iconic dome will come to life each night with this one-of-a-kind animated 3D light spectacular that promises to capture the imagination of young and old.
Illuminique Under the Dome is a magical, animated musical story set in a 19th Century toymaker's workshop. A lively cast of holiday characters including sugar plum fairies, toy soldiers, and gingerbread men are brought to life under the dome. They twirl, drum, and dance in unison creating festive melodies that contribute to a dynamic mechanical orchestra. The 4-minute show crescendos as more toys join the brigade and the entirety of the 102-foot dome becomes one gigantic holiday music machine. The production is an unrivaled "must-see" experience for visitors from across the nation and around the world.
The 4-minute show will run nightly November 25 – December 31, every half hour from 6 – 8:30 p.m., except for Sundays, when the Centre closes at 8 p.m.
About The Dome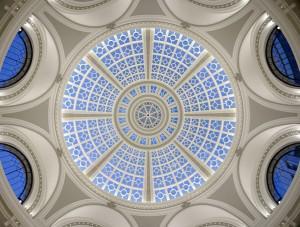 The iconic glass and steel dome, unveiled to great acclaim in 1896, sits at the center of the building that was once home to the former Emporium department store. Designed by renowned architect Albert Pissis, the dome and the Market Street façade are signature features of the building. Destroyed by the 1906 earthquake and fire, the dome was rebuilt in 1908. Throughout the early 20th century, the rotunda was a hub of social activity, featuring a two-tiered bandstand and a café where concerts were held every Saturday night. "Meet me under the dome" was part of the San Francisco vernacular for decades.
In 2006, the dome was fully restored and elevated 168-feet above Market and Mission streets as part of the building's revival as Westfield San Francisco Centre. The 102-foot diameter, three-story structure weighs 500,000 pounds and features more than 800 crown and lunette windows and 900 lights. The space once again commands attention as the home of the Centre's aptly named Restaurant Collection Under the Dome.
World Class Shopping & Dining at Westfield San Francisco Centre
Located just steps from San Francisco's Union Square, Westfield San Francisco Centre makes holiday shopping memorable with Bloomingdale's, Nordstrom and a fashionable collection of over 200 boutiques all under one roof.
After a day of shopping, visitors can cap off their experience with an exquisite meal from The Restaurant Collection Under the Dome. Guests can dine within the handsome décor of LarkCreekSteak, savor the Pan-Asian dishes of Straits Restaurant, celebrate the flavors of Italy at Cupola Pizzeria and discover gourmet sandwich creations at Top Chef Tom Colicchio's 'wichcraft. Located on the Concourse Level of Westfield San Francisco Centre, "The Food Emporium" offers brisk service and a café-style atmosphere to enjoy delicious, fresh fare from more than 15 gourmet eateries. In addition, the Centre houses San Francisco's largest day spa, Burke Williams, which completes the overall experience travelers will discover.
Visitors to Westfield San Francisco Centre are eligible to receive a VIP Passport to Savings booklet filled with hundreds of dollars in special offers from participating shops and restaurants. Simply present your hotel room key at the Concierge Desk, located at the Market Street entrance. Currency exchange services are also offered for international guests.
Transportation to Westfield San Francisco Centre
It's easy for visitors to arrive in style at Westfield San Francisco Centre. It's located just 20 minutes from San Francisco International Airport with direct BART transport to the Centre. In addition, MUNI, the Market Street historic trolleys, the Powell Street Cable Car, and the city's largest parking garage at 5th and Mission all provide convenient access to Westfield San Francisco Centre. In addition, the Centre's new Text & Go valet service allows visitors to simply text ahead when they're ready for their car. In addition to the Valet located at 5th Street near Nordstrom, a second valet drop off for the holiday season, complete with Valet Lounge, is available on Mission Street near Bloomingdale's entrance.
For more information and holiday hours visit: www.westfield.com/sanfrancisco. For photos, interviews or media tours, contact Kathy Anderson, Westfield San Francisco Centre Tourism at Kathy@retailtourism.com
About Westfield Group:
Westfield San Francisco Centre is owned by the Westfield Group (ASX: WDC), an Australian-based company with interests in 124 shopping centers in Australia, New Zealand, the United Kingdom, the United States and Brazil. In the U.S., the Group has a portfolio of 55 shopping centers that are home to more than 9,000 specialty stores and comprise approximately 63 million square feet of leasable space in California, Connecticut, Florida, Illinois, Indiana, Maryland, Nebraska, New Jersey, New York, North Carolina, Ohio and Washington. Westfield San Francisco Centre is managed and leased by Westfield, and co-owned by The Westfield Group and Forest City Enterprises.