What began as a 3½-acre rose garden requested by Milton Hershey has bloomed into a magnificent 23-acre spectacle called Hershey Gardens. Besides its impressive array of over 5,000 roses, the garden features an interactive Children's Garden, a seasonal Butterfly House and different themed gardens for groups to enjoy.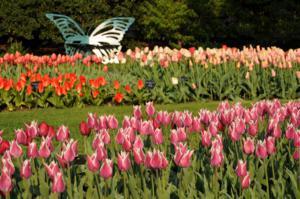 Hershey Gardens, located in Hershey, Pa., is one of many attractions in the "Sweetest Place on Earth." The botanical blockbuster will be celebrating its 75th anniversary this year to commemorate its incredible growth since opening in 1937.
The interactive Children's Garden, opened in 1993, includes fun "chocolate kiss misters" and plenty of opportunities to explore, discover and play along 32 winding pathways. The Children's Garden ties in the Hershey chocolate legacy by presenting chocolate-named, -scented and -colored flora.
The Butterfly House, one of the garden's most popular attractions, is home to over 300 varieties of the fluttering creatures. Open from May 25-Sept. 8, it is directed by a staff of "flight attendants" who help explain the lifecycle and transformation of the butterfly as they guide you through the house.
Hershey Gardens has 11 themed gardens, including the Historic Hershey Rose Garden, Seasonal Display Garden and Japanese Garden. The Historic Hershey Rose Garden, the original spot where the garden began in 1937, is made up of 5,600 roses in various designs and colors.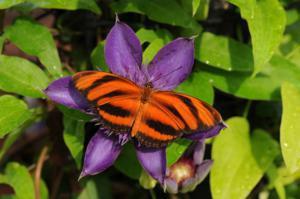 One of the most colorful displays is the Seasonal Display Garden, filled with thousands of tulips in the spring, annuals in the summer and chrysanthemums in the fall. The Japanese Garden is a tranquil section of the gardens, tucked away for relaxation near a reflective pond and flowing stream. The garden displays Japanese maples, dawn redwoods, giant sequoias and a variety of beautiful blossoms.
The M.S. Hershey Tribute Garden will open this June to honor Hershey's vision for beauty and passion for horticulture. The M.S. Hershey Rose, created by the American Rose Society in 1940, will be reintroduced at the tribute garden's debut. (717-534-3492, hersheygardens.org)