Quilting has grown from simple articles to a medium that's worth traveling for
With every hobby there are side businesses that thrive.
A friend supplies a model railroad enthusiast with scale buildings for the layout; balls hit in golf course ponds keep golf ball salesmen busy; and keeping quilters supplied with the necessities for their art has a full support industry from thread to thimbles. Whether you're going to a model railroad shows, golf vacation, or a quilt event, group travel is big.
From Quilter to Tour Planner
Few, if any, get up in the morning and decide they want to have a business with quilt travel being important to their success. As an example, take Kimberly Strange, Xpedition Travel executive tour planner. About 21 years ago, Kimberly was comfortable working in a local quilt shop and practicing her hobby.
Her husband had recently purchased a motorcoach and was doing charter work. Knowing about their bus, a regular at the quilt shop suggested Kimberly organize a group and take the bus to a Vermont quilt show. Suddenly, Kimberly went from quilter to tour planner.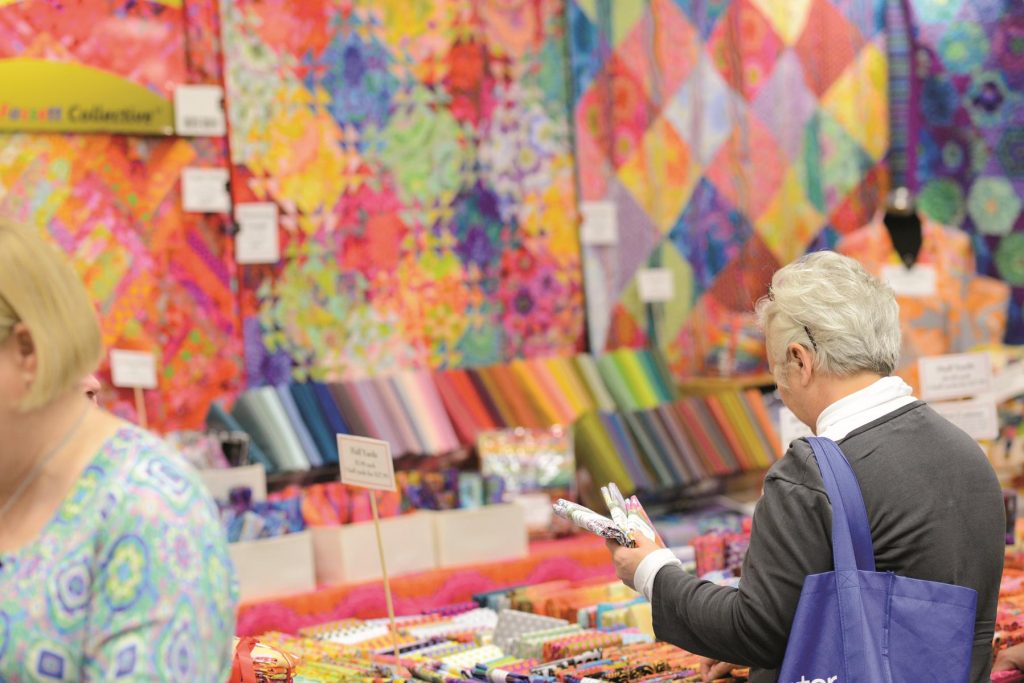 She admitted there were mistakes made on that first trip, but enough must have gone right with that group. Kimberly still travels with that first group and recently awarded a pin to two passengers from that trip that have taken 20 consecutive tours with the group. To say that quilt travelers are loyal may be an understatement.
Xpedition Travel spun off the Stranges' tour & charter company nine years ago. Kimberly estimates "Between 40 and 50 percent of my business is quilting." She continued, "I run scheduled tours, but quite often, quilt shops and quilting guilds in my home state of Michigan request I plan specific trips for them." Check out your quilt destination of choice at xpeditiontravel.com.
Let's Get Organized
In 1984, Meredith Schroeder, American Quilter's Society (AQS), cofounder and president, decided to build a business around her lifelong passion. She believed there was a growing eagerness in the quilting industry. Today, AQS has more than 70,000 members that share Meredith's excitement for quilting. AQS offers how-to content through AQ magazine, online classes, a weekly e-newsletter and publication of books by talented quilters.
The majority of quilters are empty nesters in the 50s and 60s age group that are looking to fulfill their creative juices. Additionally, young teachers are being attracted to the design elements of quilting. When quilters commit to the hobby, they understand it's a time consuming home-based hobby. However, this hobby and travel are a natural blend and QuiltWeek events certainly prove the point.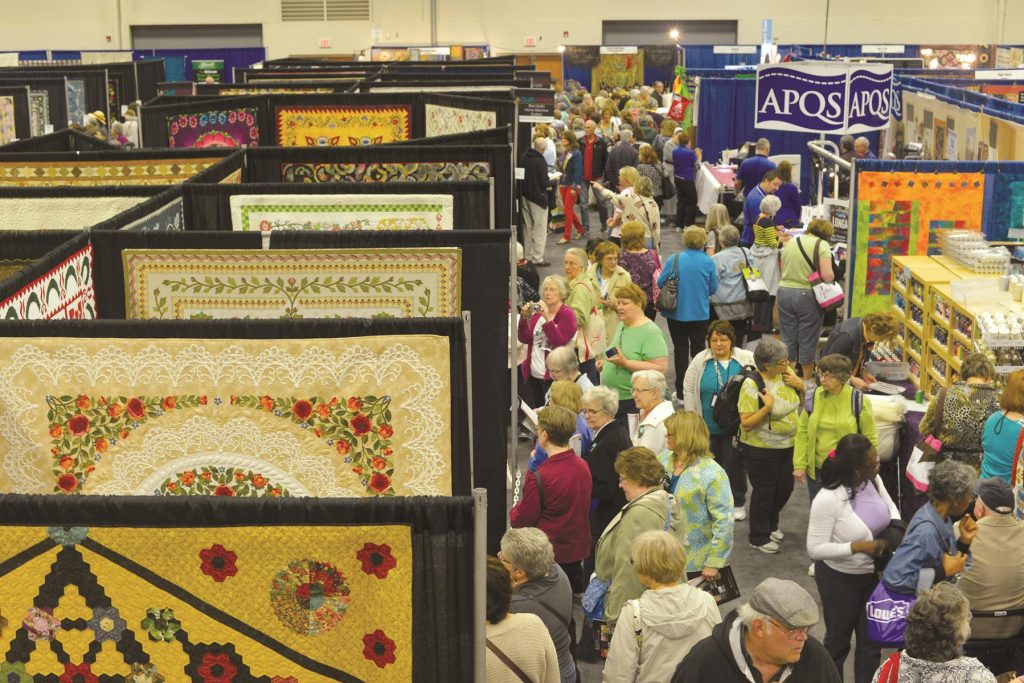 UPDATE 6/24/2020
---
The 2020 QuiltWeek Shows have been cancelled due the pandemic restrictions.
The 2021 Schedule is as Follows and there will only be 4 shows:
DAYTONA BEACH, FL
February 24–27
BRANSON, MO
March 24–27
PADUCAH, KY
April 21–24
GRAND RAPIDS, MI
August 18–21
---
QuiltWeek events are certainly group-friendly. Located in attractive destinations, group attendance rates are available for groups of 25 and older. For bookings 30 days in advance, free Giveaway Packs are provided. AQS and the QuiltWeek team are open to partnering with professional tour operators and wholesalers. There's much more information online at quiltweek.com.
Shop 'Til You Drop
We're seeing a theme here. Living in California, Jenny Doan's background was designing costumes for theater productions. Pursuing that business was not probable when she and the family moved to Hamilton, Missouri, a population of 1,500 "charming folks," as Jenny likes to say.
Quilting was big in Hamilton and she took a quilting class. She was then bitten by the bug. The thought of sewing quilts for a living excited her and when she was told she would have to wait a year for her machine-quilted products, the decision was made.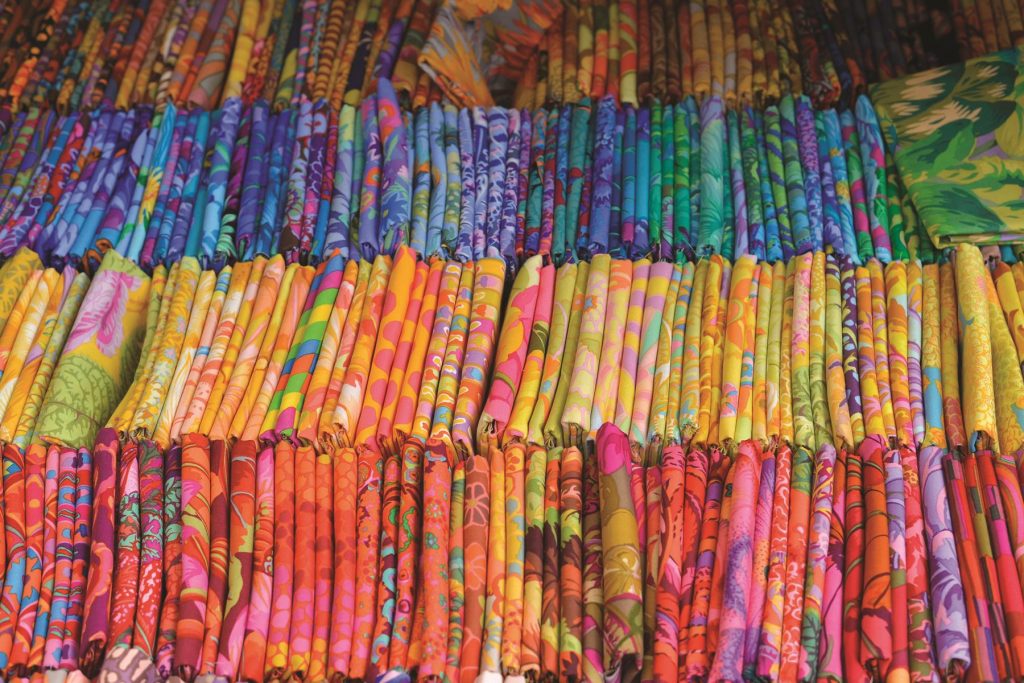 In November 2008, the Missouri Star Quilt Company opened its door with a longarm quilting machine and a shoestring budget. Shortly after opening the shop, a website was developed and Jenny's quilting tutorials became the largest YouTube quilting channel. Although the company's growth can be attributed to its online presence, group travel is still important to the business.
Almost 12 years later, a visit to Hamilton in Jenny's words, is like coming to the "Disneyland of Quilting." Today, there are 12 quilt shops on Main Street. Each features a different fabric composition. There's a sewing center perfect for retreats, good restaurants and, of course, the world's largest spool of thread. Is it any wonder that Hamilton has become Quilt Town USA, or that it has become a must stop for quilt tours? Missouriquiltco.com
Quilting as a hobby is not going anywhere and quilters travel. Check out the events in great destinations then reach out to nearby quilt shops and guilds in your area to find your new customers.
---
Dave Bodle, Associate Publisher