Learn how Groupdesk turned their pain point into an end-to-end solution for tour companies in this edition of Take 5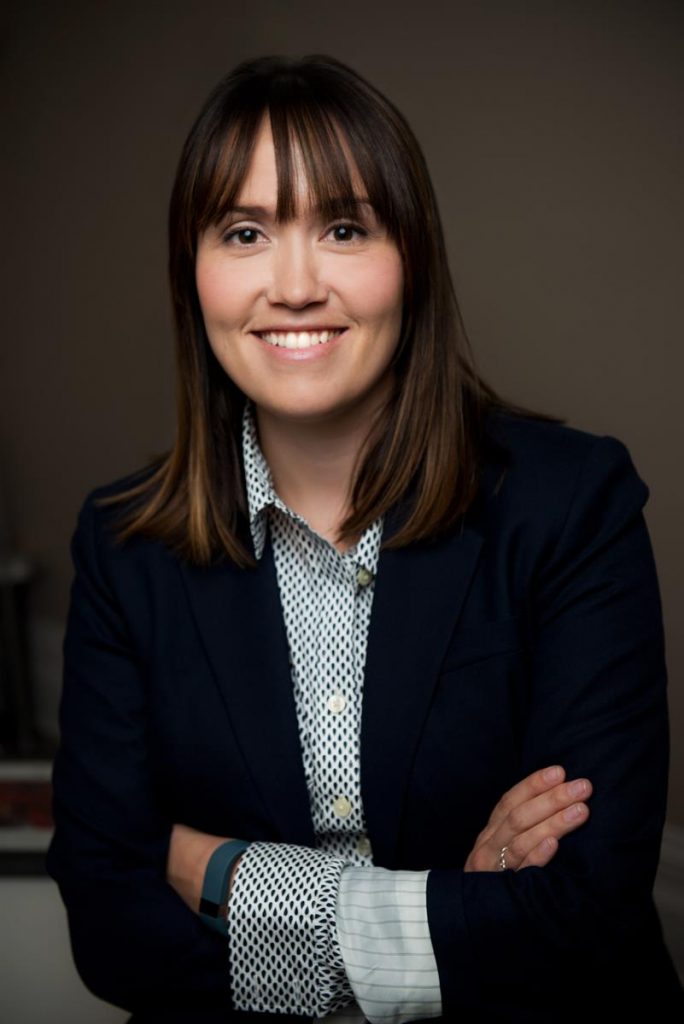 Automation software is one area that even some of the best tour operators struggle with. Group Desk was born out of the needs of one Canadian tour operator. Learn how they turned their pain point into an end-to-end solution for tour companies in this edition of Take 5.
How did Groupdesk come together?
Janice Sousa: Our co-founder Alex Handa used to run a student travel company in Canada and the software commercialized out of that company.  We were both in Toronto and our market is quite heavily regulated as you may well know, and so you end up playing pretty nice with your competitors, so to speak. For years he was trying to find a solution for his company to really help run that backend operation. Everything from cash-flow management, inventory, contract management and e-commerce bookings.
Through experience he couldn't find anything on the market in terms of software. This was probably six years ago, so his solution was to take an off-the-shelf CRM typically used for sales teams, and he started to cobble it together for his purposes. Similarly, I was at a smaller company and we took Salesforce off the shelf and started to customize it. It was very expensive. Alex kept plugging away at it, and when he was lucky enough to exit his company and was sitting on this piece of software he knew was valuable. He knew tour operators could use Group Desk. That was about three years ago.
What does your typical tour operator client look like?
JS: It's typically a tour operator who specializes in student, sports or music tours. They are perhaps at most a 50-person company and they know they want to continue to grow, but they're at that inflection point. If you grow past that point, it's really just capital intensive both in labor and overhead. They're at a point where they have to make decisions on "Is this growth even worth it?" in terms of bottom-line revenue.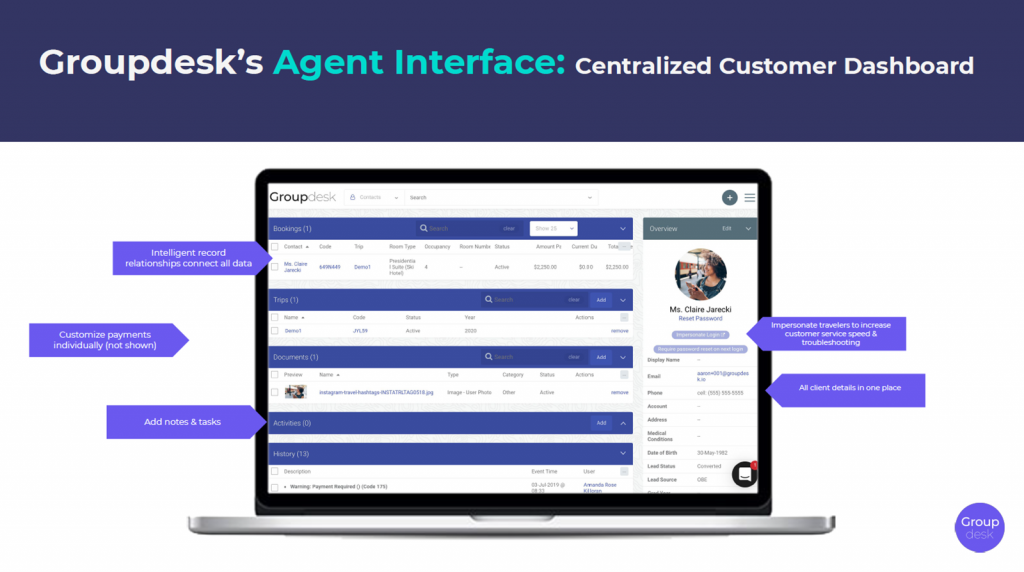 We end up working with a lot of those folks and say, "If you onboard something like GroupDesk, you do not have to scale your overhead or workforce at the same pace." Or perhaps you consider scaling your workforce, but they are able to focus less on administrative tasks and more on sales & marketing.
The other one tends to be 10 to 15 people; maybe they're a travel agency or more niche operator. We work with a retreat company who does a lot of very high-end luxury and incentive trips. They rent Italian villas and they're dealing with a high-end luxury product, so their customers expect a pretty seamless experience. They don't have the inclination to build an IT solution in-house.
Is the technology component of the business that barrier to next-level growth and breakthrough?
JS: Many operators are generally at a point where they've outgrown its functionality or they are just getting large enough where they know they need to figure out a tech solution. So, they haven't adopted something yet but know they need to make that choice.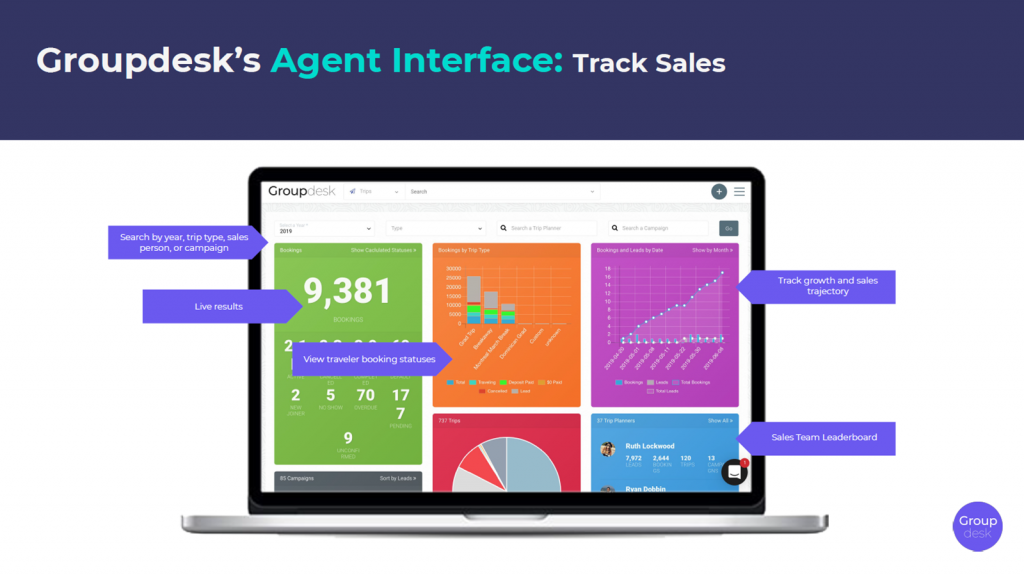 So Group Desk is operations management and a booking tool?
JS: There are basically two systems. The back-end agent interface is where your staff would live and do their work, so to speak. The front-end client interface is where you or your clients go to book, look at documents for the trip and submit payment or passport info—all of that stuff that we would like our travelers to do.
Interested in travel technology? Check out podcast interviews with tour tech platforms at Traveling Tribes.

Some of the tripping points with operators changing software platforms deal with customizations. Does your platform provide some flexibility?
JS: Yes, for sure. When we were in that business, we always wanted to customize as well. I think we have created something that is scaffolding and we customize from there. When we onboard clients, we say, "Okay, this is how our payment system is set up. We recommend a monthly payment system and this is how it is set up." We'll have customers say "great" or "no, I need to set it up this way." We do that customization in real time over about a four-week period with the customer involved in everything from "this is how I want my inventory to be stored" to "I don't want my agents to actually see all this information." We set up everything from permissions, access and the brand displayed to the customer.
We spend a lot of time making sure that they feel good, and ultimately, this is their front-facing e-commerce tool, so they feel great that it's representative of their work.
Does this fit within their existing web-based platform? You're adding the booking components and widgets, so to speak?
JS: Yes, they have a website at the top that says "Book Now." They click on that and that goes into the Group Desk-supported platform.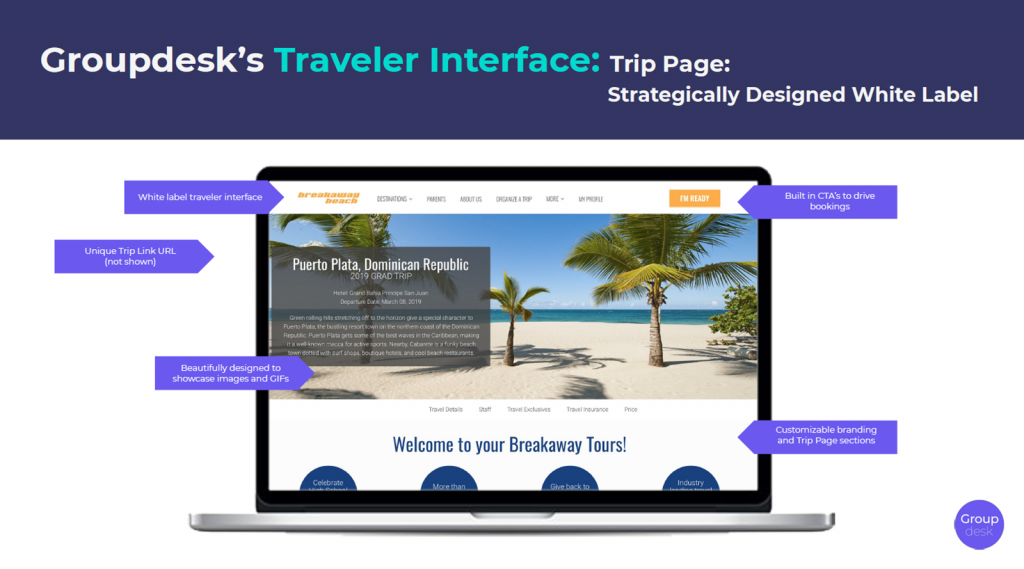 How long does the onboarding process typically take? How do you structure that sort of transition?
JS: For some folks we catch them at the right time, so to speak (off-season), and they can be up and running in a short period of time. Typically we catch folks somewhere in the middle, so they're finishing a tail-end or they're starting the process at the beginning of their sales season. What happens there is we onboard part of their business, we work with them to make sure that's done and then in about three months most customers have transitioned everything over.
This is not the first software platform out for operators. Why is this better, different or unique compared to some of the existing tools and services that are on the market?
JS: What we've seen is the ones on the market are missing that back end to help them manage dynamic tour pricing, custom groups and inventory.
There is a lot on the market that helps with customer finances, so like an e-commerce, manage payment to pull the information, but I think our back end is what sets us apart. Having been former tour operators, we think we've built-in very specific features because we knew those pain points. If you look at our competitors, very few of those folks come with that kind of perspective.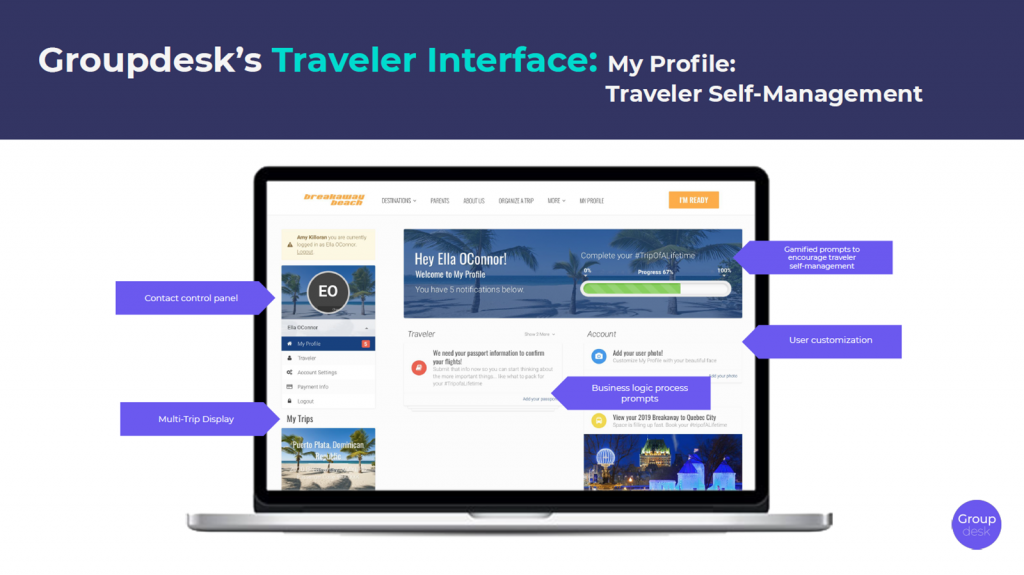 Geographically, where are your clients coming from?
JS: 80 percent of our clients are from the U.S. We have a few clients in the U.K. and one client in Canada.
What are your next steps as far as either growth or product launches? What is on the horizon?
JS: We are fundraising to help scale our company like a lot of startups are doing. As part of that, we're also doing a number of "proof of concepts" with airlines, hotels and resort partners. We know that they do a substantial group business, and we also know it's somewhat fragmented today. Today if you were to go to a company like Disney for a group, they would send you back a PDF, or they'd ask you to fill out a Google sheet if they are a bit savvier. Typically, the customer has to fill out an Excel sheet with your travelers' names and then they would call you and take your credit card information.
It's really a task, for once you've agreed on the quote, the process could be automated. Travelers can put in their own credit card, they don't need to bother Disney in doing that. It's pretty fragmented today, and if you're Disney, you know that your brand isn't being protected, so to speak.
Are there any other problems you're solving in the industry?
JS: One thing we are really excited about is we're starting to see some predictive insight to help operators look at who is more likely to cancel based on how they interact with a platform like Group Desk. I think that's where the power is.
If you have a thousand students on deposit and you know you're going to have X percentage cancel, if could you predict earlier who's likely to cancel, then you can have an intervention earlier. We are starting to build some insights into the system to be able to look at past trends to determine if these travelers should receive a call from your customer service team this week.
Connect with Janice Sousa