As the nation prepares to kick off a five-year commemoration of the 150th anniversary of the Civil War, this is a perfect time for Americans to reflect on the epic conflict that pitted state against state, friend against friend. Gettysburg, where the war's greatest battle raged, will take center stage in that observance.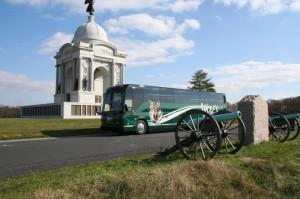 A visit to the battlefield and other sites brings home the tragedies endured from 1861-1865 and puts into focus the monumental struggle between North and South. Had it not been for the heroic feats on this Southern Pennsylvania farm land the first three days of July in 1863, America would be a different country. A Union victory that marked the beginning of the end for Gen. Robert E. Lee's Confederate Army, the Battle of Gettysburg is regarded as the turning point of the Civil War. The largest battle ever fought on American soil saw more than 51,000 soldiers killed, wounded or captured.
Geared for group travel, the town of 8,100 annually welcomes three million tourists and hosts 15,000 motorcoaches. Travel planners can choose from a wide range of tours, museums, and group-friendly hotels and restaurants. Organizers also can arrange for living history interpreters, like Gen. Ulysses S. and Mrs. Grant, come on the coach or give a presentation.
Check out the digital page-flip version below: