Groups welcome to discover the many tastes of the country
Germany's culinary delights—food, wine and beer, and the pleasing experiences that go with it—take center stage in 2018.
Germany is known for its many flavorful dishes and a variety of mouthwatering foods that come from recipes that have been passed down from generation to generation.
Every year more people are traveling to Germany for the food as well as the culture and history. In 2017, the eighth year in a row for record growth, numerous group trips made up the 83.9 million international overnight stays in Germany. The country placed first worldwide as an international trade fair destination and international conference destination.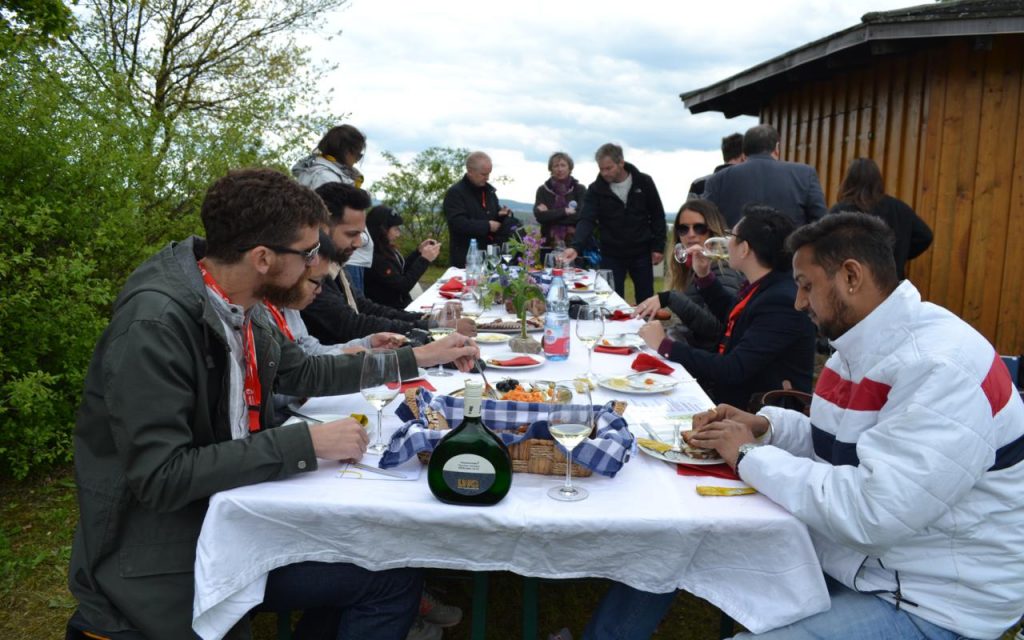 A total of 7.9 million trips were made by air to Germany from overseas, 9 per cent more than in 2016.
"Destination Germany has seen rapid growth in a highly competitive market," says Petra Hedorfer, chief executive officer of the German National Tourist Board (GNTB). "The impetus from the holiday travel segment and the increasing use of online media are clear indicators of the strength of our brand and the success of our digitalization strategy."
"Inbound tourism to Germany has been particularly buoyant throughout 2017," added Hedorfer. "Growth at the end of 2017 almost trebled compared with the previous year. We scored highly with guests from around the world, especially as a holiday destination."
In particular, the United States, the biggest overseas market, achieved exceptional growth of 8.8 percent last year. It's forecast that next year there will be growth of between 3 and 4 percent in overnight stays by all foreign visitors.
Food Theme Was Easy Choice
It's no wonder that of the many reasons to travel to Germany, the culinary aspect was chosen as this year's travel theme. For groups heading there for meetings, exploration, sightseeing or religious pilgrimages, this means an emphasis on gastronomy—everything from fruits and vegetables, to milk and cheese, meats and sauces, desserts, and alcoholic and non-alcoholic drinks.
Many locations in the 16 German federal states will be showcasing their specialty foods and beverages. In North-Rhine Westphalia, Aachener Printen is a special type of gingerbread cake that can only be produced in the city of Aachen. It is traditionally enjoyed during the Advent and Christmas period, and is often given as a gift.
If your group is headed to Berlin, its famous Currywurst sausages are available everywhere. Berliner Weisse beer, too, will be highlighted and on tap. For centuries, this slightly bitter beer made from a blend of wheat and barley malt has been Berliners' favorite drink. Bavaria, too, will be highlighting its more than 40 different beer varieties.
History on a plate is what they call Thüringer Bratwurst, which was first enjoyed 600 years ago, and it is still a popular treat among all age groups. It is a protected brand, and production is controlled by a strict purity law: only premium pork and beef from Thuringia can be used as ingredients.
Dresden-Area Foods
In Saxony, especially around Dresden, where the 2018 annual German Travel Mart took place this May, Dresdner Christstollen takes the cake as a real masterpiece of German baking. Possibly the most famous Christmas pastry in the world, this Saxon specialty perpetuates centuries of tradition. Made from yeast dough, butter and dried fruits, and dusted with icing sugar, this sweet treat is a protected brand and can only be produced in the Dresden metropolitan area, where it is given a special seal.
Groups headed to Dresden and the surrounding area in 2018 and beyond can expect Saxony coffee and cake to be in abundance, since nearby Leipzig featured the first coffee shop in Germany. In 1694 Heinrich Schütze opened the Coffe Baum at 4 Kleine Fleischergasse and gave out complimentary coffee; many notable personages met there and enjoyed the popular drink.
The Saxons were the first to add cake to their coffee habit as well; today, cakes, pastries and baked goods are prevalent in the region. Beer is also popular here, with Radeberger and Wernesgründer the most famous. Different grape varieties are grown in the area, with the beautiful and historic Schloss Wackerbarth in nearby Radebeul offering a variety of delicious wine varieties from its scenic hillside vineyards.
Other Dresden-area food specialties include potato dumplings, potato pancakes, red cabbage, spaetzle, schnitzel, pork dishes and white asparagus in season.
Pannfisch is a very traditional dish that can be found by the Elbe River in Hamburg. First cooked by sailors centuries ago, it is still a favorite among residents of the Hanseatic city and can be enjoyed in a wide range of modern variations. The fish is fried in a "Pann," the low German word for "frying pan," and served with fried potatoes and mustard sauce.
Germany's culinary campaign in 2018 has its own website at www.germany.travel/culinary-germany. A key feature of the site are 16 videos of the Follow the Taste series, in which food and wine experts embark on a culinary tour to present delicacies from every federal state.
In partnership with the German Wine Institute, the GNTB is holding food truck events in 13 international markets where visitors can try white asparagus, bread and wine from Germany. At international cooking events, influencers will be cooking up specialties from the film project, adding another dimension to the cross-media marketing campaign.
The hashtag #EnjoyGermanFood unites the campaign's other online communication activities across social media.
A further focus in 2018 is the 200th anniversary of the birth of Karl Marx. The eminent philosopher, economist, political theorist and protagonist in the workers movement was born in Trier on May 5, 1818.
Future travel themes in Germany include 100 years of the Bauhaus in 2019, the 42nd performance of the Oberammergau Passion Play in 2020 and the 250th anniversary of the birth of Beethoven in 2020.
So Germany has opened its doors this year to all groups to come and have a taste of its many foods and beverages. We've all known for years that Germans take their food seriously; they are just serving it to us on a bigger platter in 2018.
Guten Appetit!
For more information, go to www.germany.travel or www.germany.travel/culinary-germany
Story and photos by Chicago journalist Don Heimburger, who attended the 2018 German Travel Mart in Dresden to report on the dynamic growth of tourism in Germany.