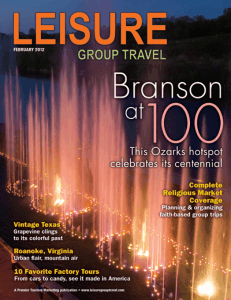 The February 2012 issue of Leisure Group Travel looks at some of America's most popular tourist destinations and lesser-known corners of the country as well.
In the Ozarks of Southwest Missouri, Branson is celebrating its centennial with special events. Our article "Branson at the Century Mark" not only updates readers on 2012 happenings but looks back at Branson's past and how it became the "Live Music Show Capital of the World."
Native American heritage takes center stage in the articles on New Mexico Indian festivals and the Cherokee Nation of Northeast Oklahoma.
"Orlando Shopping Magnets" covers the retail scene from malls to theme parks, while "Antiquing in Connecticut" spotlights the Litchfield Hills region. Shopping is also the focus of Marty de Souto's column "Shopping Shouldn't Be a Nuisance on Tour" and the column by shopping industry consultant Carolyn Feimster, who offers tips for tour group planners.
Shopping is also a highlight for groups touring Roanoke, Va. Managing editor Randy Mink talks about the Historic Market District and other downtown attractions in this city nestled in the Blue Ridge Mountains. His article on Grapevine, Texas extolls the virtues of another great shopping town, one with a thriving Main Street flavored with Old West history.
What do you look for when shopping for new tour itineraries? Our readers answer that question in On the Record.
Karen Axelrod, author of Watch It Made in the U.S.A., singles out some of her favorites tours in the feature "10 Top Factory Tours." Among her selections: Jelly Belly, Boeing, KitchenAid and Harley-Davidson.
Features
Discover Oklahoma City & Cherokee Heritage
Columns
The More Things Change, the More Others Stay…Better
Shopping Shouldn't Be a Nuisance on Tour
Shopping: It's More Than Just Buying
Keeping Up-to-Date in a Tech-Savvy World
Departments
| | |
| --- | --- |
| Download the Full Magazine | |
Check out the Digital Flipbook Version below: