The Arkansas Blues Trail takes visitors on a journey filled with music, history and specialty hamburgers.
You don't have to know much about blues music to be fascinated by the Arkansas Blues Trail. This winding route snakes from the state's western border near Memphis, Tennessee, down through Little Rock and Hot Springs. Along the way, music lovers acquire a new understanding of the blues—and the culture and time period that gave birth to an eminently American musical styling.
The blues reach deep into popular music. From its roots in African-American work songs, spirituals and ballads, it has given form and shape to bluegrass, jazz, rock, R&B and other genres. At the same time, the music has preserved the story and culture of the people that invented it. So no matter if you are interested in history or music (or just hamburgers), you'll find much to enjoy on the Arkansas Blues Trail.
Highlights of the Arkansas Blues Trail
There are over 20 stops on the Arkansas Blues Trail. Some are historical markers and sites (such as Sonny Boy Williamson's Boarding House Site in Helena-West Helena and the Plantation Inn Marker in West Memphis) that commemorate where something once stood. Others mark the resting place of famous bluesmen like Frank Frost and Albert King. However, many of the stops will take a good chunk of time to appreciate properly. We don't have room to include all of them here, but we have listed a few of the must-sees.
Historic Dyess Colony: Johnny Cash Boyhood Home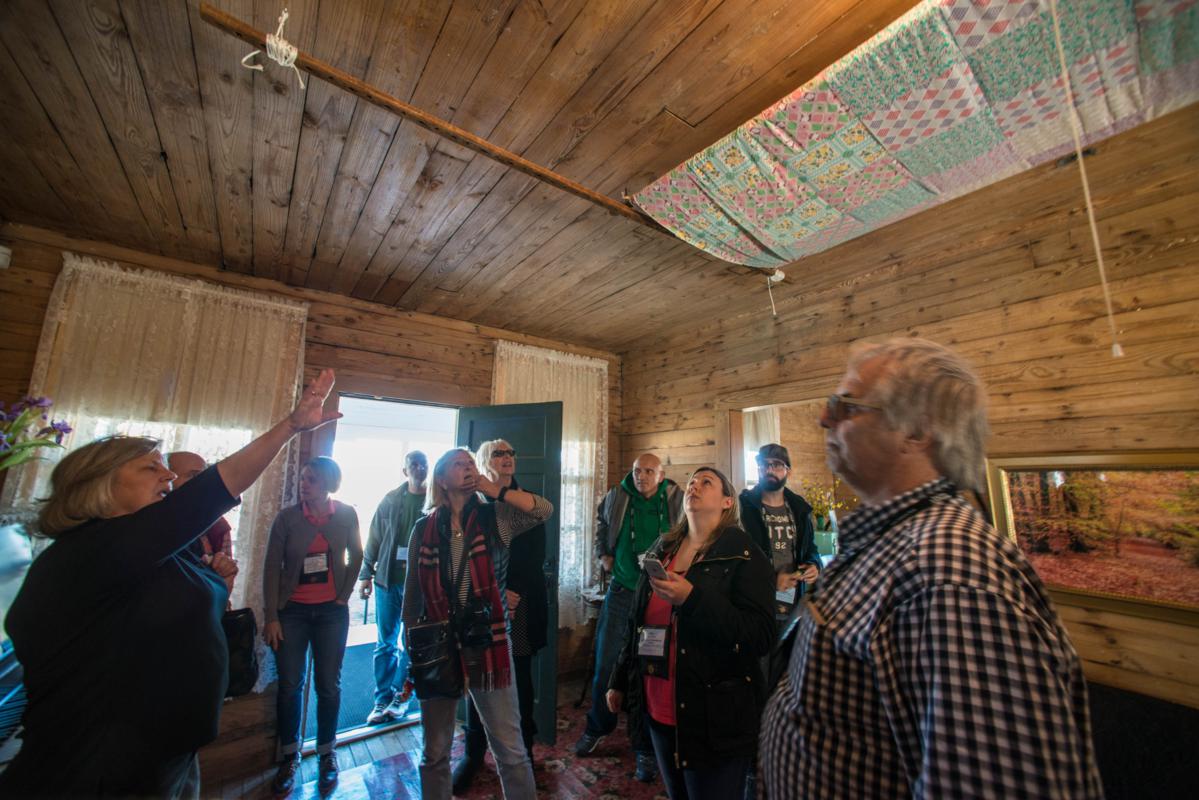 The Dyess Colony was established in Mississippi County, Arkansas, in 1934 as part of President Franklin Roosevelt's New Deal. It gave almost 500 farm families the chance to get out of poverty—including Ray Cash, the father of Johnny Cash.
The Johnny Cash Boyhood Home is one of several restored buildings in Dyess Colony. The former theater serves as the starting point for tours, while the Administration Building houses exhibits related to living and working in the Colony and how this experience shaped Cash and his music. A quick shuttle ride takes you to the Cash home, which was restored to how family members recalled it as Johnny was growing up.
Daily tours start at 9 a.m. Monday through Saturday. Special events held at the Dyess Colony site include a Johnny Cash Heritage Festival in October and, in November, the "Tour duh Sunken Lands" bicycle ride.
---
---
KWEM Radio @ ASU Mid-South
The actual location of the original KWEM radio is commemorated by a marker on 231 Broadway Street in downtown West Memphis, but the studio itself has been replicated on the campus of Arkansas State University in West Memphis. The station survives as both a traditional and a web radio station; you can tune in at KWEMradio.com. In addition to weekly blues and gospel shows, it features a lineup of some of the blues' greatest recordings.
Other radio stations, such as KFFA in Helena-West Helena, are closely associated with the growth of Delta Blues. What makes this spot special is that KWEM showcased the "electric blues" sound that led into rockabilly and rock and roll. The station hosted Johnny Cash, B.B. King, Elvis Presley and other musical stars. Today, visitors can examine the replica studio to get a feel for what those sessions were like.
Delta Cultural Center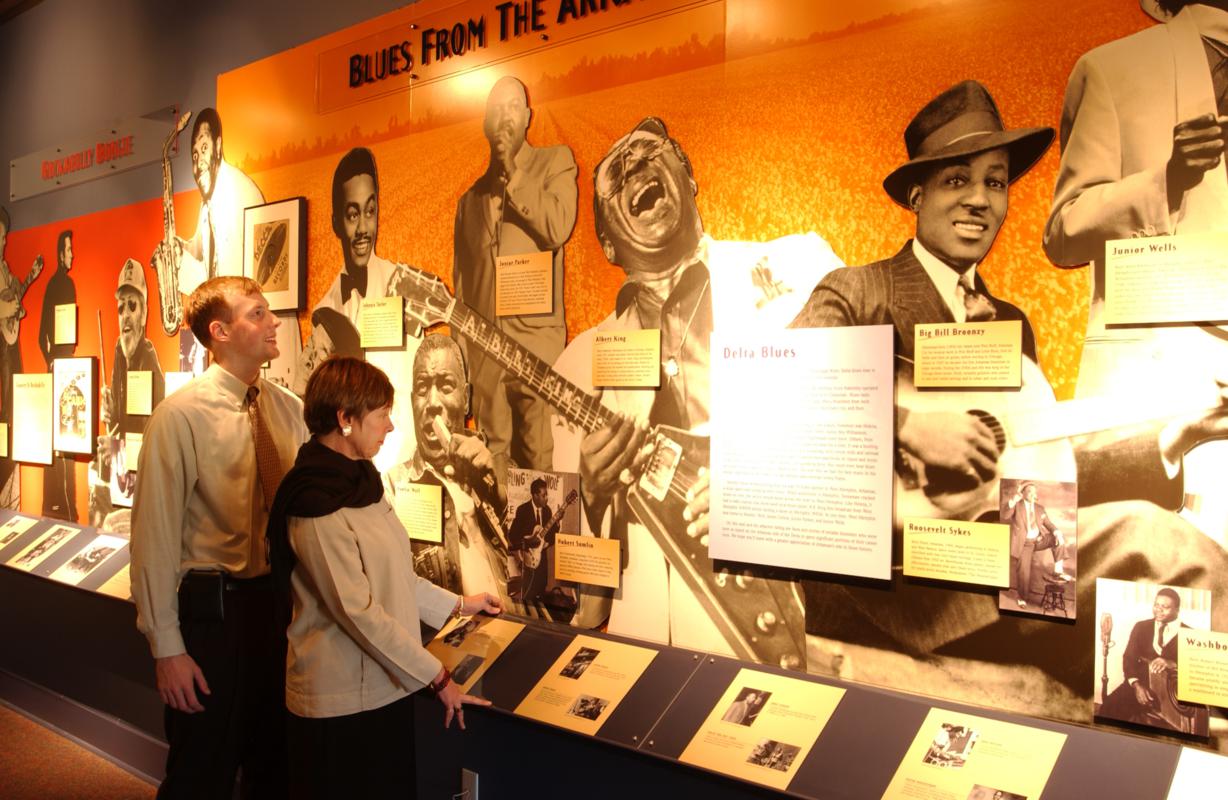 In some travel articles, top attractions get the "if you can only see one thing, see this" treatment. We'd be hesitant to distill an entire musical, historical and cultural experience into those nine words, but they do apply to the Delta Cultural Center in Helena. If you can only do one stop on the Blues Trail, this will give you the best bang for your buck (although admission is free, so no bucks are necessarily involved).
The Delta Cultural Center is part museum, part historical center and part part-time broadcast booth. The Center's working Radio Studio still broadcasts King Biscuit Time, the longest-running blues radio show in the country. It's been going since 1941, and host Sonny Payne can be heard doing his show live every day. You may even be asked to join in the fun.
This is a multi-building experience, with exhibits split between several restored buildings. The Visitors Center itself is made up of three interconnected buildings, including the main gallery (which houses changing exhibits related to Delta art, music, and history) and the Radio Studio mentioned above. You certainly won't want to skip the Delta Sounds exhibit. This multimedia exhibit showcases the best-known musical exports of the Mississippi Delta: blues, rockabilly and gospel. You can listen to stories and songs, view artifacts and read texts that illuminate the background of the music.
The Ohio Club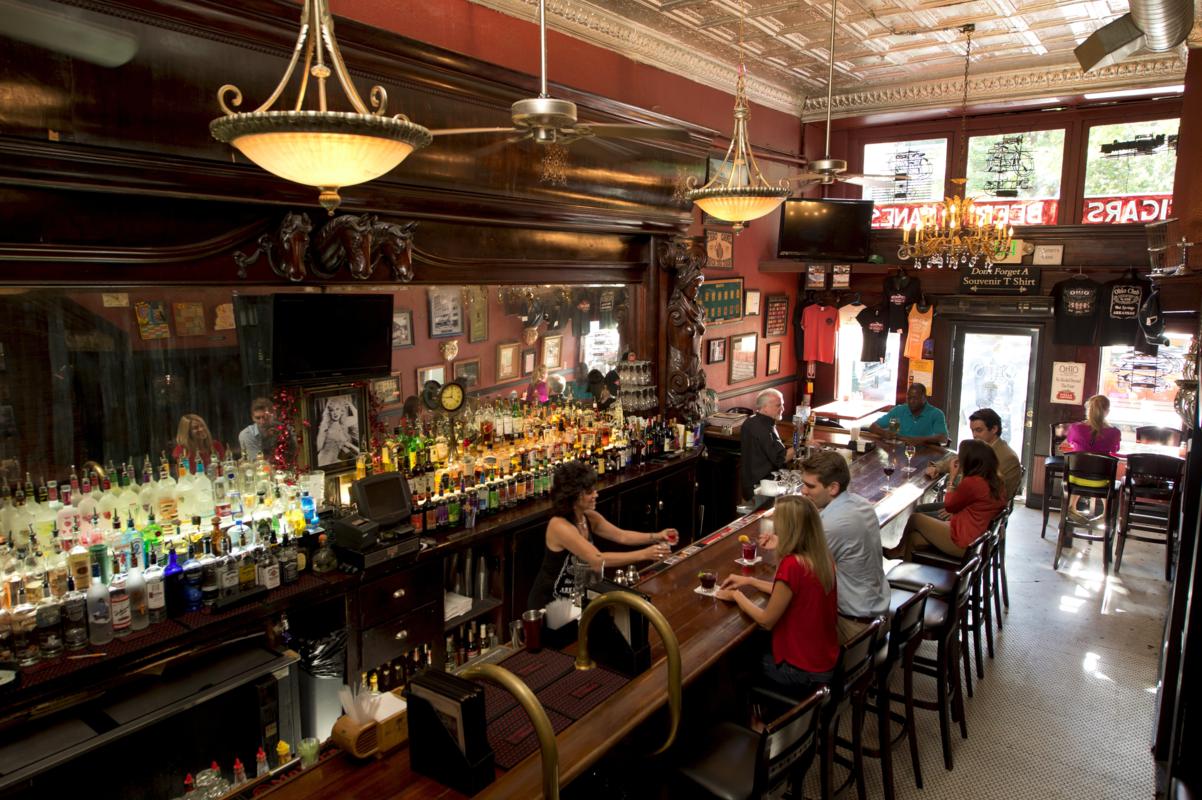 Now, about that burger.
The Ohio Club is Arkansas' oldest bar; it's been around since 1905, and that's bragging rights enough. But it's also served as a performance venue for many blues and jazz artists. Starting with Al Jolson in 1915, live music has been a huge part of The Ohio Club's identity, and it's still going on every night of the week. What you hear depends on when you go: there's blues on Wednesday (feel free to join in if the spirit moves you), jazz on Thursday, and guest bands and a house band to keep the music flowing.
Of course, if you get a bit hungry after all that music, you'll want to sidle up to the huge mahogany bar and order yourself a snack and something to wash it down with. We'd recommend the burgers; they're made from scratch and served on locally baked buns. Some might call this the perfect end to a perfect day.
So, there you have it. From Johnny Cash's boyhood home to the state's oldest bar, you'll find something to appreciate on the Arkansas Blues Trail.