I've always been fascinated by motorhomes—those plush condos on wheels equipped with everything from swivel armchairs to the kitchen sink. A morning of touring an RV factory and visiting the only shrine to the RV—hopping into vehicles old and brand new—really got me in the mood for a comfy road trip across America.
Tour planners know Indiana's Elkhart County as Amish Country, a peaceful land of farms, craft shops, tempting restaurants and bakeries, and horse buggies clattering down country roads. On my recent trip to Amish County, in addition to filling up on fried chicken and cinnamon rolls, I wanted to explore the area's RV industry, which relies on Amish craftsmanship for its world-class products.
The greater Elkhart area justifiably claims the title "RV Capital of the World," as a majority of those pop-up campers, travel trailers and sleek motorhomes you see cruising down the highway are made within a 30-mile radius of Elkhart, a city of 53,000. Jayco, Newmar, Dutchman and Gulfstream are just some of the better known manufacturers. There are some 100 plants operated by 30-40 manufacturers representing about 100 brands, according to Al Hesselbart, historian at Elkhart's RV/MH Hall of Fame and Museum, a prime tourist attraction and research facility. (MH stands for "manufactured housing," a related industry that also has roots in the Elkhart area.) Many of the workers are Amish, some of whom commute to the factory by bike or buggy.
It all started in the 1930s when Wilbur Schult's trailer company became the largest in the industry, attracting suppliers and other manufacturers. After World War II, things really began to boom and trade magazines were calling Elkhart the "Trailer Capital of the World." At the industry's peak in the mid-1960s, greater Elkhart accounted for more than 300 RV brands. Elkhart's location on Interstate 80/90 and proximity to Detroit's automotive companies were prime factors in the RV industry's growth in Northern Indiana.
Two-thirds of the area's RV manufacturers (mostly mom-and-pop) were lost during the 1970s, a time of rising fuel costs and high interest rates. The most recent recession put a damper on RVing and Elkhart's economy, but it has bounced backed nicely since the high unemployment of a few years ago. Elkhart County last year ranked No. 1 in the nation in job growth.
I got a close-up look at the manufacturing process during a tour that took our group right onto the factory floor of Nexus RV, a thriving Elkhart company that started up in 2010. Shown around by perky sales associate Karen Mason, we looked over the shoulders of welders and electricians and saw stacks of boards, fiberglass panels and other building materials that go into building a steel-frame home on a Ford truck chassis. The cherry and maple cabinet doors and drawers are supplied by Middlebury Hardware, an Amish business.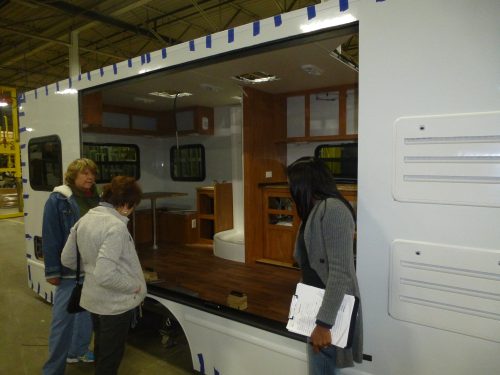 Nexus customizes each vehicle to suit the buyer's taste and is the only local manufacturer that sells directly to the consumer, bypassing the middleman. People come to the plant from all over the country, and in the huge showroom we saw some potential buyers kicking the tires and checking out the upholstery. The highlight for tour members was stepping onboard the finished Class B+ and Class C models, motorized vehicles that are smaller than full-size Class A's. From the king-size bed and dinette that converts into a sleeper to a kitchen complete with stainless steel appliances and granite-like countertops, these rolling palaces on wheels captured our imagination. The push-button awnings and slideouts (which extend the walls out) were really neat, too. And priced from the high $50,000's, these vehicles are not much more than many cars and SUVs, we realized.
Jayco, Inc., the largest privately held RV manufacturer, offers tours of its towable manufacturing facilities in Middlebury; visitors watch a movie and receive headsets for the tour. The visitors center, a renovated 1880s farmhouse located adjacent to the general offices, has Jayco photos and memorabilia, Jayco logo merchandise for sale and a display of new products. Also popular with tour groups is Newmar's plant in Nappanee, where 80 percent of the workforce is Amish.
For a journey through the history of RVing, visit the spacious RV/MH Hall of Fame and follow the blacktop path lined with antique vehicles, including the oldest known, non-tent trailer in existence. Attached to a Model T Ford, the 1913 travel trailer was custom-built for a Cal Tech professor. You'll also see classic, aerodynamic Airstream trailers, a 1967 Winnebago motorhome and a Shasta 15-footer that's typical of the early '50s "canned ham"-style trailers. The chauffer-driven 1931 Chevrolet Housecar owned by Mae West—used as a lounge car, not a camper—transported the actress between her home and Paramount Studios. Hidden under the couch in one 1936 vehicle is a bathtub. Visitors are welcome to go inside some of the vehicles. Accenting the displays are fake vegetation and camping gear from days gone by, while colorful banners of iconic sights like Mount Rushmore, the Grand Canyon and California's coast festoon the cavernous main room.
In another hall, visitors enjoy climbing aboard the most current models. The second-level Hall of Fame honors nearly 400 notables in the RV industry.
For an orientation to the history of RVing, catch the seven-minute video in the theater. Also worth a look is the photo exhibit Wheel People, which tells the stories of those who live in trailers, mobile homes and manufactured housing.
For information on Northern Indiana Amish Country, go to the Elkhart County CVB website, amishcountry.org.