The Wolverine State's southwest shore features food, wine and brilliant sightlines
In southwestern Michigan, small towns with big ideas entice groups to park the coach and stay awhile. Ditto for medium-sized cities with over-the-top agendas, and a major metropolis that boasts an international reputation for hospitality. Whether kicking back along the shore or venturing into the woods, tour groups visiting Michigan's Riviera are invited to eat, drink and be merry.
Small Towns
Think Paw Paw, where the state's largest and oldest winery offers free tours and a tasting room smack-dab in the middle of a charming downtown. Family owned, St. Julian Winery and Distillery is the state's largest and most awarded winery. With a recent foray into distilling, there may be more awards to come. Although inland, Paw Paw offers waterfront access, too. Think Maple Lake where the Maple Lake Amphitheatre & Park caps weekends with its series of Sunday concerts. Foodies in the group can take their pick from 18 stops for ice cream, full-service restaurants and a bakery, all within walking distances of one another. Staying in Paw Paw offers easy access to Michigan's wine country and the beaches of South Haven, one of Michigan's legendary port cities.
The Silver Beach Carousel in St. Joseph lures groups off the lakefront for a turn on a replicated, three-row, Coney Island style ride that captures the imaginations of visitors. Two chariots and 48 hand-carved carousel figures were created in homage to the original 1910 design. St. Joe is also a festival favorite for foodies and music fans; the annual BBQ, Blues & Bluegrass is held annually in May.
Only three miles from the great Lake Michigan shoreline near Saugatuck-Douglas, groups venture into the woods toward Fennville to spend an hour or so of self-expression at Express Yourself Art Barn. A bright red barn, circa 1880, anchors the property. Inside, guests can create mementoes of their southwestern Michigan tour. Groups can paint a birdhouse, throw a pot, fuse glass and even string beads for a memory bracelet. There is plenty of sample art on the ceilings, walls and along the property's walkways to provide ideas. Gun Lake Casino in Wayland is easy to find on U.S. Route 131, halfway between Grand Rapids and Kalamazoo. Feedback reports the food service alone in the Sandhill Cafe or The Harvest Buffet is worth a pullover. Gaming includes over 2,000 slots.
Medium-Sized LakeFronts
In Muskegon, Aquastar Cruises welcomes groups to experience the "lake effect" of two lakes, Muskegon Lake and Lake Michigan. Its roster of narrated sails includes options for on-board catering, even pre-boarding entertainment. The 90-minute Sunset Cruise is a hands-down favorite on the 150seat, U.S. Coast Guard-inspected vessel.
Digital Edition Sponsored by
The former Port City Princess, the renamed and renovated Aquastar, docks adjacent to the USS LST 393 Veterans Museum, a veteran of Omaha Beach (World War II) is a must-see stop for student and military groups.
Also located on two lakes — Lake Macatawa and, as locals say, the "big lake," Holland invites groups to celebrate its heritage. In May, the annual Tulip Time Festival is consistently listed as one of the top events on the planet. When September rolls around, Holland celebrates the Latino community through art, film and music at the Tulipanes Latino Art and Film Festival.
Film viewings are open and free. The 36acre Windmill Island Gardens is a favorite group stop. Seasonally, the only female miller in the U.S. prepares stone ground flour and visits with guests at the 250-yearold De Zwaan Windmill.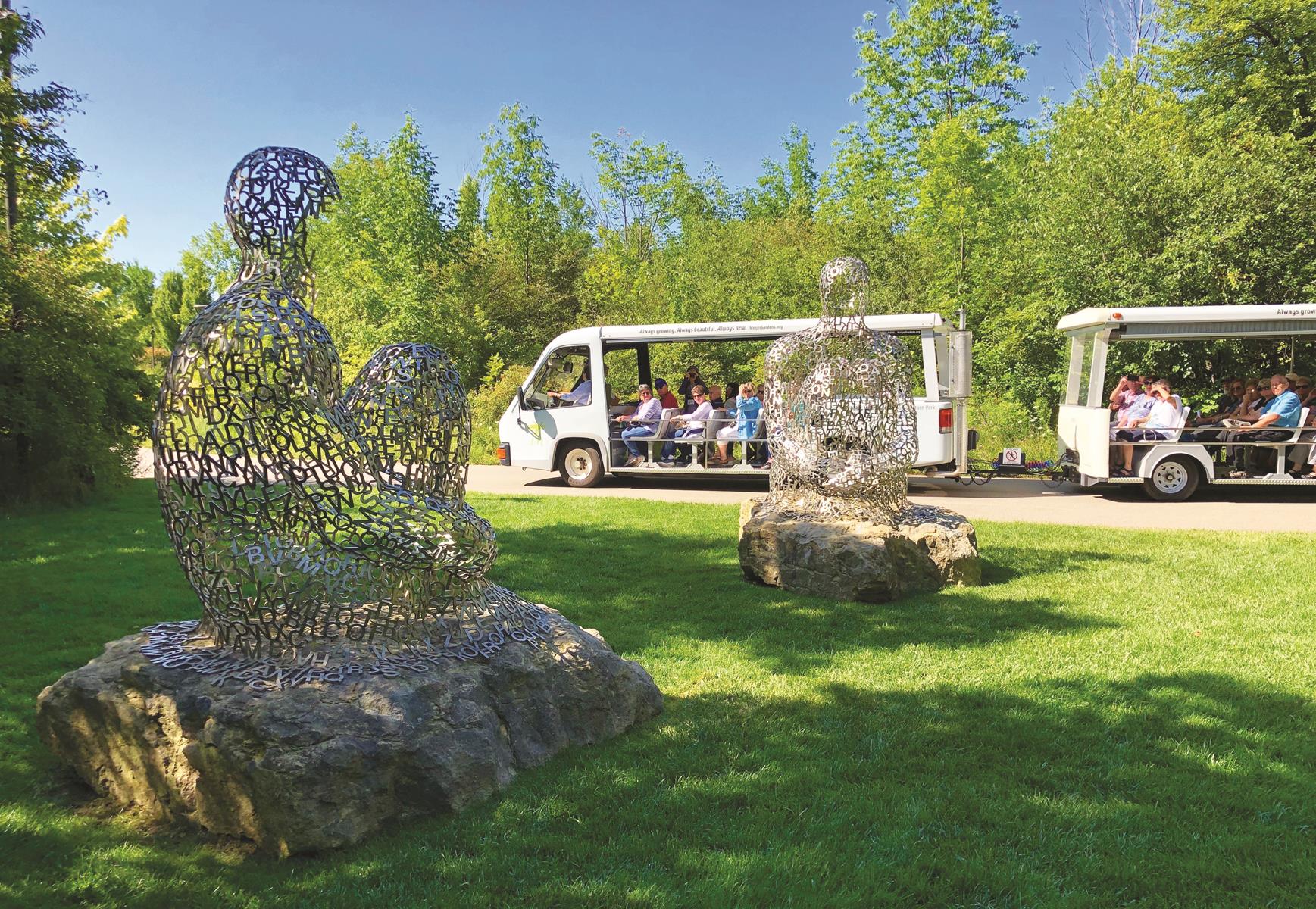 Big City, Big Ideas
Approaching Grand Rapids, the skyline soaring above the Grand River announces a big city persona. That first impression is soon tempered as groups experience the neighborhoods that keep the second- largest city in Michigan both welcoming and accessible.
A three-day Culture Pass GR helps the bottom line with entry to cultural hot spots from the Gerald R. Ford Presidential Museum and the Grand Rapids Art Museum to the John Ball Zoo and other perks.
Discover art in and out-of-doors at Frederik Meijer Gardens & Sculpture Park. Meijer Gardens is the second most popular attraction in the state and one of the world's 100 most visited art museums. Seasonal indoor exhibits fill the greenhouse complex and halls in the fall and the Railway Garden that joins 42 decorated trees and cultural displays at the holidays. Outdoors, world treasures in sculpture anchor horticultural landscapes. While the sculptures glisten in the summer sun, they literally glow in winter when dusted by snow.
For 19 days in the fall, ArtPrize in Grand Rapids transforms three square miles of the city into an open canvas to display juried art from all over the world. The annual event is free.
Of course, theater lovers can take in a play, but once a year they can sit in on stand-up during Gilda's LaughFest. LaughFest Seriously Funny is a 10-day festival that benefits Gilda's Club Grand Rapids.
With 32 breweries in Grand Rapids, its Beer City title is well-deserved. Often credited with starting it all, Founders Brewing Co. offers tours and dine-in options. Still hungry? Consider a group cooking class at the Grand Rapids Downtown Market where over 20 market vendors set up shop year-round.
By Mary Lu Laffey