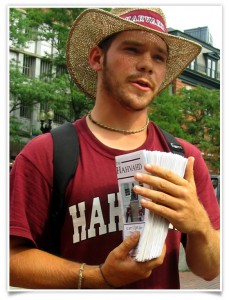 Harvard-educated tour operator Dan Andrew eschewed the traditional career path many of his classmates followed, choosing instead to follow his passion for providing great tours for visitors to Harvard. Learn how Dan turned a part-time tour guide position into a vibrant Boston-based tour operation in this edition of Take 5.
How did you get started in the tour business?
I was attending Harvard and my favorite thing to do at school was to give tours of the university to tourists. A lot of people don't realize it, but Harvard is by some accounts the second- or third-most-visited location in Boston by tourists next to Faneuil Hall and Fenway Park. There's a huge group of people who want to visit Harvard for leisure purposes, not because they're applying to the school.
I spent a summer working at Harvard running the freshman orientation for prospective students in the summer of 2005 and I noticed that Harvard ran very few, if any, tours for visitors during the summer, the peak time for visitors. So, basically, if you were a visitor in the summertime, there's a good chance that there would be no tour for you to take, which is crazy. So in the summer of 2006 I quit my job with the information office and went out to the middle of Harvard Square and started conducting a really off-beat, funny tour of campus. The goal from day one was just to be honest, to be entertaining and give people something to laugh about. They were there to see Harvard, but it gets boring pretty quick if you don't really keep people entertained with history and stories.
What was the response from Harvard to you conducting unofficial tours?
Harvard was very concerned about the idea of a private company, even if it was a company run by current students, so they really put us through the gauntlet to prove ourselves. We had to make sure that none of our advertising was in violation of any of Harvard's trademarks. We had to make sure that we were hiring students in a way that was following all the rules for employing international students. We had to be careful not to be stepping on the toes of the official tours that were running. It would have been their preference early on for us to just shut down.
That was the best thing that ever could have happened because it got us a lot of press. The tourists loved the story because we were giving tours by day and writing legal briefs by night to Harvard's legal team. It also pushed us into our great name, the Hahvahd Tour. We were originally calling ourselves the Tour of Harvard, and Harvard said you can't use the word Harvard in any of your branding. So I had this idea, "Why don't we call it Hahvahd?"
Was Harvard trying to censor the composition of the tour and how you were interpreting various things or was it just the fact that you were doing the tours?
I'm always quick to point out that Harvard never tried to censor us and that even in the most heated moments, they never once said anything about content. They were really respectful of free speech. And actually that helped us because we kept saying, "come on the tour." It was a really, and still is to this day a very pro-Harvard tour. We definitely tell some of the insider stories that Harvard's not going to put on their admissions website. But nothing that we tell is scandalous. Nothing gives the university a black eye. People take the tour and they feel like we make the university actually much more accessible.
So what's the biggest difference between a Harvard tour and a Hahvahd tour?
Well, I think the biggest difference is that our tour guides go through a more rigorous training process. We script the tour to be funny and entertaining and really energetic, and we break down each one of our tour stops into what we call stages. The New York Times called us theatrical Harvard history. And so if you take a Hahvahd tour the idea is you're going to learn all the basics, but you're going to learn it in a way that feels more like a show. We feel like until a guide has given about 20 tours they're not really an official Hahvahd Tour guide.

And the guides are highly incentivized to do a great job because at the end of the tour they're allowed to accept tips and so if they do a great job the tour can be a very lucrative way for a lot of our student guides to help finance their way through college.
How are you recruiting and vetting tour guides?
We're really fortunate; I would say it's one of the more popular jobs right now. We have 100 current Harvard students on our payroll. That number swells in the fall and spring because everybody's in class, so we need a lot more students to cover the tours. We have a really dynamic presence on campus, huge word of mouth. You really have to be committed to learning the material and being open to our trainers' suggestions about what makes a great theatrical experience.
Starting a business is relatively easy; you have an idea and you roll with it, but expansion seems to be the hardest part. How did you go about growing into what is now Trademark Tours?
I got into this not knowing really anything about the tourism field so all I knew was that I gave a good tour of Harvard and I wanted to share that with other people. I thought they would pay me for it and I thought there was a demand. That was the easy part. Then as I got deeper and deeper, I started to find out that this is actually a small part of this really big tourism industry ecosystem.
At Harvard, you study things on a macro level. You don't really learn about specific industries and the nuances of them. So all of this was new and I had to really do a lot of catch-up. The first market that revealed itself was the Chinese market. There were a lot of challenges working with the Chinese because they negotiate differently, which is a nice way of putting it. They have unique needs in terms of the type of services they're looking for. Unlike a lot of travelers that just want to come to Harvard Square and see the university and then go back to Boston, the Chinese consider Harvard the Grand Canyon of Boston. It's what they came to see. We had to develop a whole litany of things for them to do. We partnered with Harvard student agencies to create workshop programs and with the local restaurants to create packages.

There were other things that were failures. We tried to replicate the success of the Hahvahd Tour at individual tourist attractions by having young people give tours on the Freedom Trail. The Freedom Trail in Boston is a tourist attraction where people usually go and get costumed guides like Ben Franklin or George Washington. We thought, you know, we'll take a fresh look at that. We'll have students give the tours and we'll do the same thing we did at Harvard where we'll tell sort of our off-the-beaten-trail jokes. We learned the hard way that when you enter a market where there's already a ton of players, you're fighting all these fights that just really take away from your energy and your focus.
Because we wanted it to grow I learned a lot from that experience. And so we operated there somewhat successfully for three years, but it was just too much of a slog. But we licked our wounds and it was fine. And now that led to just really focusing on developing new product and a lot of our clients want to do a tour of MIT, which is right down the road from Harvard. So we grew our MIT business.
Like this interview? Check out the Traveling Tribes podcast on Leisure Group Travel, or anywhere you enjoy listening to podcasts.

How do people sign up for tours?
There's two very different components of our business: public tours and our private group division that does all the private group buses through tour operators. So if you want to take the Hahvahd Tour, it's very easy; go to our website, hahvahdtour.com, and you can book online, plus we're sold on Trip Advisor and Expedia and lots of different avenues. Tours run seven days a week from March 1 until December 1 every year, rain or shine. We're very consistent.

For our private group tours we have an online form at our website where you can go online and submit a private tour request or you can call us or you can email us. And we built that part of the business through tour operators. Tour operators was the next thing I learned about after starting the company. I sat down and I was cold-calling tour operators. I remember the first one, she said to me, "Well, this is all very interesting. Your company sounds very cool. I'll tell you what: send me your information, I'm going to put it in a drawer and call me back in two years and if you're still in business, we can start working together." It was a great wake-up call.
Can you replicate this idea in other parts of the country?
It's funny you ask that. People at Harvard have this mentality that everything has to be big. If it's not big, it's not global, what are you doing? It comes from a legend of Facebook and Microsoft. It was hard for me in the early years because I was thinking, "Well, I've gotta have tours like this in 50 cities and I'm gonna be everywhere and we're gonna …" and that's actually a lot harder to do than you think when you're 22 and you're watching Facebook explode.
I finally broke through getting to know some of the local business owners in Harvard Square and realizing there are amazing people in this community who are living much freer and even financially successful, but it was really personal freedom which is the most important thing to me. I was able to let go of this idea that we need to be everywhere.

As it turns out, what we're doing at Harvard is very unique and if you look around, there's just not a lot of that. Other major schools—Stanford, Yale, Duke—they don't have that same ecosphere. And then on top of that, you've got Boston, which is this major international city, this major airport, and it's so close. So it's just this perfect vortex.
What do you want to do better in 2016?
We need to continue to hire because the demand is growing. We're running almost 3,000 tours this year and we're starting to hit our capacity. We need to figure out how do we continue to grow our staff without losing the quality of tours and how we respond faster to operators. Managing growth: It's not easy, but it's really fun. … It's a good problem to have.
Connect with Dan Andrew