The expansion of Crystal Cruises continues. On August 20, the Crystal Bach, the first of Crystal's four newbuild Rhine Class river ships, was christened in Rudesheim, Germany.
The Crystal Bach is now sailing on the Rhine and Moselle rivers, with itineraries between Amsterdam and Basel as well as Amsterdam and Frankfurt. Accommodating 106 guests and featuring 53 suites, the Crystal Bach is providing a new river cruising experience and some brand firsts.
Crystal's Rhine Class ships are the only all-balcony river vessels sailing in Europe. All accommodation categories are positioned above the waterline, providing abundant space and plush amenities.
More about the Crystal Bach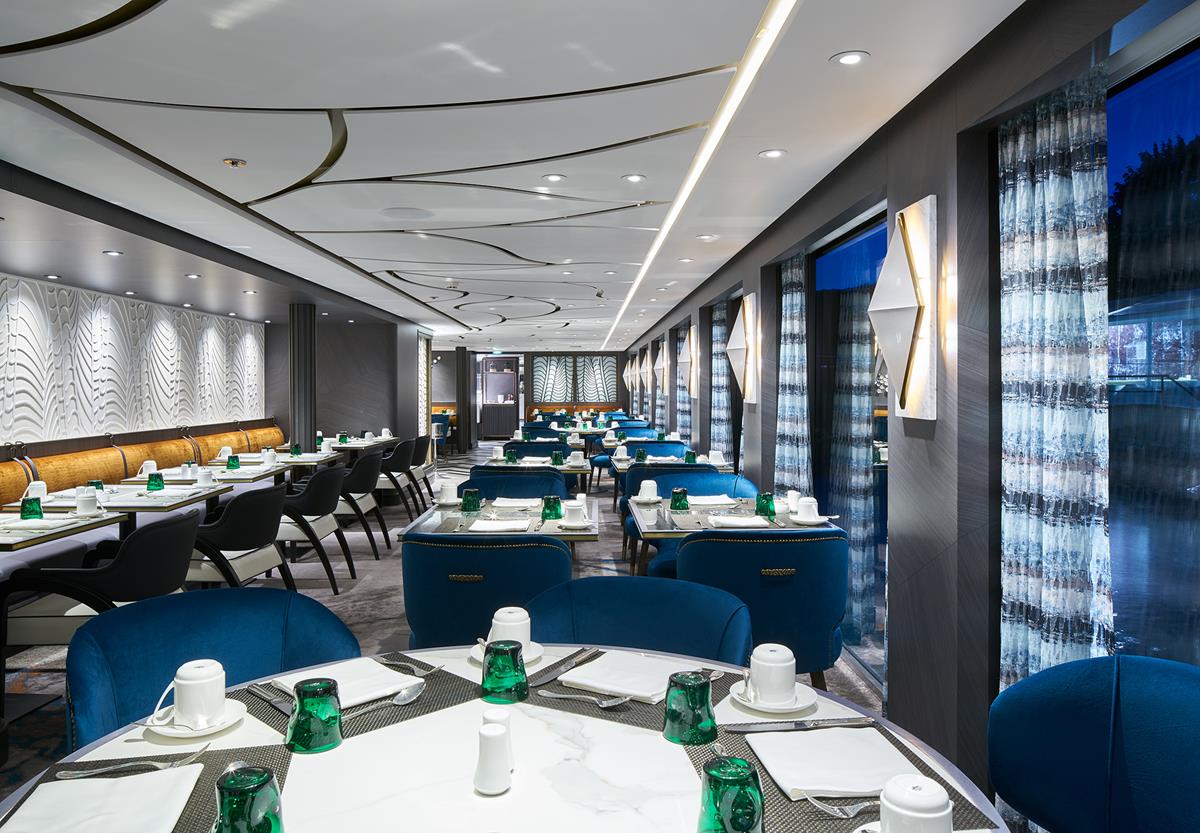 The elegant, all-suite Crystal Bach provides multiple dining options, a luxurious spa and separate fitness center. Guests can enjoy Crystal's well renowned Michelin-inspired cuisine available in multiple open-seating eateries, including the Waterside Restaurant. At the Waterside, the cuisine pairs well with beers and wines produced in Bavaria and surrounding areas. The exclusive Vintage Room provides a lavish, multi-course dining experience paired with special wines.
The Palm Court gives guests an opportunity to relax and enjoy music and dance. It has a dance floor, a baby grand piano and glass-domed roof. The swimming pool also has a glass roof, so guests will never miss a beautiful sky view, nor have to skip a relaxing swim due to inclement weather. Sporting equipment, including kayaks, electric bicycles and water scooters, are available for guests to use.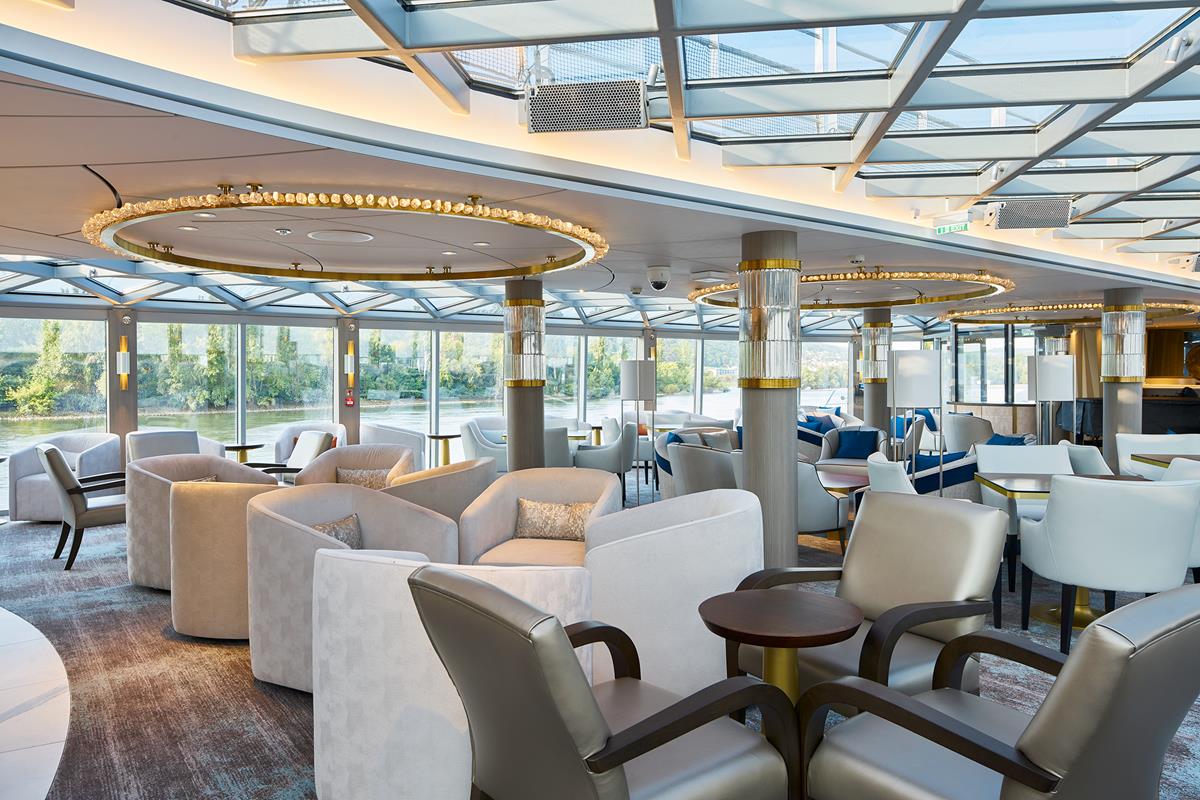 The expansive Vista Deck is a wonderful area for guests to take in unobstructed views of medieval castles, shoreside villages and vineyard covered hillsides. Another hallmark of Crystal's luxury river cruise ships is the Vista Deck's pop-up bar. Guests can enjoy small bites and cocktails along with al fresco movie nights beneath the stars.
Accommodations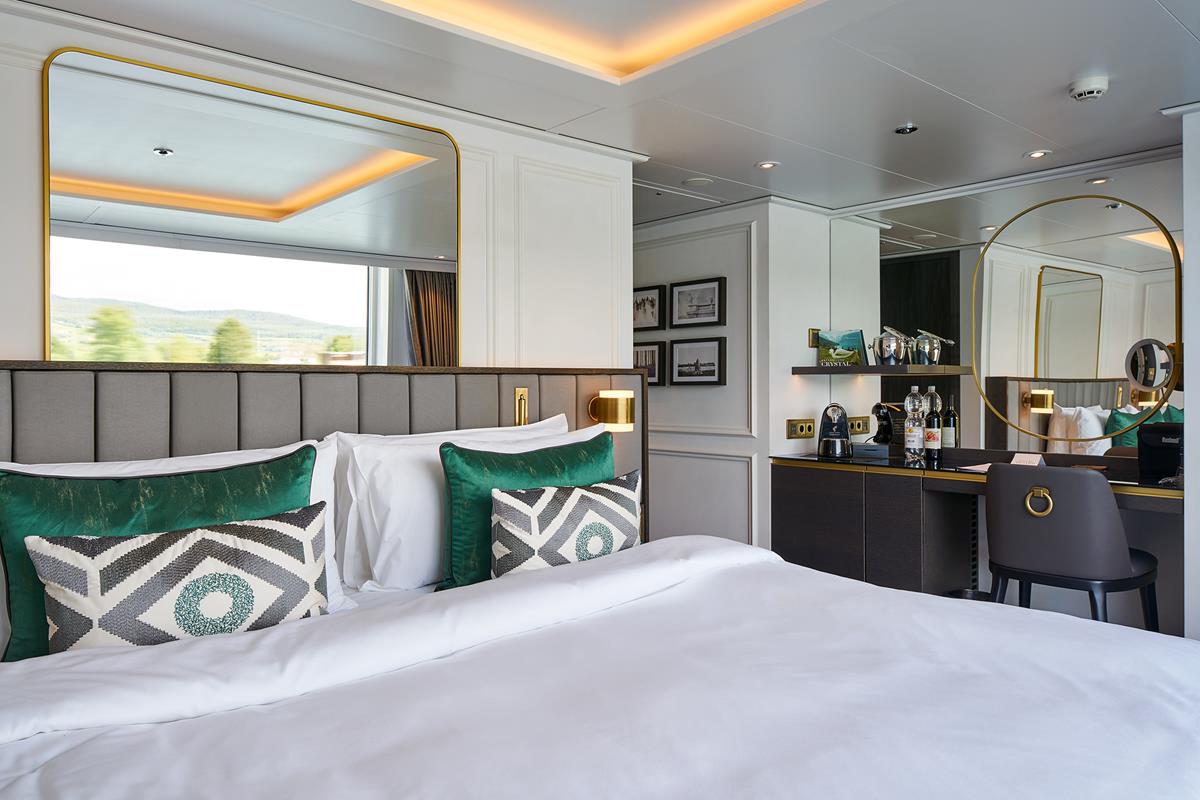 The 53 balcony suites on the Crystal Bach feature king-sized beds and walk-in closets, along with Panoramic Balcony-Windows ™. Wall-mounted, flat-screen HD TVs and Nespresso machines are other suite features. Guests can enjoy ETRO robes and slippers, along with daily news via paper delivery and in-suite iPads.
The Growth of Crystal River Cruises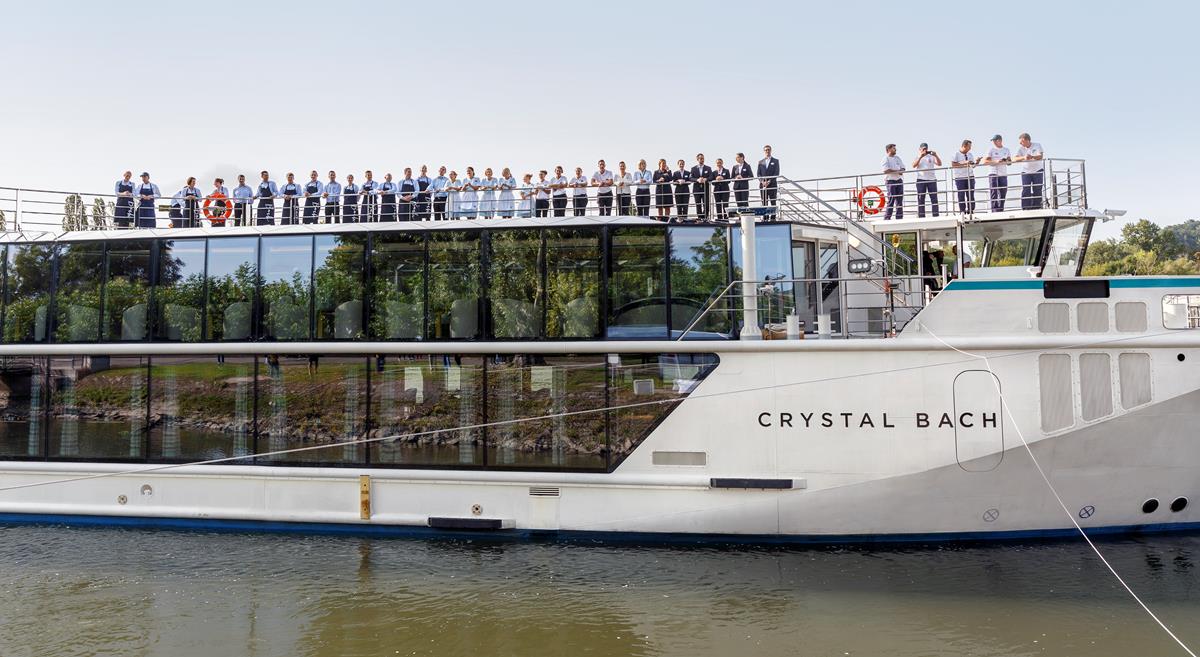 The Crystal Mozart, the first vessel in the Crystal River Cruises fleet, celebrated her one-year anniversary on July 11. And the Crystal Mahler, the second Rhine Class river ship, was just christened on September 20 in Germany. Two other Rhine Class ships, the Crystal Debussy and Crystal Ravel, will be joining the fleet in 2018.
More about Crystal Cruises
Celebrating 27 years, Crystal Cruises has been expanding with new brands, including Crystal Yacht Expedition Cruises. Now Crystal River Cruises brings a new dimension of luxury sailing on the rivers of Europe.
Sailing on the Rhine, Danube and main Rivers with 10- and 14-day cruises, the Crystal Bach provides more options for groups to consider.