How cruise lines measure  guest loyalty, and what special perks, recognition and rewards they provide continues to evolve. Programs vary from cruise line to cruise line and in many cases are no longer based just on the number of cruises that guests take.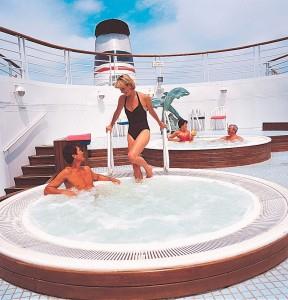 As a group leader, it is important not just to keep on top of who is offering what, but how the loyalty program on your selected cruise line might also benefit your group members individually.
It does usually "pay to come back," not just from the standpoint of perks but the recognition level as well.
Types of Programs
For the most part, once cruise guests sail on a particular cruise line for the first time, they are automatically enrolled in the line's past passenger program. One exception is Royal Caribbean International, which doesn't enroll its guests in the Crown & Anchor program after that first cruise. Instead, guests have to enroll themselves.
Originally, most cruise lines did a "one size fits all" for their repeat guests. The same benefits applied to all guests with no additional perks for those who had sailed numerous times.  Now the majority of cruise lines offers a multi-tiered program, with different levels of membership.
Examples of Cruise Lines' Multi-tiered Programs
Most cruise lines have multi-tiered loyalty programs. Here are a few examples:
Celebrity Cruises
Instead of just the number of cruises sailed, Celebrity Cruises uses tier credits for its Captain's Club program, and there are three different ways to earn these. By sailing on Celebrity, a guest can earn a credit. The guest can earn another credit if a suite is booked, plus an additional credit for itineraries 12 nights or longer. There are three different levels in the Captain's Club program – Classic, for guests who have one to four tier credits; Select, for guests who have five to nine credits; Elite for guests with 10 or more credits.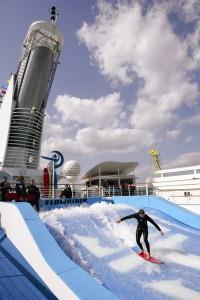 Royal Caribbean International
The Crown & Anchor Society has four levels – Gold, Platinum, Diamond and Diamond Plus. Gold applies to cruise guests who complete their first cruise; Platinum is for guests who have earned five cruise credits, Diamond is for those with 10 cruise credits and Diamond Plus  is for guests with 24 cruise credits. A guest earns one cruise credit for each cruise sailed, another credit when they sail on a 12-night or longer cruise or cruise tour, and another if they book a suite.
Holland America Line
In fall 2009, Holland America Line's Mariner Society ® Rewards Program went through some updating. Members earn one cruise day credit for each day they sail, and the more cruise day credits earned, the higher the Star Mariner status, along with greater rewards received. Guests can earn additional cruise day credits for onboard purchases – a cruise credit for each $300 spent. Double cruise day credits apply when the member purchases a suite. There are four levels – Star Mariner for guests who complete their first cruise; 2-Star Mariner after earning 30 cruise day credits; 3-Star Mariner after earning 75 cruise day credits; 4-Star Mariner after earning 200 cruise day credits.
Costa Cruises
Costa Cruises' loyalty program, which has four different levels, offers two ways their guests can earn points. For each day of the cruise, a guest earns 100 points. The guest can also earn 40 points for every $60 spent onboard. There are four levels of membership. Gold Pearl requires 13,001 points earned and in the last 36 months the guest has to have taken at least three cruises. Pearl is reserved for members who have earned 5,001 points or more; Coral, for members who have earned between 2,001 and 5,000 points; Aquamarine, for members who have earned up to 2,000 points.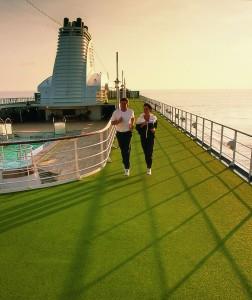 MSC Cruises
MSC Cruises' loyalty program, MSC Club, goes by a point system with a point earned for each night spent onboard an MSC ship. The line recently added a fourth membership level, Black Card, for members who have accrued at least 100 loyalty points since 2006. Black Card members also receive benefits offered to Gold Card Club members. Other MSC Club membership levels: Classic, for guests who have accrued 1-21 points; Silver, for guests who have accrued 22-42 points; and Gold, for guests who have accrued 43-99 points.
Princess Cruises
Three levels of membership make up Princess Cruises' Captain's Circle – Gold Member, Platinum Member and Elite Member. As far as measurement, Princess Cruises uses both the number of cruises a guest has taken as well as the number of days sailed; a passenger earns one credit for each cruise taken. A guest becomes a Gold Member after the completion of one Princess cruise. After earning five cruise credits or sailing 50 cruise days, the guest moves up to Platinum. After earning 15 cruise credits or completing 150 cruise days, the guest becomes an Elite Member.
Carnival Cruise Lines
Since rolling out its newest past passenger loyalty program in 2006, Carnival Cruise Lines has expanded its Concierge Club program, which provides members with shipboard credits when they achieve a "Milestone" cruise. The Concierge Club program was created for Platinum cardholders – guests who have sailed with Carnival 10 times or more. And with this new shipboard credit program, Concierge Club members who sail on their 25th, 50th or 75th cruise will receive a shipboard credit of 25%, 50% or 75% of their cruise fare, respectively, for that particular sailing. Members who sail on their 100th cruise aboard Carnival can earn a complimentary cruise up to eight days in length to the Caribbean, Alaska or Mexican Riviera.
Disney Cruise Line
The Castaway Club has three levels, based on the number of cruises the guest has taken. Silver Castaway is for guests who have completed their first cruise. After the fifth cruise, they become a Gold Castaway member; after 10th cruise, a Platinum member.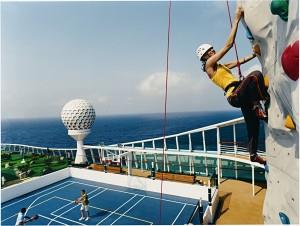 Loyalty Program Benefits
Benefits for club members go beyond just the traditional past passenger guest party. Other perks range from discounts off specialty restaurants, special Internet packages, and priority embarkation and disembarkation, or possibly access to a private lounge area or an invitation to an exclusive senior officers' party.
With Holland America Line's Mariner Society®  Rewards Program, 4-Star Mariner members receive priority tender, check-in and disembarkation; a wine-tasting session; complimentary laundry and  pressing services;  a 50% discount on specialty restaurant surcharges; and discounts on Explorations Cafe purchases and mini-bar purchases, just to name a few benefits. Additional information can be found on the Mariner Society section at www.hollandamerica.com.
Elite members in Celebrity Cruises' Captain's Club receive additional benefits besides those included in the Classic and Select tier. They include a complimentary 90-minute Internet package, daily access to the Captain's Club Lounge for coffeehouse-style breakfast and evening social hours, and complimentary laundry (one bag). (www.celebritycruises.com/thenewcaptainsclub)
Expanded benefits for Princess Cruises' Platinum and Elite members include credits toward the purchase of a package at the Internet Cafe or on a personal laptop. A Platinum Members lounge offers light refreshments during wait time for disembarkation. (www.princess.com/loyalty)
With the addition of MSC Cruises' newest membership level, Black Card, benefits include  a 20% discount on shore excursions, complimentary bottle of champagne with strawberries and chocolate in the stateroom, and 20% discount on MSC Logo Shop items and 20% discounts on photography purchases, just to name a few. Black Card members also receive benefits extended to Gold Card Club members, including a complimentary full thermal suite with sauna and Turkish bath, and 30% Internet usage discount. (www.msccruisesusa.com)
Youth Loyalty Program
In 2007 Royal Caribbean International launched the cruise industry's first youth loyalty program specifically for cruisers under the age of 18. Youth members receive special onboard perks via an activity and ultimate value booklet providing onboard savings at Y-spa, Royal Caribbean's Teen Spa, and Ben & Jerry's, for instance. They automatically attain their parents' membership level. (www.royalcaribbean.com/youth)
Interchangeable Privileges
Royal Caribbean Cruises, Ltd., parent company of Royal Caribbean International, Celebrity Cruises, and Azamara Club Cruises, offers some interchangeable privileges as well as reciprocity on higher levels of membership. For instance, a Celebrity Captain's Club Select Member automatically gets the Platinum status with Royal Caribbean's Crown & Anchor Society. Elite members get the Diamond-level status. Members who are Platinum or higher status with Royal Caribbean's Crown & Anchor Society receive matching Captain's Club recognition when sailing on Celebrity Cruises and Azamara.
Each cruise line owned by Carnival Corporation & plc—Carnival Cruise Lines, Costa Cruises, Princess Cruises, Holland America Line, Cunard and The Yachts of Seabourn—operates its own past guest program independently.
How Groups Might Be Impacted
Usually the personal cruise benefits offered to past passenger guests are separate from any group benefits. And the general rule of thumb, "no double dipping," still applies.  For instance, if a group is receiving a discount and the applicable discount is also being offered through that individual cruise guest's membership status, that individual will not get both discounts. In addition, with the continuing new additions to cruise lines' loyalty programs, they offer more perks than just a special discount or upgrade. Finally your cruise group members' past guest loyalty number can be included in the cruise group reservation, so any additional benefits that don't conflict with ones already being extended will also apply.
With a wide array of new benefits continually being added, being a member of a cruise line's loyalty program can have a positive effect on your group.