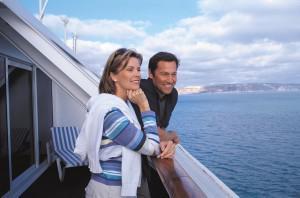 By Cindy Bertram
The cruise industry is no longer a "one size fits all" scenario. From more diverse ships and cruise lines that have evolved from the handful that existed back in the early 1980's, your group has more options than ever. In addition, a new trend has been emerging, one I like to refer to as "the shifting effect." This also benefits groups in a variety of ways.
Quick definition
The first thing that comes to mind with the term "shift" is a change in direction. For instance, people might "shift gears" when they change a position, move in a new direction or alter a way of thinking.
In business we see "shifting" as well. Consumers might make a leap from purchasing one product to a new one, or they might make a transition to the original product as well, depending on their needs. We also see this occurring in the cruise industry, thanks to the growth and sophistication not just in ships but in cruise lines themselves.
"Shifting" From One Stateroom Category to Another
In the earliest days of the modern era of the cruise industry, three basic types of stateroom categories existed – inside staterooms with no view, oceanview staterooms that had either a porthole view or window, and suites. There tended to be higher price leaps going from a no-view, interior stateroom to one with a view; in addition, suites were limited and had an even larger price tag. But as cruise lines began to build new ships, they expanded the stateroom categories, and this is where the first type of "shifting" began to occur – to a better stateroom category.
Today the private balcony stateroom has become much more affordable, thanks to Princess Cruises, which led the way it introduced 160 balcony staterooms on the Royal Princess back in 1984. These were very successful. In the 1990s Princess began building balcony staterooms in a wide range of categories that were much more affordable. When Princess Cruises led the way with offering more balcony staterooms, this led to another "shift" – from an oceanview stateroom to a balcony stateroom. Today inside staterooms with no view are the exception, with very few onboard most ships. Other cruise lines have followed Princess Cruises' lead.
"Shifting" Between a Line's Ship Categories
As cruise lines have grown their fleets, they have developed different categories that their ships fall into. Take, for instance, Celebrity Cruises, which has four different classes of ships. Its newest, Solstice class, launched in 2008 with the Celebrity Solstice, is in addition to Millennium class, Century class and Celebrity Xpedition.
Royal Caribbean International has six different classes of ships, including its latest, Oasis class, led by the introduction of Oasis of the Seas launched in December 2009. Allure of the Seas is debuting later this year. Norwegian Cruise Lines' Sun class ships, Norwegian Sun and Norwegian Sky, were the first ships designed for the Freestyle Cruising concept. In addition, NCL has four Jewel class ships (these are 93,000-gross-register-ton ships) and two Dawn class ships. Three additional ships fall in their own exclusive classes – Pride of Hawaii, Norwegian Spirit and the new Norwegian Epic, which raises the bar again. Go through other cruise lines and you'll find more of the same.
The point? With different classes of ships within the same cruise line, another "shift" occurs. Cruise guests might sail on one class of ship with a particular cruise line and then "shift" to another class of ship within the same cruise line. And this "shift" is not necessarily just a "shift" to a new ship that has been recently launched, representing a new class or style. Cruise lines are also dedicated to upgrading their existing ships. A quick example is Princess Cruises' adding a number of signature features to existing ships. In 2010, for instance, the Sun Princess, Island Princess and Diamond Princess are all going through extensive drydock periods to add such Princess features as an adults-only area called The Sanctuary and poolside "Movies under the Stars" screens.
Destinations can also drive your group's interest and, with cruise lines being more global regarding their destinations, it's a way for your group to shift to a different class/style of ship within that line because the ship might offer a more unique cruise itinerary. The actual itinerary could be the reason for that "shift."
A Third "Shifting" Effect
A third "shifting" effect is relatively new. Back in the late 1980s and early 1990s, most cruise lines were separate entities. But today, as mergers and acquisitions have occurred, we have seen the emergence of two key cruise corporations. Royal Caribbean Cruises Ltd. owns Royal Caribbean International, Celebrity Cruises and Azamara Club Cruises. Carnival Corporation owns Carnival Cruise Lines, Costa Cruises, Cunard Line, Princess Cruises, Seabourn Cruise Line, and Holland America Line. A third is Prestige Cruise Holdings, which owns Regent Seven Seas Cruises and Oceania Cruises. Another growing player in the cruise industry is MSC Cruises. Privately owned and a family-run company, MSC Cruises has grown from just  three ships in  2003 to 10 contemporary vessels and  one classic vessel.

With the transition into a few cruise line parent companies, we're also seeing "shifting" within one cruise line family.  And it's actually a more natural evolvement – a "shift" from sailing on one cruise line to a different cruise line within that cruise line's parent company does provide you, as the group leader, as well as your group members, a certain comfort zone.
What are the key motivators involved when "shifting" from one cruise line to another one that is still in the same parent company?  It really centers around your group's needs, preferences (including destinations and itineraries), and who makes up the actual group – who they plan to travel with this time and if there are any variations from previous group sailings.
Dondra Ritzenthaler, senior vice president of sales for Celebrity Cruises, explains, "Across our RCCL family of brands, we work with travel partners and guests exploring vacation options for different reasons and interests. For example, when I'm celebrating my wedding anniversary, I would probably choose a Celebrity cruise for my husband and me. Or, if I'm taking my entire family, I'd consider Royal Caribbean International. And for my mom, who has traveled extensively, I'd recommend Azamara Club Cruises. That's what makes our company so fantastic; we have all these incredible brands that offer outstanding vacation experiences that suit a variety of guests' interests."
Reaching out to your group members and keeping on top of their needs, preferences and "hot buttons" (items of key importance that could swing a decision) are also a way to use this "shifting" effect to ensure they have the best experiences possible.