The fourth annual Midwest Marketplace highlights the Green Bay area
Independent tour operators and representatives from over 90 CVBs, attractions and hotels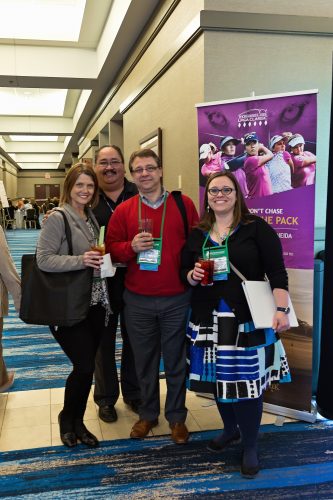 gathered in Green Bay this April for Circle Wisconsin's fourth annual Midwest Market-place. The event welcomed travel professionals from Wisconsin, Iowa, Indiana, Illinois, South Dakota, North Dakota, Minnesota and Michigan (and West Virginia) for three days of industry connection.
Circle Wisconsin, a membership-based organization that promotes statewide tourism, hosted the event at the Radisson Hotel & Conference Center in Green Bay. The complex includes a casino operated by the Oneida Nation, paintings of football players (the Radisson is the official hotel of the Green Bay Packers) and expansive ballroom space for meals and presentations.
"The Radisson was phenomenal," says Circle Wisconsin Executive Director Wendy Dobrzynski. "Between the staff, the excellent food and the conference space, all the comments we heard from people were completely positive."
Dobrzynski believes Midwest Marketplace's goal to match every tour operator and every attraction for at least one meeting gives it an advantage. Buyers and sellers were matched for six-minute appointment sessions, in a total of nearly 3,000 one-on-one meetings.
"What makes our conference impressive is the number of connections suppliers
and operators can make," says Dobrzynski. "Some trade shows are limited to only 20 appointments, but we can guarantee at least 33, which gives us an edge."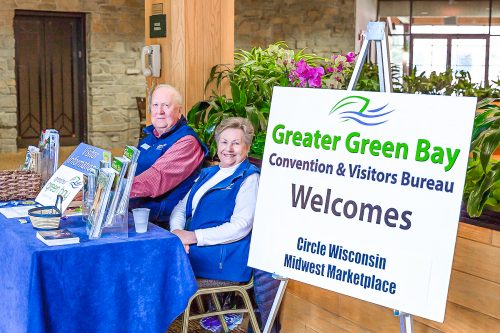 Midwest Marketplace's other strength is its friendly and communal atmosphere. Cocktail breaks (including a Real Racine-sponsored Bloody Mary bar) are frequent between sessions, attendance is limited to encourage personal connection and tour operators are encouraged to dress casually and mingle with new acquaintances.
Newcomers were impressed with the approach. Jackie Wentworth, a first-time attendee and group sales manager for Visit Sioux Falls, raved about the experience. "It was extremely worthwhile and beneficial—the show format allowed us to really recognize potential fits with prospective tour operators and get to know them on a personal level," she says.
Dobrzynski and her team excelled at evening activities that showcased the Green Bay area and its signature attractions. Conference-goers were able to tour historic Lambeau Field and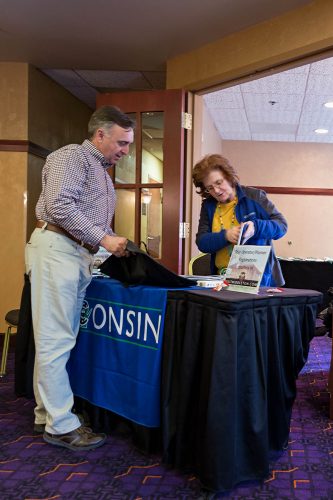 the adjacent Green Bay Packers Hall of Fame, where they were treated to a buffet and autograph session with wide receiver Jeff Janis. They also toured the Automobile Gallery, the passion project of Wisconsin native and classic car collector William "Red" Lewis. The space featured a 1917 Milburn Electric, a 1959 Buick Electra and even a 1981 DeLorean, bought before the model was made famous in Back to the Future. Evening entertainment also included a set from Wisconsin Dells' famous Swing Crew, who sang country-tinged songs that encouraged audience participation.
"I felt the after-hours entertainment and activities gave attendees a good feel for the special experiences the Green Bay area offers," says Ellen Klesta, Business Development Specialist for Circle Wisconsin publishing partner Premier Travel Media. "There is so much to experience throughout the state all year long, and this show highlighted that."
With this excellent reception, Midwest Marketplace looks to solidify itself as one of the best travel conferences in the nation. "We're celebrating our fifth anniversary next year, and every year we have seen growth," says Dobrzynski. "We want to work to continue to make the marketplace a quality show for both sides of the aisle."
The 2018 Circle Wisconsin Midwest Marketplace is set for April 8-10 at the Grand Geneva Resort in Lake Geneva.
---
---