Chocolate World…a tourist attraction whose very name sends my taste buds into ecstasy. Where else could I design my own candy bar and walk out the door holding a master's degree in chocolate tasting? And, oh, the mega-gift shop—I was like a kid in, well, a candy store.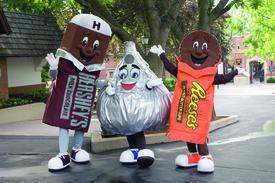 The town of Hershey, established in the early 1900s, was built on chocolate. You're reminded of its industrial heritage as you cruise down Chocolate and Cocoa avenues, where the street lights are shaped like Hershey's Kisses.
At Hershey's Chocolate World the place to start is the Great American Chocolate Tour, a free, 10-minute ride through the company's milk chocolate-making magic. A virtual factory tour, the narrated tram trip follows the process from sorting cocoa beans to packaging candy. Along the way, you'll meet singing cows. Hershey uses 250,000 gallons of milk daily from thousands of cows on hundreds of area farms. Upon leaving the ride, everyone gets a product sample.
Check out the digital page-flip version below: